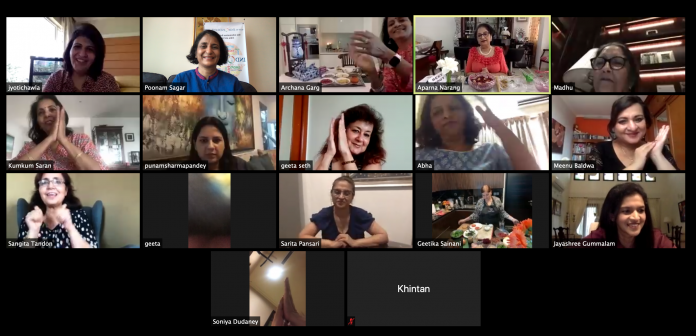 Since the coronavirus has sheltering at home, What's Up Chef has changed its location online. The Cooking Shooking with Friends event is an online session in which home cooks share their tried-and-true recipes that are healthy, easy to make and could boost our immunity at times like these.
This online session was moderated by Jyoti Chawla.
The first recipe was by Aparna Narang, in which she makes a healthy, spicy, sweet and sour Beetroot salad recipe for you to enjoy.
Beetroot Salad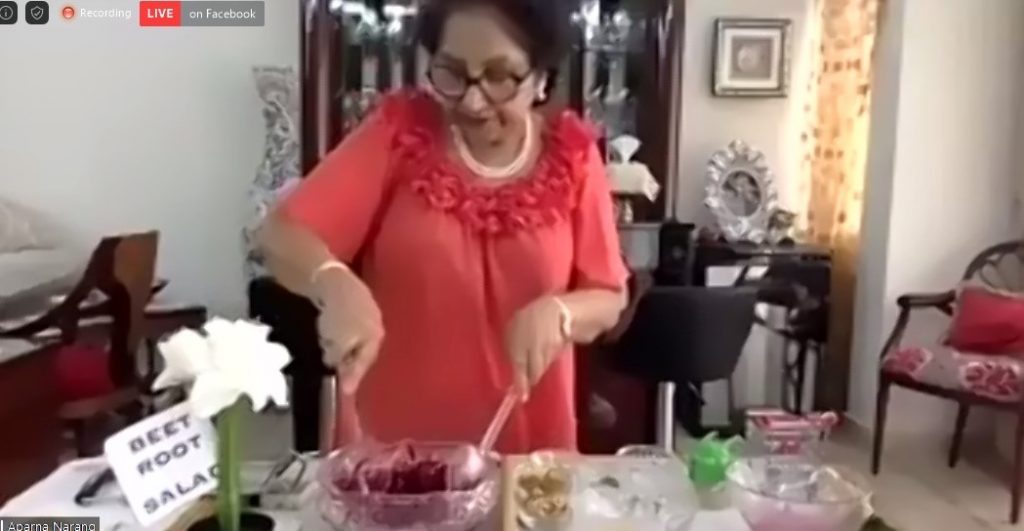 Instructions:
1 beetroot (broad shavings)
Half Onion Finely Chopped
1 tomato diced
Green Chillies
Salt
15 raisins
Walnuts
Black Pepper
Lemon Juice
Directions:
Mix all of the above ingredients.
Wait for 20 minutes so all the juices are absorbed.
Serve and enjoy your beetroot salad.
Dabeli by Archana Garg
The second recipe is by Archana Garg, in which she makes delicious Dabeli which is a gujarati street food.
Ingredients:
2 Tbsp Oil
3 mashed potatoes
pomegranate seeds
onion, finely chopped
coriander, finely chopped
masala peanuts, roasted
coconut, dry grated
Burger Bread
2 Tbsp Dabeli Masala
2 Tbsp Dates and Tamarind Chutney
1/2 lime juice
Gram Dal Sev
Garlic Chutney
Directions:
Take 2 Tbsp of oil, dabeli masala and tamarind and dates masala. Then add in mashed potato. Mix it well. Taste accordingly, as both masalas have salt in it.
Add a bit of water until it has a watered-down consistency. Afterwards, fry it.
After done, put into a dish and add dry grated coconut, coriander, roasted peanuts, pomegranate seeds.
Take the bread. In the bottom side, slather on some garlic and chili chutney.
Put in Tamarind and dates chutney on the top bread.
Put the potato masala.
Add little cut onions and coriander.
Put some pomegranate seeds.
Optionally, you can put peanuts for more peanut taste to your dabeli.
Close both of the bread together.
Add some butter on the pan. Roast both sides of the bread.
Beetroot Burgers by Geetika Sainani
The third recipe is by Geetika Sainani, who makes healthy and delicious Beetroot Burgers which is a good blend of Greek & Indian cuisine. It was inspired by her daughter.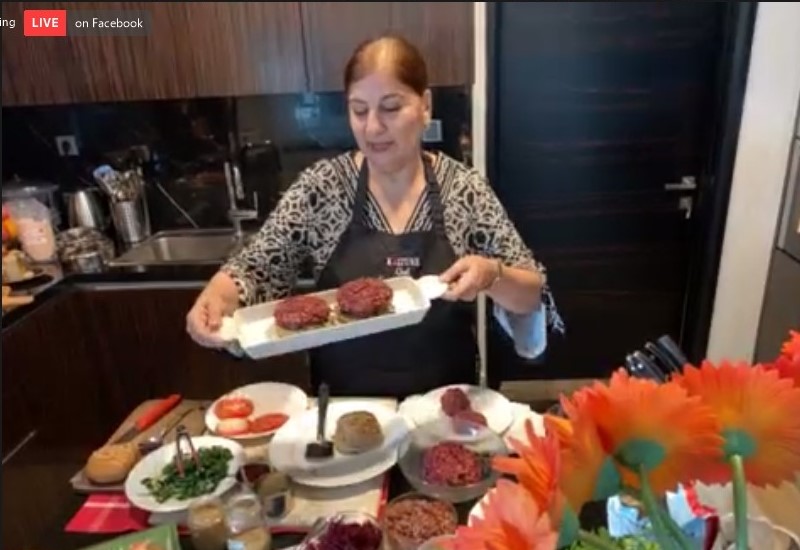 Ingredients:
Grated Beetroot
Instant Quaker Oats
Red Rice, half-cooked
Red chilli powder (optional)
pink salt
coriander leaves, chopped
Ghee or olive oil
Wheat bun
spinach
slice of onion
slice of tomato
grilled beetroot
chat masala
sesame seeds
white pepper
Tzatziki Sauce ingredients:
2 Tbsp grated cucumber
2 Tbsp greek yoghurt
white pepper
himalayan salt
lemon drops
garlic
coriander
Instructions:
Add coarsely grated beetroot with instant quaker oatmeal and half cooked red rice. Then add in red chili powder (optional), pink salt, sesame seeds and coriander leaves. Mix all.
Make balls out of the patty and flatten on greased tava and brush with ghee or olive oil.
Grill the patty for 3-4 minutes each side. The heat must be kept medium, then low.
Take the whole wheat bun, split in two and grill.
Make sautéed spinach with garlic, white pepper, butter/ghee and pink salt. Cook for one minute.
Make tzatziki sauce using 2 Tbsp of grated cucumber with 2 Tbsp greek yoghurt, white pepper, Himalayan salt, lemon drops, garlic and coriander
Assemble the burger by putting on sautéed spinach, tzatziki sauce, slice of onion, slice of tomato and grilled beetroot. Sprinkle roasted cumin seeds powder and chat masala on it.
Vegetable Fingers by Sarita Pansari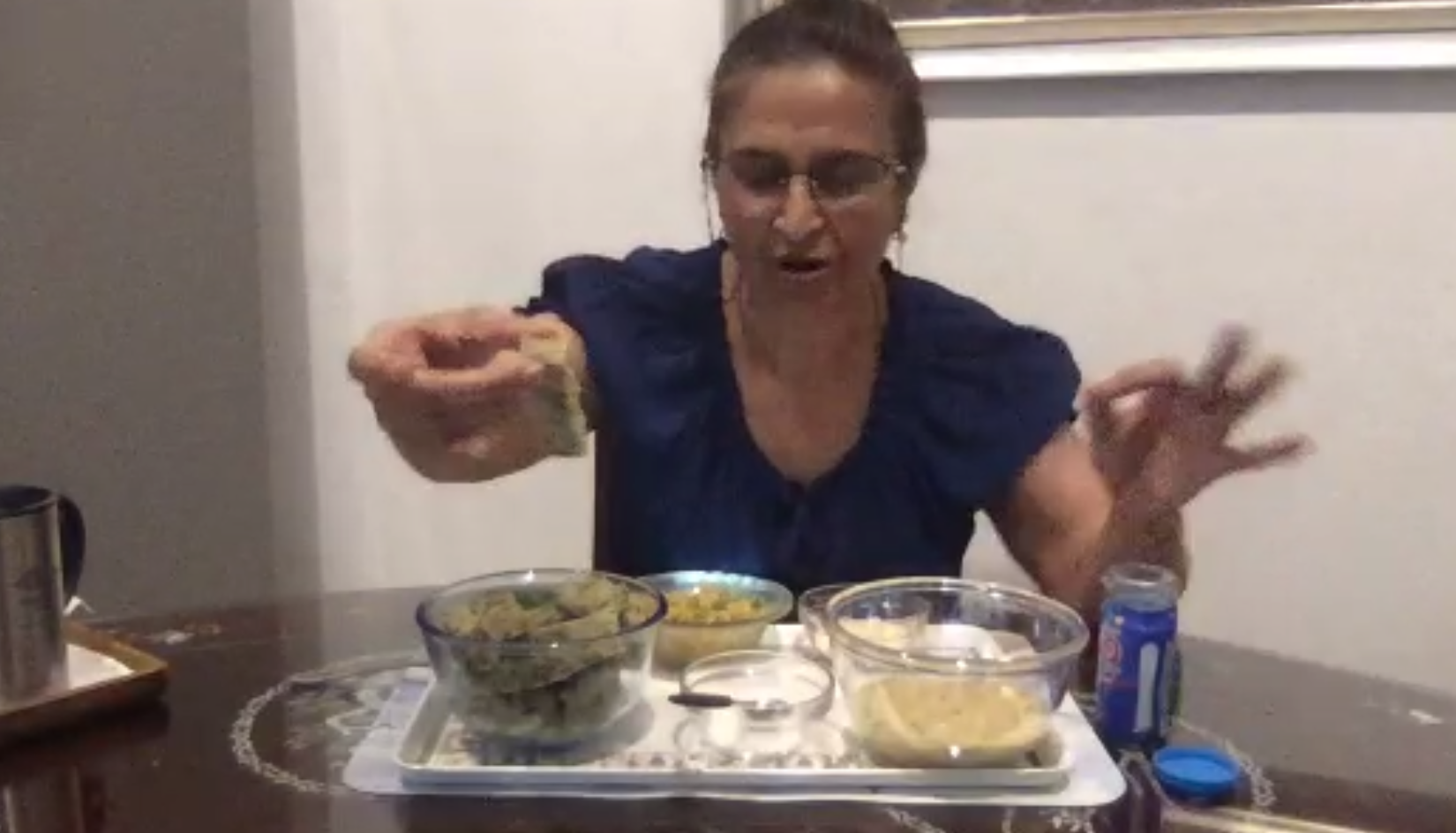 Ingredients:
1 cup mung dal
1/4 cup besan
1/4 tsp soda,
Salt to taste
1tsp chilli – ginger paste
1/4 cup dhaniya patta
1 cup mixed boil vegetables (potato, carrot, peas, beans)
Method
Soak mung dal for 3-4 hrs and grind it add the boiled vegetables, besan, and other things. Mix well and make dhokla out of it.
When cool cut long fingers and deep fry in oil.
Serve hot with chatni or sauce.
Gluten Free Banana Bread by Madhu Laroya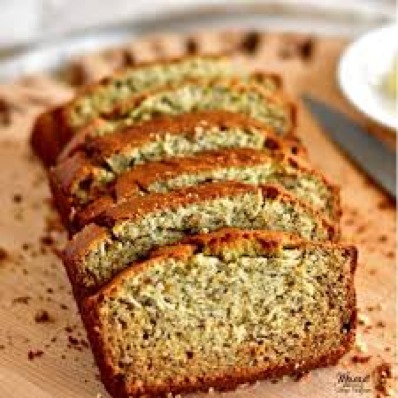 Ingredients:
1 3/4 cup spelt or almond flour
1 tsp Baking Soda
½ tsp baking powder
7/8 cup of cane or coconut sugar
1/3 cup of coconut oil
2 ripe bananas
1 tsp vanilla
1 tsp Apple cider vinegar
3/8 cup water
Method: All ingredients in a bread maker in the same order and bake on standard settings.
Immunity Boosting Chutney by Geeta Seth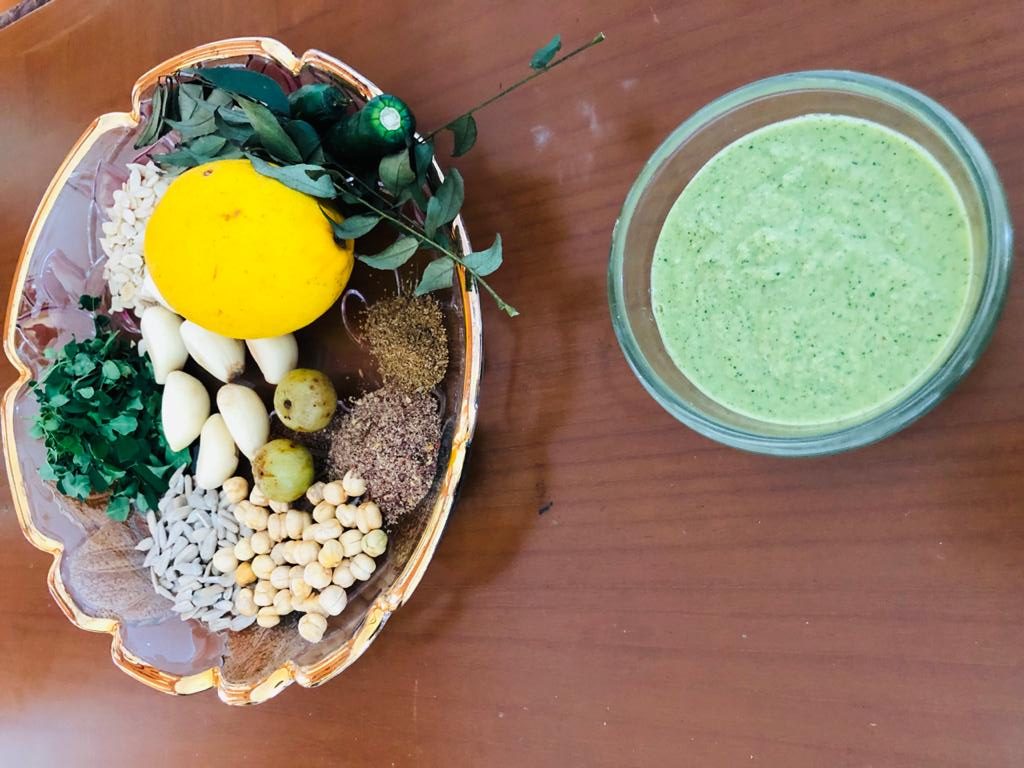 Ingredients: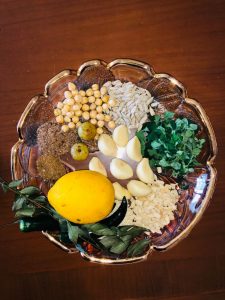 15 cloves of garlic
Half cup bhuna chana
One handful moringa leaves
One handful curry leaves
1 tablespoon sesame seeds
2 tablespoon mix sunflower n melon seeds or pumpkin
seeds
One amla ( Indian gooseberry )
One tablespoon flaxseeds
Lemon juice
Pink salt
Hing 1/4 teaspoon
1 teaspoon jeera (cumin ) seeds
2 dry red chilli
Half teaspoon turmeric powder
Method:
In a pan dry roast cumin n flaxseeds
Dry roast garlic for few minutes
Deseed amla
Now mix everything together and grind coarsely
Adjust the taste of salt and chilli as per your likes. Also lemon juice as per taste
Store in a glass container n refrigerate
The chutney can be grinded to a paste too by adding little water
Also another way is to heat coconut oil 1 tablespoon
To it add jeera, Heeng, Flaxseeds, moringa and curry leaves
Roast for 5 mnts
Cool it
Now add other ingredients and grind it
This is a great immunity booster
During lock down days presently people make limited varieties of food
Adding this chutney one tablespoon a meal compensate for all immunity boosting foods
It was a fun and interactive session watched by over 500 from around the world. If you would like to participate in our next session, please register below