Baking soda, or sodium bicarbonate, is one of the household stuff that is always available in your kitchen. Just like coconut oil or lemon, this substance is environment-friendly and has so many benefits that you've probably never realized before (beside baking). And here we summarize the everyday uses of baking soda that will make your life way simpler:
Baking soda for cleaning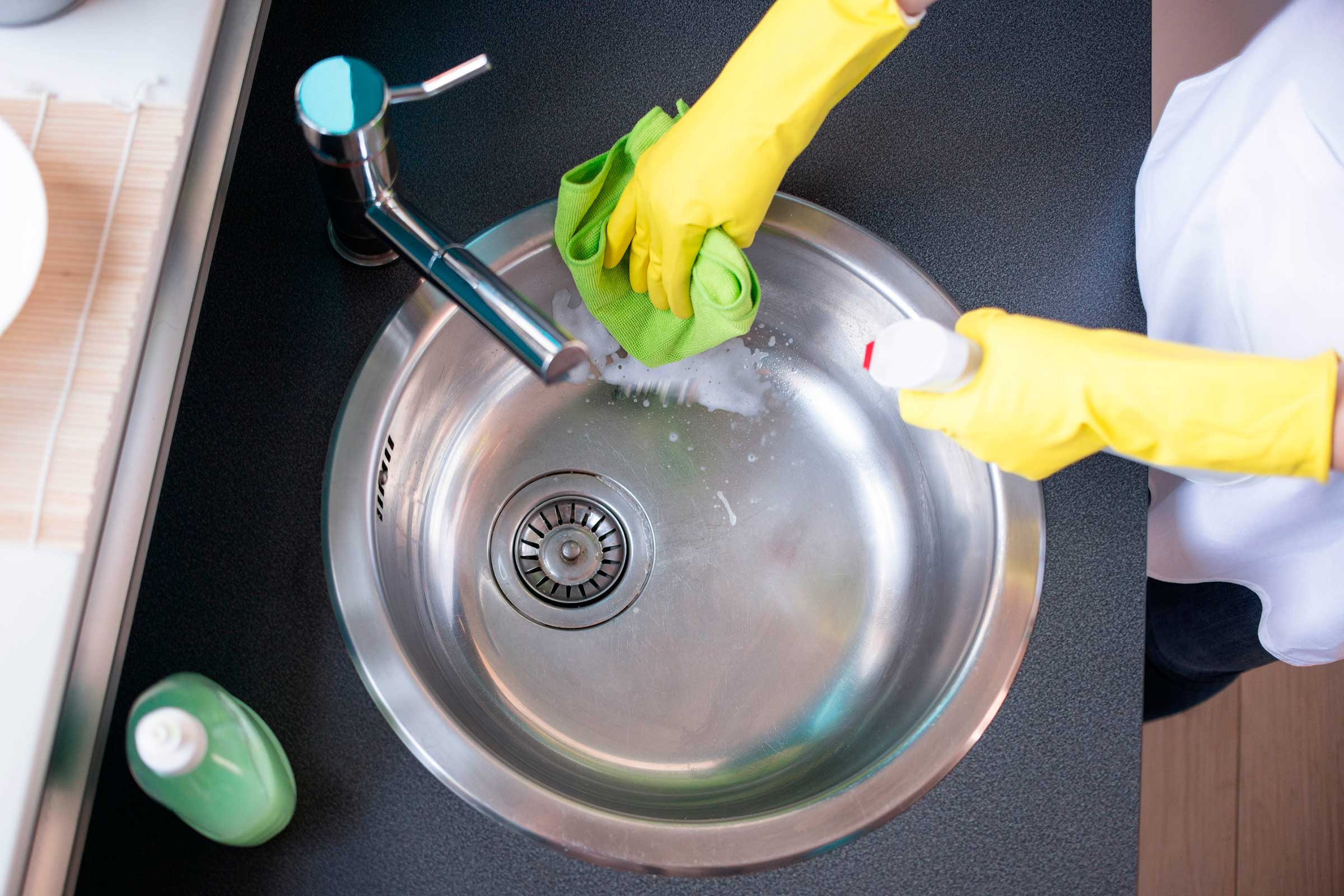 Sprinkle some baking soda on your sinks, tubs, or tile and then wipe with a clean damp washcloth. Rinse and dry.
To clean a greasy pan, sprinkle baking soda and dish soap on the greased part. Let soak for a while, and wash it as usual. Baking soda makes it easier to clean.
Sprinkle baking soda over the bottom surface of your oven. Spray with a water bottle to dampen the baking soda. Let sit overnight and then scrub in the morning. Rinse thoroughly.
Clean your silver flatware by make a mix of 3 parts baking soda to 1 part water. Rub onto the silverware with a clean cloth or sponge. Rinse and dry.
Your child drew with crayons or marker on the walls and it won't come off? Just apply baking soda to a damp cloth and rub lightly on the surface. Wipe off with a clean, dry cloth.
Mix a part of baking soda and a part of vinegar to unclog your drains.
Sprinkle baking soda, scrub, and flush your toilet bowl. Baking soda's abrasive qualities are great for cleaning porcelain.
Baking soda for laundry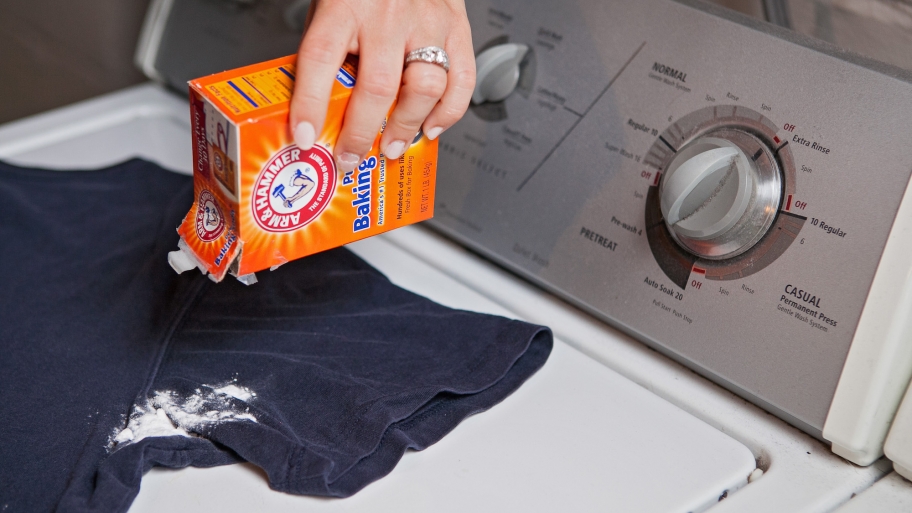 Adding ½ cup of baking soda to each of your laundry load will boost detergent's work and reduce bacteria.
To maximize bleaching, add ½ cup of baking soda to ½ cup of bleach. Baking soda will regulate the Ph level in the water, so bleach will work more effectively to reduce bacteria and loosen soil.
Rub baking soda and water on stain and let sit for a while. Wash and rinse thoroughly, and see how the stain comes off. This works for stains caused by perspiration, fruit, wine, grease, and ink.
To remove built-up starch and scorch deposits from the face plate of a cool iron, mix a paste of baking soda and water. Using a white cloth, rub the paste over the face of the iron. Finish by wiping off the face plate with a cloth dampened with distilled white vinegar.
Instead of fabric softener, try adding a ½ cup of baking soda to a rinse cycle.
Adding ½ cup of baking soda to the rinse cycle helps remove odors from clothes and also softens them naturally.
Baking soda for personal care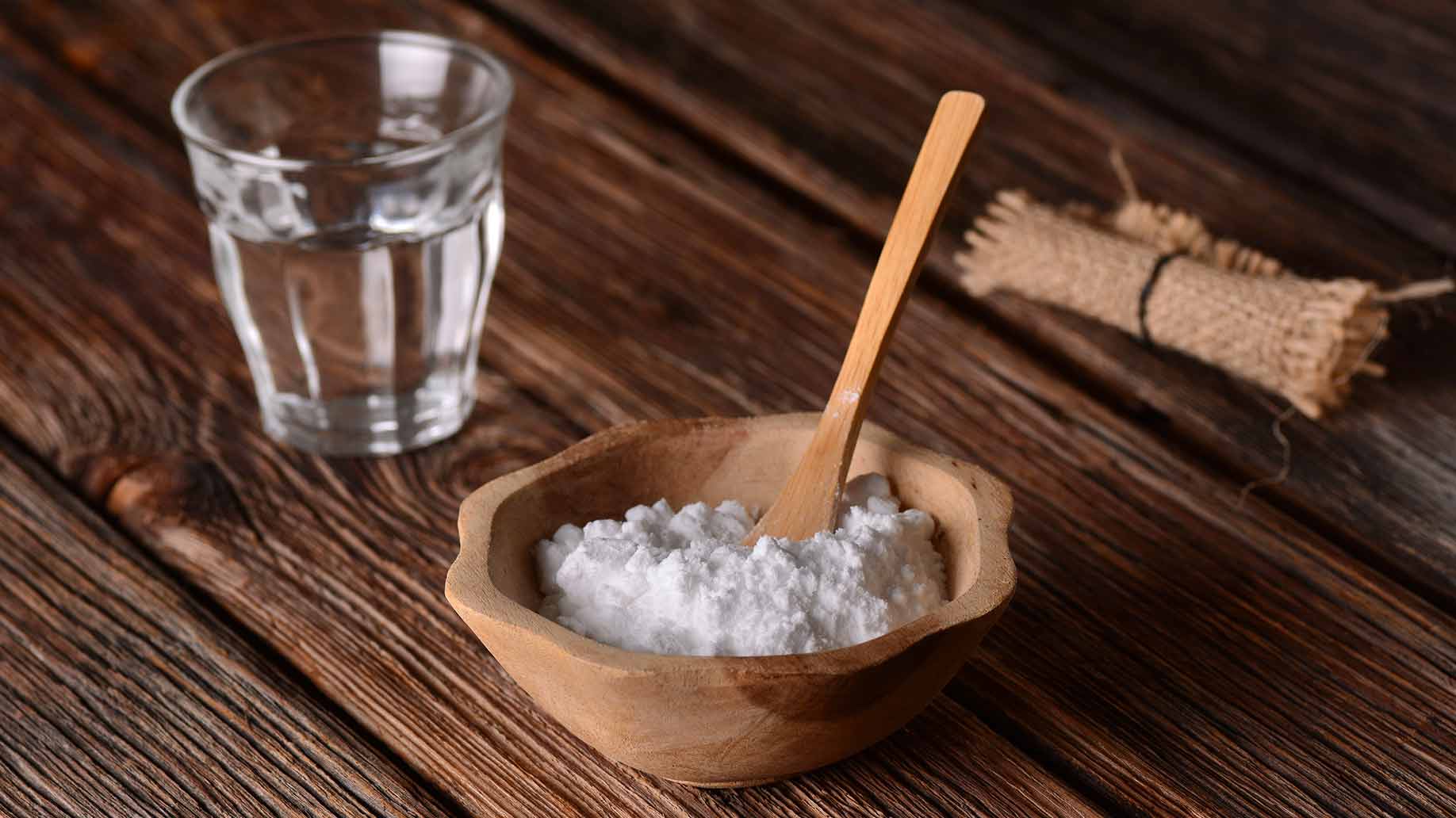 Add a teaspoon of baking soda to your usual shampoo bottle to help remove buildup from conditioners, sprays or mousses and to improve manageability.
To remove the dullness or discoloration caused by chlorinated swimming pools, rinse hair with ½ teaspoon baking soda in 1 pint of water.
Remove fish, onion, or garlic odor from hands with a solution of 3 parts baking soda to 1 part water or liquid soap. Rub mixture in your hands, and rinse off.
Baking soda also can be used to exfoliate rough skin on your elbows. Rub a baking soda paste (made of baking soda and water) onto your elbows, rub softly and rinse with clean water.
To relieve foot itch, add 4 tablespoons baking soda to 1 quart warm water, and soak feet for 10 minutes to relieve foot itch.
To freshen breath, use 1 tablespoon baking soda in ½ glass of water. Swish the solution through your teeth and rinse.
Baking soda for home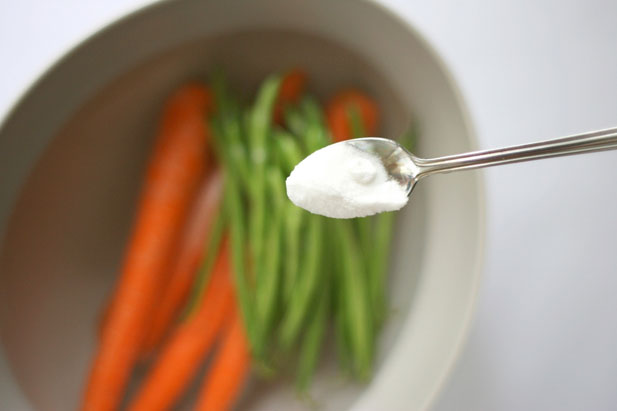 Keep cut flowers fresh longer by adding a teaspoon of baking soda to the water in the vase.
Mix a quarter cup of baking soda in a sink full of water. Wash your fruits and vegetables in the solution, and then rinse with clean water.
Mix up equal parts of baking soda and salt together. Then, sprinkle the mixture wherever you see the ants coming in.
Simply sprinkle some baking soda on the bottom of your trash cans to help keep bad smells away.
Do add the different ways to use baking soda in the comments below…