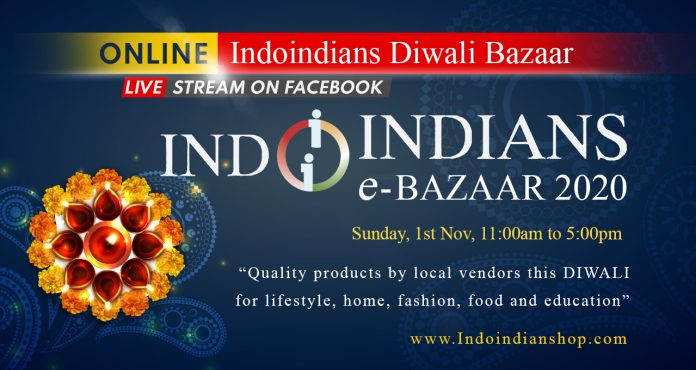 The Indoindians eBazaar is under way! As times have changed, Indoindianshop is also evolving along. We are not able to have a bazaar like we did the last time, so instead we are holding our first ever Indoindians eBazaar for indoindians members. Join in the fun!
1. About the online Indoindians Diwali Bazaar? How are the vendors featured?
The bazaar will be held on the 1st November from 11am to 5pm, so it's 6 hours. The vendors will also be streaming live from zoom, on our
facebook page
as well as the
indoindianshop marketplace
. People will be able to see vendors online as they promote their products. If you like the products, you can go straight to the indoindianshop and purchase it there.
Vendors will be able to speak for a 15 minute window from 11am to 5pm, with the timestamps will be posted on our social media. So if you miss the vendor you would like to see, then simply forward the live stream to the time they were live and view it again.
2. Is the eBazaar only for 1 day – 1st Nov?
Yes.
3. How can vendors sign up to participate? and What are the costs involved?
'
Sign up as a seller
' here fill your information in the registration page. You will need to include details about you, your business, bank details and then an email will be sent to confirm and activate your seller account.
It's important to note that the costs include IDR 1 million for setup fee and 10% for every purchase on
indoindianshop
.
4. Does this include promotion of the vendors? How?
Yes, all of that requirements mentioned above include promotion of the vendors. The method is by live streaming their products for 15 minutes while sale is on
www.indoindianshop.com
5. How many items can vendors post on the Indoindianshop website? And for how long?
The number of items a vendor is permitted to supply is unlimited, along with how long they want to sell the items through indoindianshop.
6. What about delivery of products bought through IndoindianShop?
Products are shipped by seller to buyer. Buyer pays for shipping.
7
. Who should I contact if there is a problem?
Indoindians customer service: WA +62 82210008272
email: cs@indoindianshop.com
Indoindianshop is a trusted marketplace, so you can still connect with them to facilitate that exchange or return to happen.
Return and refund policy of indoindianshop here >>