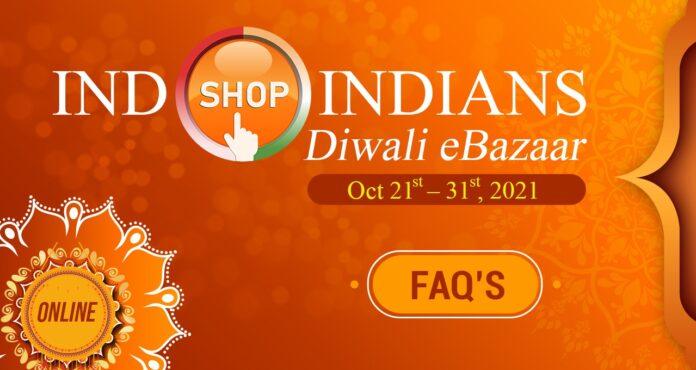 The IndoindianShop Diwali eBazaar is under way! As times have changed, Indoindianshop is also evolving along. We are not able to have a physical bazaar like we did before the pandemic, so instead here is the Online IndoindianShop Diwali eBazaar 2021. Join in the fun!
1. About the online IndoindianShop Diwali Bazaar? How are the vendors featured?
The bazaar will be held for 10 days from Thursday 21st Oct to Sunday, 31st October 2021. The sellers can feature their products on the 
indoindianshop marketplace
.
Many promotions are planned for the individual sellers and their products online through Indoindians channels:
– website
– Facebook
– Instagram
– YouTube
– etc
2. Is the eBazaar only for for 10 days from Thursday 21st Oct to Sunday, 31st October 2021?
Yes.
3. How can vendors sign up to participate? and What are the costs involved?
'
Sign up as a seller
' here fill your information in the registration page. You will need to include details about you, your business, bank details and then an email will be sent to confirm and activate your seller account.
It's important to note that the costs include IDR 1 million for setup fee and 10% transcation fee for every sale on
indoindianshop
.
4. Does this include promotion of the vendors? How?
Yes, all of that requirements mentioned above include promotion of the vendors.
Promotional posts on all Indoindians channels – FB, Insta, WA
Instastory (1) on indoindians instagram
Advertorial page (1) on indoindians
Seller can share 1 min promo/product video
Inclusion in weekly Newsletter
Inclusion in IndoindiaShop newsletter
5. How many items can vendors post on the Indoindianshop website? And for how long?
Each seller can post upto 25 different products . These products can be updated/ changed and can continue to be on www.indoindianshop.com for 1 year.
6. What about delivery of products bought through IndoindianShop?
Products are shipped by seller to buyer. Buyer pays for shipping.
7
. Who should I contact if there is a problem?
Indoindians customer service: WA +62 82210008272
email: cs@indoindianshop.com
Indoindianshop is a trusted marketplace, so you can still connect with them to facilitate that exchange or return to happen.
Return and refund policy of indoindianshop here >>