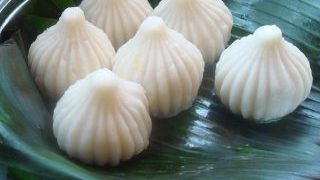 According to the Hindu mythology, modak is believed to be Ganesha's favorite food, and so one of his names is Modakapriya, someone who likes modak. As per the rituals, 21 modaks are offered as bhog and eventually served as prasad to all the devotees on Ganesh Chaturthi.
Story in the Padma Purana regarding Ganesha and Modak.
It is said that Goddess Parvati presented a divine Modak to Lord Shiva. It was a very special Modak and the person who ate the modak will become knowledgeable in all scriptures, science, art and writing.
Goddess Parvati offered the modak to her sons – Lord Ganesha and Lord Kartik. But the brothers were not ready to share it. So she suggested a challenge, prove the true meaning of sincerity and devotion and winner will get the Modak.
Lord Kartik immediately mounted on his peacock, and started visiting all the spiritual places.
But Lord Ganesha went around Lord Shiva and Goddess Parvati and said that no amount of offerings or fasting or visiting sacred places is equal to the devotion of one's father and mother.
Impressed by Lord Ganesha's explanation of true meaning of sincerity and devotion, Goddess Parvati gave the Modak to Lord Ganesha.
Here is our recipe for this divine sweet – Modak
Ingredients:
For the filling
2 Cup grated fresh coconut
1/2 Cup mixture of unsalted pistachios and unsalted cashews
1/2 Pinch of cardamom powder
1/2 Cup milk
1 Cup jaggery or sugar
For the modak pastry
1 Cup rice flour
1 tsp Ghee
1 Cup water
1/2 tsp Salt
Method:              
To prepare the filling:
Combine coconut, milk and jaggery or sugar and mix the ingredients well.
Cook it over medium flame, stir continuously till they are mixed properly.
Add cashews and pistachios and cook for about one minute. Now add cardamom powder. Keep aside the mixture to allow it to cool down.
To prepare Modak

Bring the water to a boil in a vessel.
Now add flour, ghee and salt, stir quickly to remove all lumps.
Cover the vessel with a lid for some time and let it cook.
Remove the lid and keep stirring the mix.
Now remove the pan from heat and transfer all the mixture on a flat plate.
Knead it to make soft dough. It should be neither too sticky nor too dry.
Grease the palms of your hands properly and make a ball from the dough.
Flatten the dough to make a cup shape.
Put 3/4 tsp coconut filling into this cup.
Dip thumb and index finger in the oil and make 5-6 small pinches on the outside edges of the cup. Bring them together on top and join to shape a peak.
Put modaks on a greased plate.
Make rest of the modaks in the similar way.
Now steam them for about 15 minutes and serve with ghee.