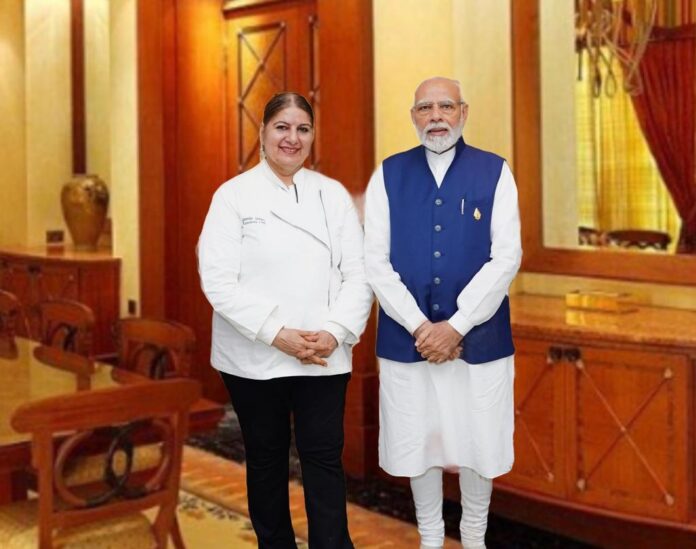 by Geetika Sainani, Indoindians extraordinary woman awardee.
When the news broke out that PM Modi would be visiting the G20 Summit in Bali this year as early as 3 months prior to the event, friends and well wishers' of women's empowerment became curious:
"Geetika will you be the Chef for PM again?"
"No, I am not invited"
However my inner-self told me that there is a chance since the PM Secretariat told me in 2018 that they would try to invite me for every visit moving forward, given how happy they had been with the quality and freshness of food I was able to deliver that year. They remembered to sent a memento too from the PM office which I have been saving as a precious treasure and once in a lifetime collectible. I was assured by Madam Anamika ji (spouse of Ambassador of India to Indonesia) that they would also try the same.
Finally, the day arrived – I was formally invited! I was both content and very excited! It was only about 2 weeks before the G20 Summit and the protocol of security check was processed, both here in Jakarta and back home in Udaipur and Bhopal. The protocol also states that no announcement shall be made of my role in the event, it's matter of the head of India's security particularly since I was going to have direct access to his Royal Residence and interface with him on his dietary needs.
I was once again honoured to be invited by the Indian Embassy to cater for Prime Minister Modi. This marked the second time that I had the opportunity to serve as his personal chef, and it was an experience that I will never forget.
The G20 summit is a highly exclusive event that brings together leaders from the world's largest economies to discuss global issues and promote international cooperation. Given the level of prestige tied to the event, I was determined to make sure that every dish was beyond perfect.
I worked closely with the Indian Embassy to create a menu that would showcase the best of Indian vegetarian cuisine meeting taste and health needs at the same time, taking into account the Prime Minister's dietary preferences and restrictions. We decided on a mix of traditional Indian regional dishes, such as food from Gujarat, Sindh and Rajasthan.
A day before the event, I arrived at the Nusa Dua Beach Hotel Bali early in the morning to begin preparations. All materials were to be screened for security reasons and kept under vigilance of the SPG.
A suite was provided for my comfort so that VVIP's food needs are in good order. I was assisted by a team of butlers and servers from the Hotel – all of whom were committed to delivering the best possible experience for the Prime Minister under my direct supervision.
As the evening progressed, we served dish after dish – each one more delicious than the previous. The Prime Minister was extremely gracious and complimenting, it was clear that he enjoyed the food .
The PM as he is known works until late and wakes up early; he decided to leave back to India right after G20 closing ceremony and he personally requested my handmade Thepla's & pickles to eat as Lunch later on the GOI Plane. I made the goodies fresh with utmost pleasure for him and few of his aides.
On the last night, over dinner, he jokingly asked me if my family ever complained about my food. When I said "No", he laughed with complete grace and commented that 'your daughters definitely complained for over feeding them!' 😃 He also said his memorable experience overseas is to dine here with my light and tasty vegetarian food (as well as a second place in Tel Aviv where an Indian Lady runs an "Bharatiya Bhojanalaya", just like I do).
Overall, cheffing for Prime Minister Modi has been an unforgettable experience both times. It was a pleasure to work with the Indian Embassy and to be able to showcase the best of Indian cuisine to such an important and prestigious VVIP. I am grateful for the opportunity, and would like to thank my friends and well wishers, my family and most of all the Indian Embassy for all their support. I hope that I have the chance to serve as his personal chef again in the future.