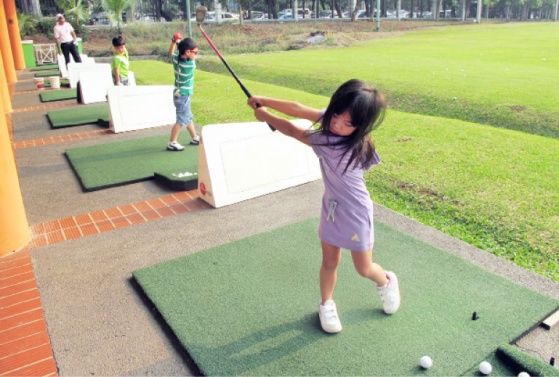 Akademi Golf Aspirasi Delapan Pondok Indah
Jl. Metro Pondok Indah, Jakarta
Phone: 62-21-7511968, Fax: 62-21-7501745
Aspirasi 8 opened in 2001 at Pondok Indah Golf. It has three levels: Beginner, intermediate and advanced levels. The school term is six months. Every three months, students will recive an evaluation of their skills.The lessons includes basic golf (short game, putting, chipping), etiquette, rules and course management.

There are seven professionals teaching in the school. The head pro, Mr. Mat Sani has been involved in the golf industry for 30 years.

Registration fee is Rp 600.000. The monthly fee for members is Rp 400.000 and non-members Rp 750.000. The fee includes uniform, balls and books.

CCA Golf Academy at Klub Golf Cengkareng
Taman Niaga Soewarna Lot. 1-2
Jakarta
Phone: 62-21-55910107
62-21-5592222
Email: ccagolfacademy@yahoo.com
Gading Raya Golf School
Jl. Boulevard Gading Golf, Gading Serpong, Tangerang
International Golf School
Jl. Jend.Sudirman 36A Blok B No.1 Benhil, Jakarta
Prestasi Golf Andalan
Jl. Jend. Sudirman kav 52-53, Kawasan Niaga Terpadu Lot. 16, Jakarta
Red Summers at Rancamaya Golf & Country Club
Jl. Rancamaya Utama Ciawi, Bogor
Modern Golf and country club
Tangerang
This golf school opened in 2000 at Modern Golf and Country Club, but owner Mr. Aditya Eduardo, will also teach at some other golf course by appoinment if required.Beside Modern Golf and Country Club, he usually teaches at prestasi Driving Range, Grand Kuningan and Puri Driving Range.

Mr. Aditya i from golf managemet school in America with an AA (associated degree) in professional golfing management. Up until now, the school has taken on over two hundreds students from children to adults and beginners to advanced.

The set up has all the necessary gadgets: with digital video, frame-by-frame swing analysis studio, various tried and tested drills and trining aids, a video and book library. There also a workshop to treat clubs for that maladjusted loft, lie or grip for example.

Evening lessons are available. All these facilities are only available at Modern Golf and Country Club. Fees: Rp 170.000 an hour. The lessons can be held between Tuesday-Saturday.