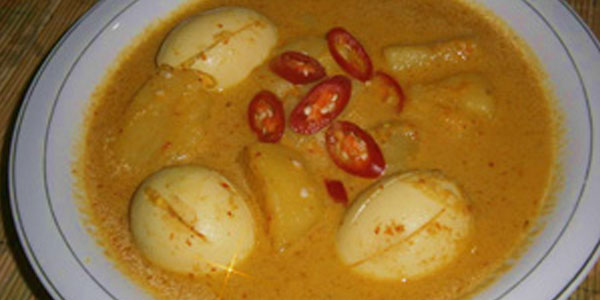 Gulai is protein and vegetables that are boiled with coconut milk and spices. There are many types of gulai depending on your preference, but one type of gulai dish that is most often served in Padang restaurants is Gulai Telur. You don't have to order it at the restaurant, as you can make it on your own within your kitchen.
Ingredients :
2 cups coconut milk
½ turmeric leaf, shredded (optional)
8 hard boiled eggs, peeled
1 tbsp tamarind juice
Salt to taste
Fried shallots to garnish
Spice Paste :
5 shallots, peeled and sliced
3 cloves garlic)
4 birds eye chilies (cabe rawit), chopped
2,5 cm (1in) ginger, peeled and chopped
1 cm (½ in) fresh turmeric (kunyit), peeled and sliced
2.5 cm (1 in) galangal (lengkuas) peeled and chopped
Directions:
Grind or blend the spice paste ingredients until coarse.
Bring coconut milk gradually to the boil and add the spice paste, turmeric leaves and eggs.
Simmer until the sauce thickens for another minute. Serve garnished with fried shallots.