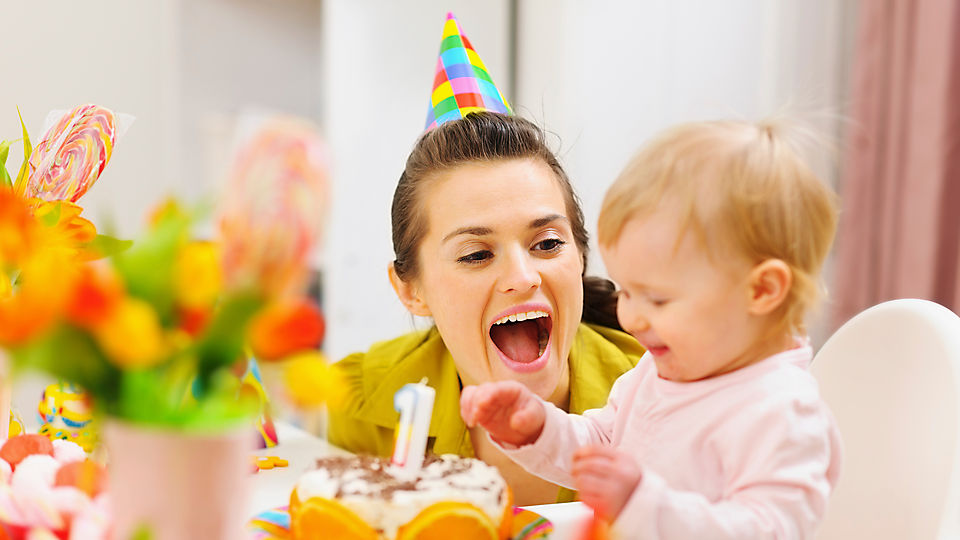 The first birthday party is undoubtedly more special to mom and dad than to baby. In fact, your 12 month old will probably view the celebration as an unnecessary interruption of play time. Therefore, the key to creating a wonderful event is to make it memorable — for you!
Everything, from food to decorations, should be kept as simple as possible. Your job is to take videos and marvel at your baby's graduation to toddlerdom — not to be running around the kitchen washing dishes or adding oregano to homemade tortellini soup.
While keeping things simple for this first birthday, don't forget to limit the number of invited guests. Most babies this age are experiencing a double whammy of stranger and separation anxiety. A guest list of 10 may be overwhelming to your guest of honor. Your best bet is to invite only close friends and family.
To Theme or Not to Theme
Themes are often a great way to structure a birthday party. However, a word of caution: Although themes can help you plan decorations, invitations and food, activities and games should be kept to a minimum. A one year old simply doesn't have the attention span or the skills needed to participate in the fun. And don't forget that you will have your hands full interacting with guests while trying to monitor your cruising birthday babe!
Now more than ever, you may be tempted to throw a huge extravaganza. After all, your baby is turning one. This is the most momentous birthday ever, short of 100. Sorry, but it's time to reel you in. Parents often make the mistake of taking a great theme like Winnie the Pooh, and turning it into Pooh Bear birthday overload. Keep the celebration short. While one-year-olds differ, many can't handle sensory overload. Limit your party to two hours or risk birthday-baby meltdown.
So, go ahead and plaster Baby Roo on the walls, serve treats on Eeyore plates, and Pigletize your birthday cake. Then sit back and let the party take its course. Keep in mind that this is the one event that is more for you than for your child. If you run around organizing events, you will miss the party.
Invitations
Winnie the Pooh is very popular, so make your invitations a creative hit. Decorate your invitations with quotes, graphics or stickers.
Use clip art: Find images of Winnie the Pooh and buddies within a clip art program and print them out on your invitations.

Think visually: After printing out invitations, cut a Pooh shape around the border.

Easy invitations: Many stores carry pre-printed Winnie the Pooh birthday invitations.

Review the books: Spice up your invitations by using several Pooh quotes.
Activities and Games
Incorporating one activity into the party is fine, but don't go overboard. Expecting a one year old to appreciate several structured activities is a
setup for failure. In fact, most one year olds find more enjoyment in ruining planned events than in taking part in them. With that in mind, here
are some simple ideas that will keep guests occupied and your one-year-old happy.
Coloring placemats: Print out a clip-art graphic of Winnie and friends on legal-size paper and distribute to small guests. Dump some crayons on the
table, and have all children color the "placemats." Even your one year old may be capable of scribbling on the picture. One word of caution: Make sure Junior is in the high chair or you may find an unwelcome masterpiece on the living room walls.

Balloons: Babies adore them, but many experts suggest banning balloons until a child is six or older. If a balloon should pop, the remnants can posea serious choking hazard. If you must use them, purchase helium balloons and cut the ribbons so that they are inaccessible to even the best
jumper in the group. Be careful to dispose of them properly after the party.
Favors and Food
Favors can include coloring books or small Winnie the Pooh trinkets found at a local toy store. Pooh stickers and stamps also make great party favors.
For simple and yummy food ideas, visit this Cookbook. Here are some food tips to get you going:
Healthy cakes: A popular photo opportunity is the image of your one year old dipping his entire face into a huge cake. In reality, a one year old
with a pound of sugar coursing through her veins is a scary thing.

Just a piece, please: One piece of cake can get pretty messy, and by itself contribute to some great Kodak moments. A whole cake in front of
the one year old is excessive. And excess is the primary cause of birthday-baby meltdown.

For the rest of the guests, think honey: Although honey is off limits to your one year old, for other guests it fits perfectly into a Pooh theme.
From cake to cookies, use honey-based recipes and frosting. And don't forget to scatter a few plastic bees around for good measure.
Gifts
If your one year old, like many, has too many toys already, then have all guests RSVP to Ma. When they inquire about gift ideas, she can suggest that they contribute a copy of their favorite childhood book to the guest of honor's future library. You will end up with a fabulous collection of quality books that are guaranteed to last longer than any plastic train.
Here are more winning ideas for first birthday gifts:
Push and pull toys: These are very popular with the one and over crowd.

Audio/visual toys: Toys that make sounds and have flashing lights are sure winners. Just test them in the store to make sure that you can live with them.

Scooters: Colorful scooters will be appreciated by the newly mobile.

Clothes: Go ahead and buy them. This is the last year that your child won't groan when she unwraps a new winter jacket.