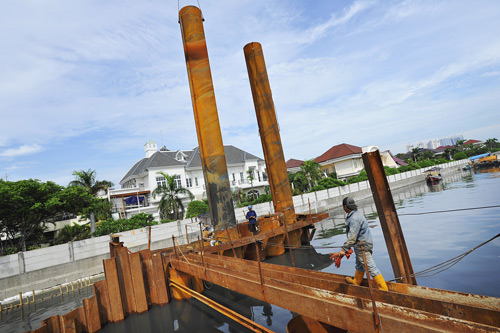 Heavy downpours are the norm during Jakarta's wet season, which usually lasts from October to April. The US National Oceanic and Atmospheric Administration (NOAA) has predicted that Indonesia will experience 70% more rain than normal this season due to the La Niña climate phenomenon. The peak of the rainy season is likely to occur in February when extreme weather including torrential thunderstorms, high winds, heavy rain and whirlwinds can be expected.
The rain can cause chaotic traffic jams due to flooded streets, and if you are unlucky you may experience flooding in your neighborhood. Jakarta is located on a flood plain and is traversed by 13 rivers; moreover 40% of the city is below sea level. The city's infrastructure has not been able to keep pace with its rapid growth and urbanization and its drainage system is inadequate.
Severe and widespread flooding has affected the city on an approximately fiveyear cycle, with many low lying areas inundated in 2002 and 2007 causing loss of life and damage to property and infrastructure. Due to the increased risk of localized flooding in the Greater Jakarta area all residents are advised to make plans and preparations for such an eventuality.
Keep abreast of local weather reports and check for updated advisories from your embassy or security company.
If the area where you live is low lying and at risk of flooding contact your local RT (neighborhood unit head) to find out about emergency plans and suggested evacuation routes.
Be familiar with street logistics. Where does it flood during the rainy season? Try to learn some alternative routes.
Check the street and community drains to make sure they are clear from debris. Contact your landlord if they are not.
Discuss with your family and members of your household what to do in the case of a flood. Make an evacuation plan and practice it with your family.
Prepare valuable papers and items that you will take with you in case you need to evacuate your home.
Make sure all responsible adults in your home know how to shut off utilities such as gas, electricity and water.
Purchase a floor water squeege to move water toward the drains.
Prepare your emergency flood gear in case of power outages or if you find yourself isolated due to high water on the streets near your residence. You should have flashlights, spare batteries, a battery powered radio, a tarpaulin, plenty of bottled water, non perishable food, a first aid kit, prescription medications, supplies of special medical needs, insect repellent, personal hygiene supplies and an adequate supply of LP gas.
If it is necessary for you be out in your car, let someone know your destination and ensure that your gas tank is at least three-quarters full and that your cell phone is sufficiently charged.
The Flooding Information Centre phone number is 021 819 7309.
Provided by: Colliers International