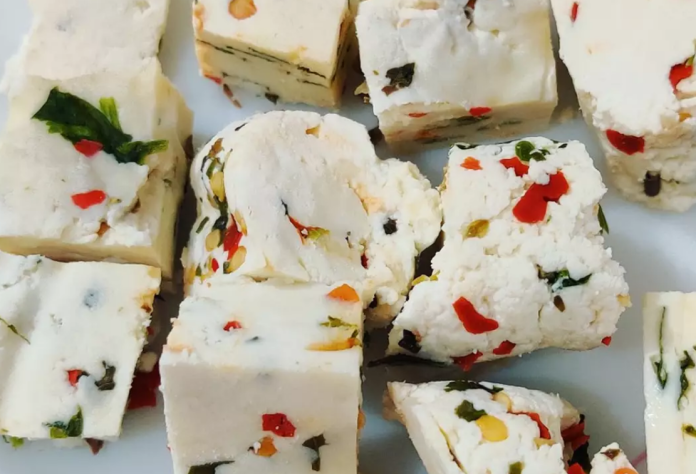 Masala Paneer or Cottage Cheese with herbs and spices is a wonderful version of plain paneer or cottage cheese. It tastes awesome and can be made easily.
This aromatic flavorful paneer is prepared by adding various spices and herbs at the time of setting up the paneer itself! For me, it makes for a great starter or vegetarian snack option. You can even have them as it is or sauté them a little in butter or olive oil before serving others.
It is also a great food to include in your diet if you are trying to loose weight.
Be creative and add whatever spices and herbs you like to complement the paneer.
Fresh Herbs – Whenever available try to add the fresh herbs like, coriander, mint, dill leaves etc. They give a wonderful green color in between the fresh and soft white paneer. Each bite you take has the taste of these fresh herbs.
Spices – You can get creative here and add what ever spice you like. Just be sure that spices you add should be dry roasted and powdered or coarsely grounded. My personal favorites are black pepper, roasted jeera (cumin ) powder and chilli flakes. I have tried masala Paneer with chat masala, fennel seeds and dry mango powder also. All these make a yummy and delectable snack of masala Paneer.
INGREDIENTS
1 liter Full Fat Milk
3 tsp Lemon juice
1 tsp Red Chilly Flakes
1 tsp Oregano
2 tsp chopped coriander leaves
1 tsp black pepper
1 tsp Salt
INSTRUCTIONS
Boil Milk in Pan
Add Red Chilly Flakes, Salt, Black Pepper Powder, Oregano, Chopped Coriander Leaves
Add Lemon Juice and let the milk curdle
Strain it and cover and put some weight on top
Leave aside for 3-4 hrs and keep in fridge for overnight.
Herbed Paneer or Masala Paneer is ready.
Detailed process to make paneer at home here >>