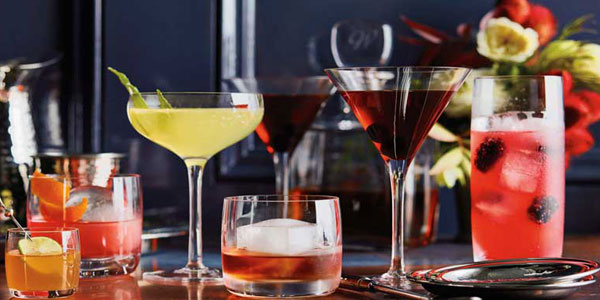 There's no better excuse for gathering with friends than to enjoy that last bastion of sybaritic sophistication: the cocktail party. In terms of American contributions to world culture, it's right up there with jazz, blues and hamburgers. We'll help you plan a festive party with advice on :
Setting the hours and whether you'll need a bartender
Making your shopping list, how much alcohol you need and the essential tools
Eight bartending tips
The recipes : Tropical pleasures, trendy treats and classic cocktails and non-alcoholic mocktails.
Six key planning tips
A successful cocktail party usually requires some careful planning. We'll make it easy for you with these practical tips on party hours, hiring a professional bartender and what should go on that important pre-party shopping list, including amounts and types of liquid refreshment. We'll also help you stock up on 13 essential bartending tools and the appropriate glassware. We've even got some great recipes for tropical and trendy drinks, classic cocktails, and – for designated drivers and teetotalers – tasty mocktails. Plus, eight tips on how to pour them with panache.
1. Define the hours
If your party is longer than three hours it's not a cocktail party. Allow an hour for your guests to arrive, an hour for chemistry to work its magic, and an hour for your guests to leave. In fact, whether you invite people informally or with printed invitations, specify the start and end times of your party so there will be no confusion. (If you don't give an end time, guests may assume dinner is involved). As a rule of thumb, the prime cocktail hours are between 5 p.m. and 8 p.m.
2. Who tends bar ?
How long is your guest list? If you're thinking of a small group of five to six couples you should be able to pull off bar duty yourself. If you're inviting more than 12 guests you'd probably have a better time if you hire a bartender. (And if you take that route your glassware problem is solved, too, as many bartenders come with their own gear.) The acceptable intermediate solution is to make everyone's first drink yourself and then allow guests to help themselves.
3. How much booze will you use ?
Most adults can process one drink per hour and still pass a Breathalyzer test after two or three hours. As a responsible host, you don't want anyone to flunk that particular quiz. For a three-hour party, plan on three drinks per person (with or without alcohol). Knowing your guests' preferences in advance helps to determine the types of alcohol to buy, but you can always simplify things by offering one "featured" cocktail and then stocking a few other basics. Err on the side of generosity. Unopened bottles can usually be returned.
A 750-milliliter bottle of spirits makes 18 drinks (at a jigger a piece). A bottle of wine holds five glasses (your choice of white or red may depend on your guests' preferences) Allow two nonalcoholic beverages (mocktails, soft drinks, bottled water or juices) for each guest for mixers and to cover the designated drivers and teetotalers.
4. The shopping list
Depending on the array of drinks you're planning to serve, make sure you have all or most of the following items on hand:
Club soda or sparkling water
Tonic and bitters
Soft drinks (cola, ginger ale, lemon-lime)
Juices (orange, grapefruit, cranberry, pineapple, tomato)
Garnishes (lemons, limes, oranges, olives)
Cocktail napkins
Toothpicks and straws
Ice – allow one pound of ice per person for a three-hour party. Cracked ice or small cubes work best.
Enough appetizers to help keep your guests upright (and that they can hold with one hand – a cocktail presumably keeping the other occupied). Serve food that can be consumed neatly. Marinara sauce looks like a gunshot wound on a cocktail dress. Whatever you serve, be sure you enjoy it because half of it will inevitably remain after the last guest leaves.
5. Essential equipment
Keep those Flintstones jelly jars out of sight. Cocktail parties are for grown-ups. Make sure you have all the right stemware. Depending on the array of adult beverages you're planning to serve, make sure you have all or most of the following items on hand:
13 Essential bar tools
Bottle opener
Corkscrew
Jigger – preferably the double-ended variety with both 1 1/2 ounce and 3/4 ounce measures.
Juice squeezer
Strainer
Ice bucket and tongs
Bar spoon with muddler on the end
Blender
Cocktail shaker
Cutting board
Sharp knife
Zester
Towels
6. Hosting with flair
Here's how to prepare the top trendy and tropical treats and classic cocktails and tasty mocktails. Cheers! Here are eight time-tested tips to help you pour with panache and serve with style:
Keep your kit clean – Rinse your jigger after each use. The flavors of different spirits are not necessarily compatible. Keep plenty of fresh towels on hand to wipe your utensils and glasses and clean up spills.
Use fresh fruit and juices when possible – If you can, get fresh, ripened fruit for the blender or for garnishes. Similarly, fresh squeezed juices beat concentrates hands down.
Handle with care – When pouring a cocktail, handle the glass by the stem. You're less apt to warm it or leave fingerprints on the sides.
Keep your mixers cool – Store all juice, tonic and soft drinks in the refrigerator or ice chest. Warm mixers melt ice and dilute drinks.
Use an ice scoop – Never use a glass to scoop ice from the bucket. Slivers of glass can chip from the rim and land in the drink.
Baby let's twist – When a cocktail calls for a twist of lemon, use a zester to trim a thin strip of peel. Rub the strip around the rim of the glass to coat it with oil. Then twist it to add a drop of oil to the drink and drop the peel in.
Keep it iced – Make sure you have enough of the frozen stuff (one pound per person). Add fresh ice to your bucket regularly as you need it, keeping the main supply as cold as possible.
Rim trim – To salt or sugar the rim of a glass, fill a small bowl with either, rub the rim of the glass with lemon or lime and twist it into the bowl.