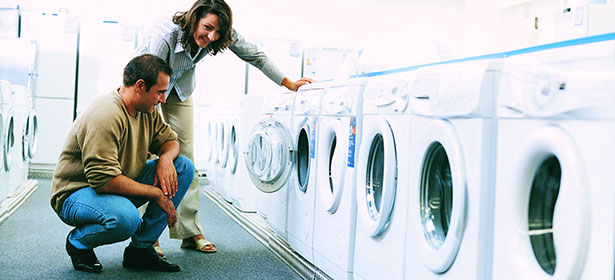 Your washing machine must cater to your family size, and the kind of clothes you wish to wash.
Let's face it, a washing machine is now no longer a luxury. But there are many things one should be careful about when shopping around for a washing machine.
There are many types of washing machines: The manual washer, the semi-automatic and the fully automatic washing machine.
Quite clearly, the manual washer is a mechanical washing machine; you have to set the timers for washing, drain out the water two or three times; and be prepared to spend time waiting on the machine while it mechanically washes the clothes through a tumble wash technique. Yes, it is an inexpensive machine. Sturdy and strong. But then it doesn't offer all the facilities that a semi-automatic or fully automatic washing machine does.
With a semi-automatic washing machine, the times indicate when the operation of soaking and scrubbing is over and then you have to manually transfer the clothes for washing. Semi-automatic washers are generally larger in size and occupy more space in the bathroom. But you have to ask about:
The water consumption
How much electricity does it consume: what happens if the power goes off when the machine is in operation?
What is the washing technology being used: is it a pulsator or a tumblewash? Or is it more advanced technology?
How much detergent does it use?
What is its capacity?
How many heavy clothes can it wash at one time?
How long does it take to dry clothes?
What is the company's warranty? With fully automatic washing machines, you just have to switch the machine on, and it take care of soaking, rinsing, scrubbing, washing and spin-drying. Of course, these machines come with a higher price tag. You have to ask about:
Water, electricity and soap consumption
The advantages of top-loading mac-hines versus front-loading machines
Are there any special features? Like special wash for silk or woollen clothes?
What is the capacity of the machine?
Get to know about the warranty: the more technologically-advanced the machine, the more delicate it actually is. So if you need to have an important part changed or serviced what then?
Remember, your washing machine must cater to your family size, the kind of clothes you wish to wash at home and your time-schedule. If you are working, then you could be washing clothes later in the evening. Child safety is another major issue. When you are selecting the model, ask about how child-safe the machine is. Children have a habit of fiddling around with the doors or merely pressing the buttons on the control panel. Your washing machine has to be intelligent enough to withstand this.
Today there are many brands available with their own advantages. Each brand has models suited to your budget. Ask these important questions and you'll be on the way to buying a washing machine that will last for many years to come.