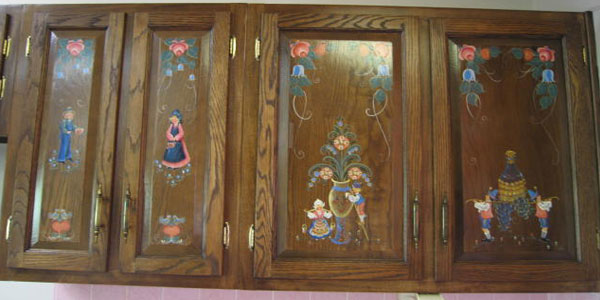 Bored of your cabinet doors? Want to add a little flair to your home? If you answer yes for both, then you really should try to decoupage your cabinet doors. Doing this not only makes your room look nice but makes it look unique as well.
Supplies :
Decoupage glue
White latex paint
Botanical print (from a book)
Rags
Foam brush
Directions :
With a rag, rub and drag on white paint over an unfinished paneled-door cabinet. This should be rubbed on unevenly for a faded paint look.
Make six color photocopies of a botanical print (found in old books or magazines).
Brush decoupage glue on backsides of prints and place one in each panel inset. Brush another coat of glue over the top of the print. Smooth out any air bubbles. Let dry.
To give prints a faded look, wipe a light coat of white paint over the top of the prints and rub most of it off before it dries.