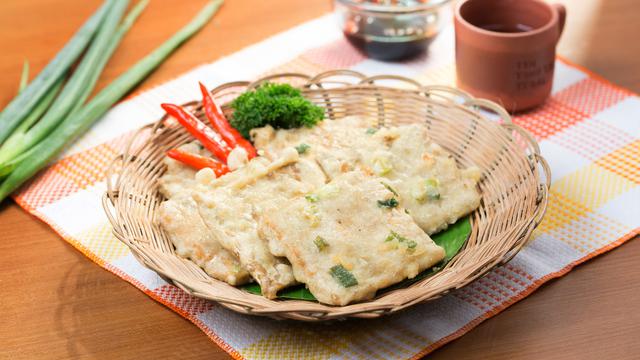 During the raining season, you crave something warm and spicy. Tempe Mendoan is the right snack for the season for it checks all the boxes above. Make your own Tempe Mendoan and enjoy with warm tea for this cold, rainy season.
Ingredients:
5-6 pieces of thinly sliced tempeh
300g wheat flour
250g rice flour
1 stalk of leeks
¾ Tbsp crushed coriander
200 ml water
250 ml frying oil
Salt
Pepper
Blended Ingredients:
2 cloves garlic
3 cloves shallot
1 segment turmeric
1 segment galangal
3 Tbsp water
Ingredients for Sambal Kecap:
5 Tbsp soy sauce
1 cloves garlic
4 pieces of cayenne pepper
How to make Tempe Mendoan:
Blend all the ingredients that requires blending in a blending machine. Set it aside.
Mix rice flour, wheat flour, salt and pepper until even.
Add in the blended ingredients, leeks, crushed coriander and water. Mix everything evenly until it has the required consistency.
Dip tempeh into that mixture, fry until halfway cooked.
Remove from frying pan and drain excess oil in a drainer.
How to make sambal kecap:
Thinly slice cayenne pepper.
Next, pour 10 tablespoons of sweet soy sauce.
Add salt according to your preference and mix evenly.
Sambal kecap is ready to be served with warm tempe mendoan.