Planning a trip to India and don't know where to start?
Is your vision of India the Taj Mahal, glowing like a pearl in moonlight? Beautiful women in flowing sarees with big bindis on their foreheads right out of Bollywood, piping hot Naan bread and chicken tikka?  Look deeper and you will find 'God's own country' in Kerala, although the 'Abode of Gods' is in Uttarakhand and 'Paradise on Earth' in Kashmir.
It is confusing, amazing, inspiring and really intimidating – all at once. India is a vast country (similar in size as Europe); with over 1.2 billion people spread over 28 states and 7 union territories.  Erstwhile kingdoms and princely states stitched together. It is a kaleidoscope of languages, dialects, religions, races, customs, and cuisines, and cannot be defined only experienced.
There is so much to see and do, it's difficult to decide on top ten travel destinations in India. Here is my pick of the top ten travel destinations in India as we go from North to South.
Leh, Ladakh
Ladakh lies on the Tibetan plain and is one of the most magical places on planet. The serene white expanse of the mighty Himalayas and the mystical valleys of Ladakh are the heaven-on-earth incarnate. The rugged and arid landscape juxtaposed against blue skies and turquoise still lakes, fluttering monastery flags provides endless photo opportunities.
Qutub Minar in Delhi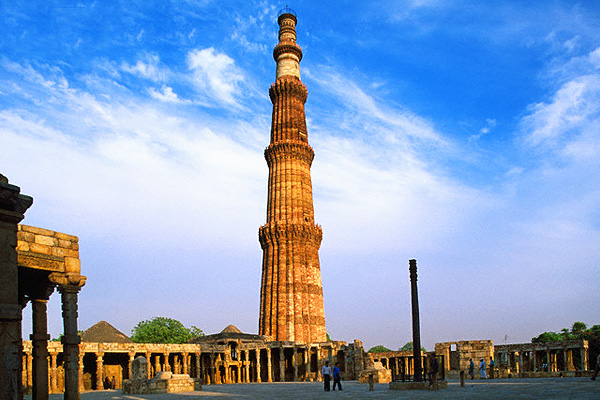 Delhi, capital of India is built on the ruins of seven previous cities. A local idiom says 'Dilli dilwalon ka shehr,' which means Delhi belongs to the large-hearted. A city of spectacular contradictions, ancient and medieval monuments that stand proud in the midst of contemporary infrastructure and modern malls with regal dignity.
Agra, Uttar Pradesh
Taj Mahal, Agra

Taj Mahal is an ode to love, built in the memory of his wife by grief stricken Mughal Emperor Shah Jahan.  A white marble mausoleum with intricate carvings and inlay work of semi-precious stones, Taj Mahal is a huge complex housing several magnificent structures, and a World Heritage Site. There are other beautiful and must see attractions too.
Jaipur, Rajasthan
Hawa Mahal – The Castle of Wind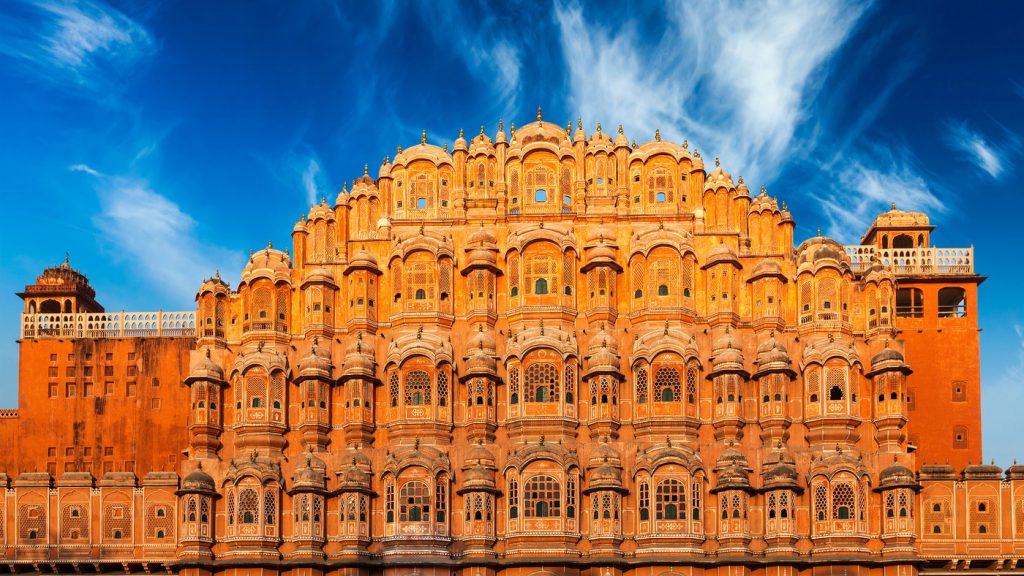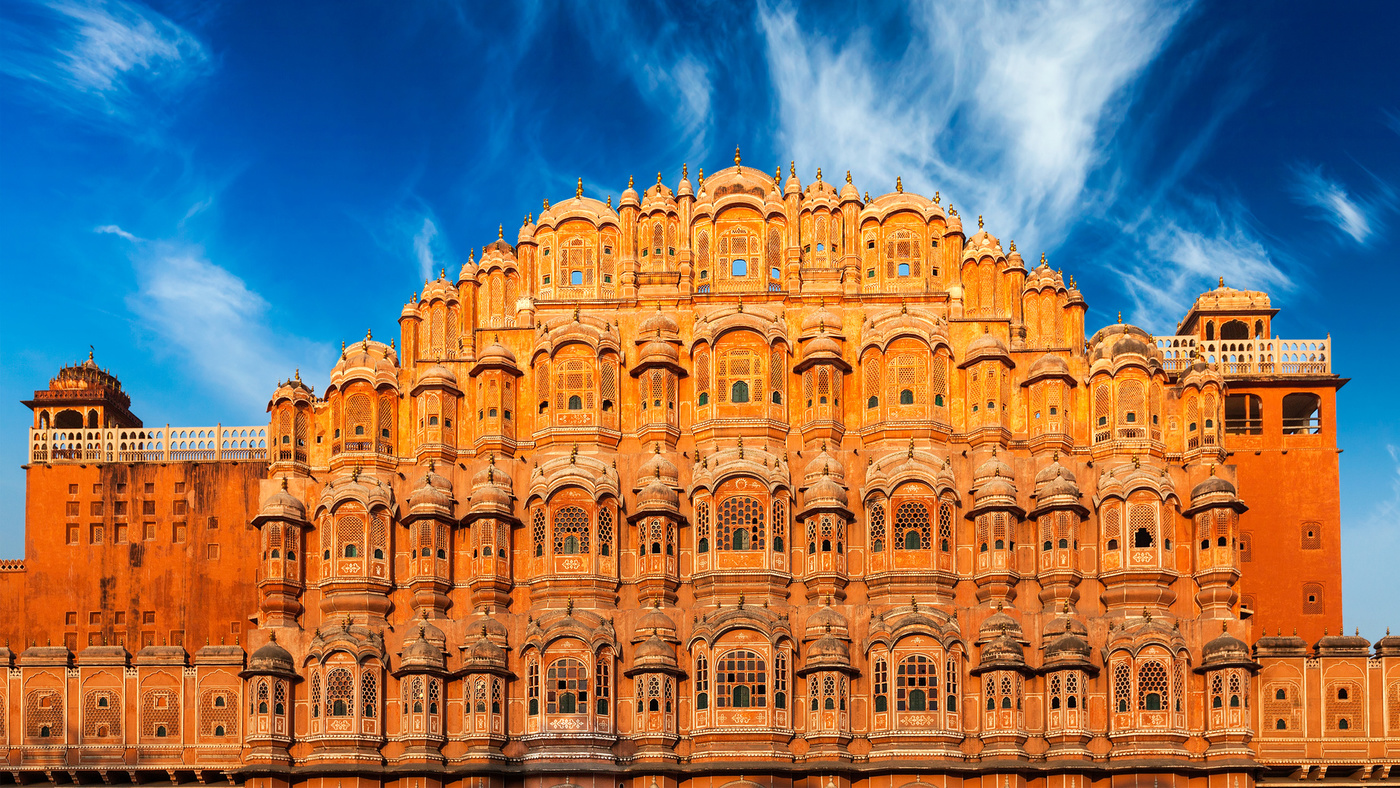 A city built in pink sandstone. Relive a bygone era, in the lap of Rajputana luxury.  Explore Jaipur's intimidating fortresses, lavish havelis, and royal cenotaphs. Shop for colorful textiles and intricate jewelry. Enjoy folk dance and music performances and see puppet shows as you listen to legendary tales of valor and love.
Mumbai, Maharashtra
Goa Beach
Looking for a honeymoon destination? Come to Goa, the smallest state in India. Â A tropical paradise influenced by the Portugese, with the most beautiful beaches, East-meets-West cuisine, and the carnival. It is a New Year party destination for a really good time.
Khajuraho, Madhya Pradesh
In the 'Heart of India' visit the 1200 year old Hindu and Jain temples- Khajuraho Temples, known for its erotic sculptures. The temples are famous for the exquisite work of art and sculpture on the walls devoted to love and its expression.
Kumarakom backwaters, Kerala
Kerala Backwaters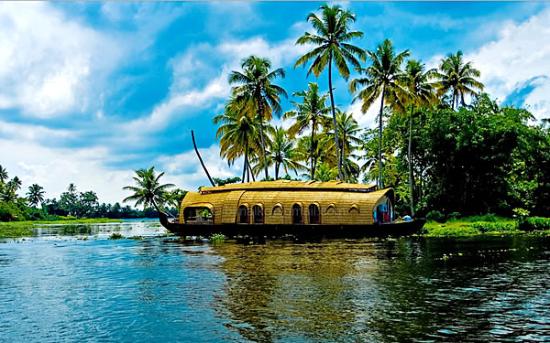 Rejuvenate with Ayurveda, 'the science of life,' an ancient treatment method based on diet, massage, herbs, meditation and yoga, popular in Kerala.  Kumarakom, is a small scenic village with cluster of little islands is situated on the bank of crystal clear blue Vembanad Lake. Explore the beauty of the Kerala backwaters with a romantic houseboat cruise.
Mysore, Karnataka
Dasara Festival, Mysore
The cleanest city in India, Mysore is famous for the 10 day Dasara festivities. Buy the silks, paintings and inlay work and eat the rich Mysore Pak. The state is popular for eco-tourism locations and has 25 wildlife sanctuaries and five national parks.
Kanyakumari, Tamil Nadu
Kanyakumari
This is the very tip of the India, the confluence of the Bay of Bengal, the Indian Ocean, and the Arabian Sea.  This results in spectacular and unique sunrise and sunset. On balmy, full-moon evenings, and one can view the moon-rise and sunset are at the same time – on either side of the horizon.
Bollywood, Slumdog Millionaire, the Bangalore call centers—all obscure the 'real' India, with its natural beauty, amazing monuments, colorful history and culture, mysticism and cuisines. Plan the trip that's right for you, whether you're traveling to soak up India's spirituality, chill out on the beaches, or live like a king in the land of princes.
By,
Poonam Sagar