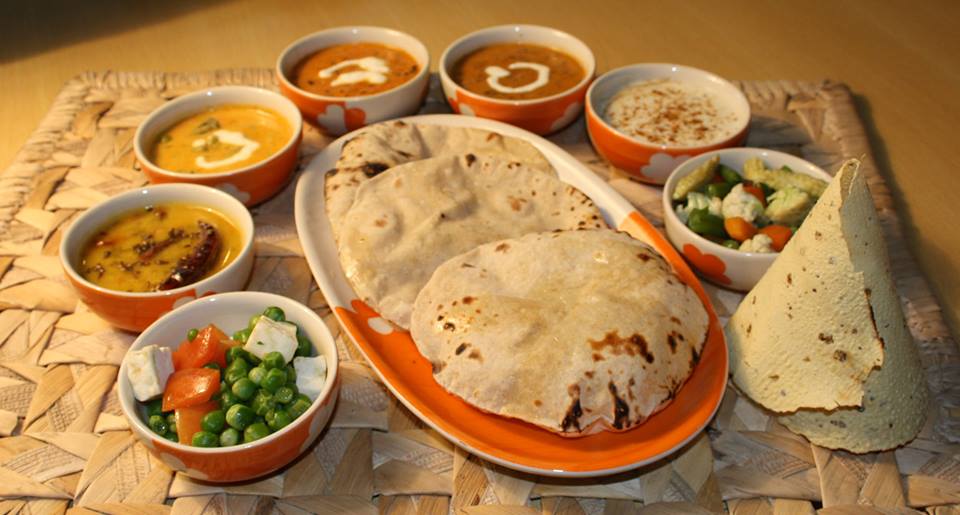 If you are looking for Indian food tiffin service or just catering for special events, here is a listing of providers in Jakarta.
Are you an Indian food caterer in Indonesia? Register your details on Indoindians to list your catering business to promote and find more customers – deliver meals for individuals, meetings and parties in your delivery area. There is no fee to listing yourself on this community portal reaching over 100,000 visitors every month. Your customers can order directly to your contact number listed. Register here >>
1. Venus Baking Company – Custom made cakes, breads and cooking courses. Variety of Biscoti, multigrain breads and lots more.
    Order Vegetarian cakes.
Veena (Rajkumari) Jethnani
Griya Inti Sentosa Blok M/28
Sunter Kemayoran
Tel: +62-8161897870
2. Karisma Catering Services – Specializes in party order ( Snacks – Main Courses – Sweets – Saath Saath – Namkeens )
STS Blok E No.11, Sunter Podomoro
Jakarta 14350
Phone +628176802393
3. Rati's Fusion Kitchen – brings you everything from Spanish Saffron to Himalayan Salt.
Variety of snacks and desserts are available from Idli, Dhokla, Uttapa, Chaat, Ice Cream Cake, and Mithai.
For catering order, please contact +62 (816) 118-4730 or send email to kumarati64@gmail.com https://ratisfusionkitchen.com/
4. Rachna's Catering – offers a variety of mouth-watering delicacies and irresistible savories. "You got to have it to believe it!" Kindly contact soon if you wish to surprise your loved ones with beautiful hampers and eye-catching packaging. Taking Diwali orders for mithais, namkeens, and savories.
Tel: +628158841307 or email rachnadasani@hotmail.com
5. Tamarind by Tastes of India – delivers anywhere for lunch at the Office or Dinner at Home . Do try our New Thali Meals ( Combo Food – Chicken and Vegetarian ) +628159001632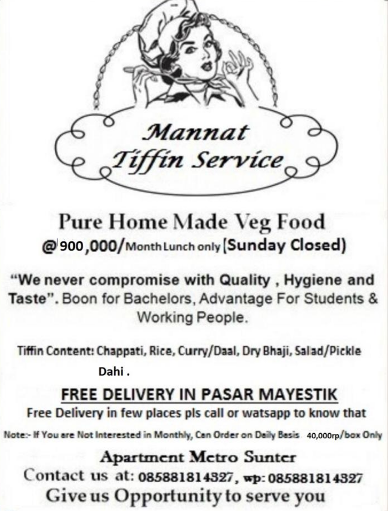 6. Kavita Veg Catering ‎+62 815-1157-2466
7. Mannat Tiffin service +6285881814327
8. Mohandas catering +6285777780768 / +6281280387500
9. Aparna Rakhra +62 815-1162-0480
10. Naina's Kitchen –  Indian/Indonesian/Chinese Cuisine
Tel +62 81385858 or karishmabharwani@yahoo.com
11. Sunita's Catering – Indian and veg Indonesia +62 8567258188
12. Mom's Kitchen by Lovely Walia +62 81818-2222
13. Zanas Fusion Cuisine +62 819 058-5199
14. Ayub Indian Arab catering +62 878616-3766
15. Cairo food – Herbs and Spices, Rice, Nuts & Seeds, Cooking Spices, Snacks, Bread, Dessert, Fruits, Meat, Cake, Beverage, Dairy & Cheese, Sauces, Vegetables, Seafood, Soup
Tel: +62 812 182-2261 or https://cairofood.id/produk/
16.  Cafe Anjali – Vegetarian, Chicken, Tandoori, Mutton, Panner, Biryani, Fish, Bread, Thali
Tel: +62 (815) 192-7887
17. Indian Food & Fun – veg thali and non veg thali
Tel: +62 (877) 000-8710
18. Tarun's Gujarati Snacks  +62 81806912441