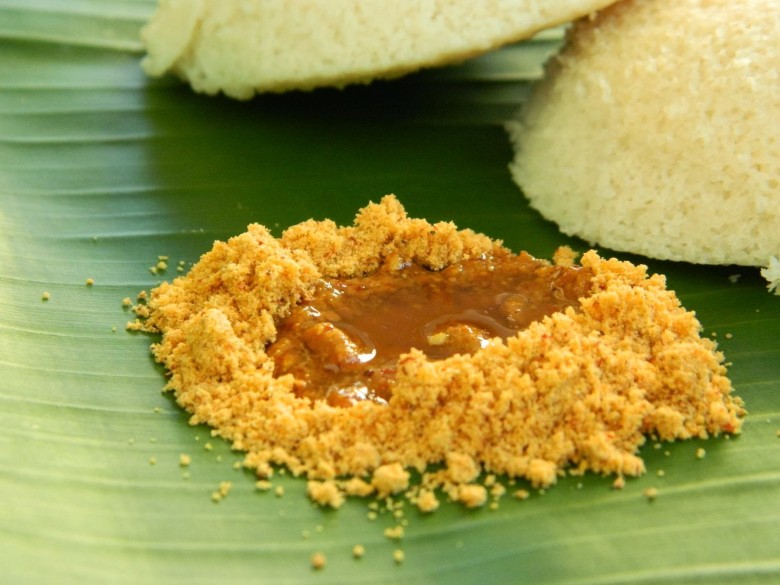 Vasanthi Ram shares her mothers recipe for this really popular spice and daal paste, commonly call Gun Powder due to its fiery taste.  South Indians will have different recopies for the Molagapodi.
Ingredients:
Urad dal split -1 cup
Madras red chillies whole 15nos remove stalks.
White sesame seeds 2 tbls spoons.
Asafoetida (hing) 1/4 pc. If using powder – 1 tsp.
Salt white rock salt 1 tbls.
Coconut oil 1/2 tsp.
Method:
Heat wok + 1/2 tsp coconut oil.
Reduce flame and add red chillies whole 15nos fry till crisp.  Take out in plate.
In same wok fry sesame seeds  2 tbls, till you get a good aroma. Keep aside.
In same wok fry Urad dal one cup till its a light brown colour. Keep aside.
Now fry the white salt till its hot n crisp. Keep aside.
In dry belnder add chillies grind till you get a smooth powder. Add all other fried ingredients to it & grind to a coarse powder.
Store in a tight container.
Server with dosa, idli and drizzle with some ghee
Molaga podi or Spice powder is an absolute essential which is always kept in stock in almost all south Indian homes.This is one of those simple powders that require few ingredients but is extremely tasty and can be stored for upwards of six months easily.This is generally used as an equivalent of chutney by adding a few drops of sesame oil or ghee to the required quantity of powder and by dipping a bite of dosa (indian savory pancake) or idli (rice and lentil steamed dumpling) or pretty much any other dish that you wish to spice up a little.