The press conference of upcoming Miss and Mrs. Inter-Nations 2018 was held at JW Marriott Hotel, Jakarta on October 10th 2018. Udita Thadani, a makeup artist and salon owner, is the National Director of this beauty pageant said that the event aims to empower women in all aspects. Those particularly include self-love and courage as required by women today. She also remarked that apart from physical features, beauty is more psychological and mental. Taking care of body, mind, and soul at once is an act of self-love.
Simran Punjabi, of Intercept Films, as the Co-Director of Miss and Mrs. Inter-Nations in Indonesia shared that the pageant seeks to increase and strengthen the woman empowerment In Indonesia, and to recognize capability and encourage women to be more wise and caring.
This event was a showcase for the three contestants from Indonesia, selected via online auditions as role models. They all happen to be Indian citizens – Miss Meha Sanghi, Miss Palak Bhansali, and Mrs. Amita Sharma. The contestants intend to encourage women to live their dream no matter what circumstances they are in.
Meha Sanghi is a 19 year old student, who participated with her major interest in beauty and fashion. She is eager to embrace the inner beauty of a woman.
Palak Bhansali is 25, and Miss India Indonesia 2015. She is a performing artist and participates in this forum to challenge herself to be different and be an 'out of the box' individual.
Amita Sharma, 53, was 1st runner up of Mrs. India Indonesia 2018. She is an educator and social worker.
The three contestants have been through and intense training which included public speaking, catwalk, beauty and fitness regime, will leaving for Singapore on October 17, 2018 for the main event on 18-21 October.
The contestants were presented to the gathering, where they walked the red carpet. Well known Indonesian designer Hengki Kawilarang has designed the national dresses which were also presented by the ladies.
As the grand finale to the press conference, the contestants walked the ramp in magnificent traditional costume designed by Nabil Cartyn Carnival.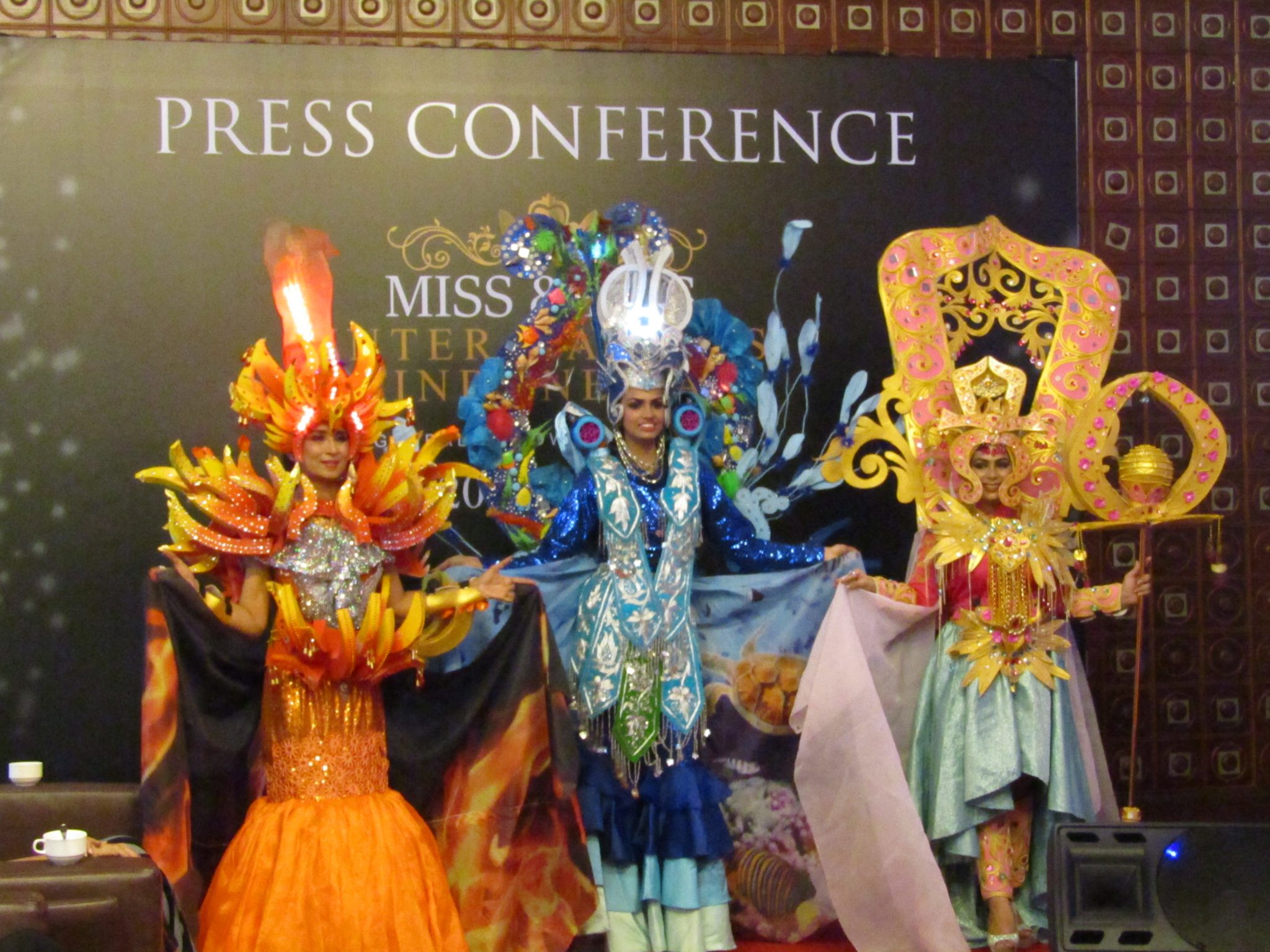 Meha Sanghi wore a 10 kg blue dress Zero Point Indonesia, Wonderful Sabang that blew out soap bubbles near her ears. This traditional dress is inspired by the cultural and natural diversity found in Indonesia's zero point, Sabang Island, Aceh – symbolizing the underwater life of Sabang. It is made from traditional Sabang cloth, and the graded blue skirt is a visualization of Sabang sea color and its unique burst of ocean waves in the headpiece on the right and left sides. Often designated to hold global diving competition, Sabang has become a primary destination for national and international divers.
Palak Bhansali wore a 10kg pink and gold dress that pays tribute to Ratu Safiatuddin, Queen of Women's Emancipation. The costume was inspired by the life of Sultanah Sri Ratu Tajul Alam Safiatuddin Johan Berdaulat (1641-1675AD) ruler of the kingdom of Aceh Darussalam.  She treated the position of women to be equalized with men in the life of society and state. Gold was found in the mountains of Aceh during her reign, making the kingdom rich and prosperous.
The third national costume worn by Amita Sharma was an 8 kg blend of black and fiery orange Bandung Lautan Api. The dress is inspired by the struggle of Bandung citizens to defend their homeland from colonialism at March 24th 1946. Residents of the city, nicknamed Paris Van Java, set fire to their homes create 'Bandung Lautan Api' (Sea of Fire) to prevent control by the Dutch colonizers. The term was used by Commander Rukana, of the Military Police in Bandung in conversation with A.H. Nasution and Sutan Syahir.
One of these contestants will represent Indonesia for Miss & Mrs. Inter-Nations 2018 in Singapore on 18 – 21 October.