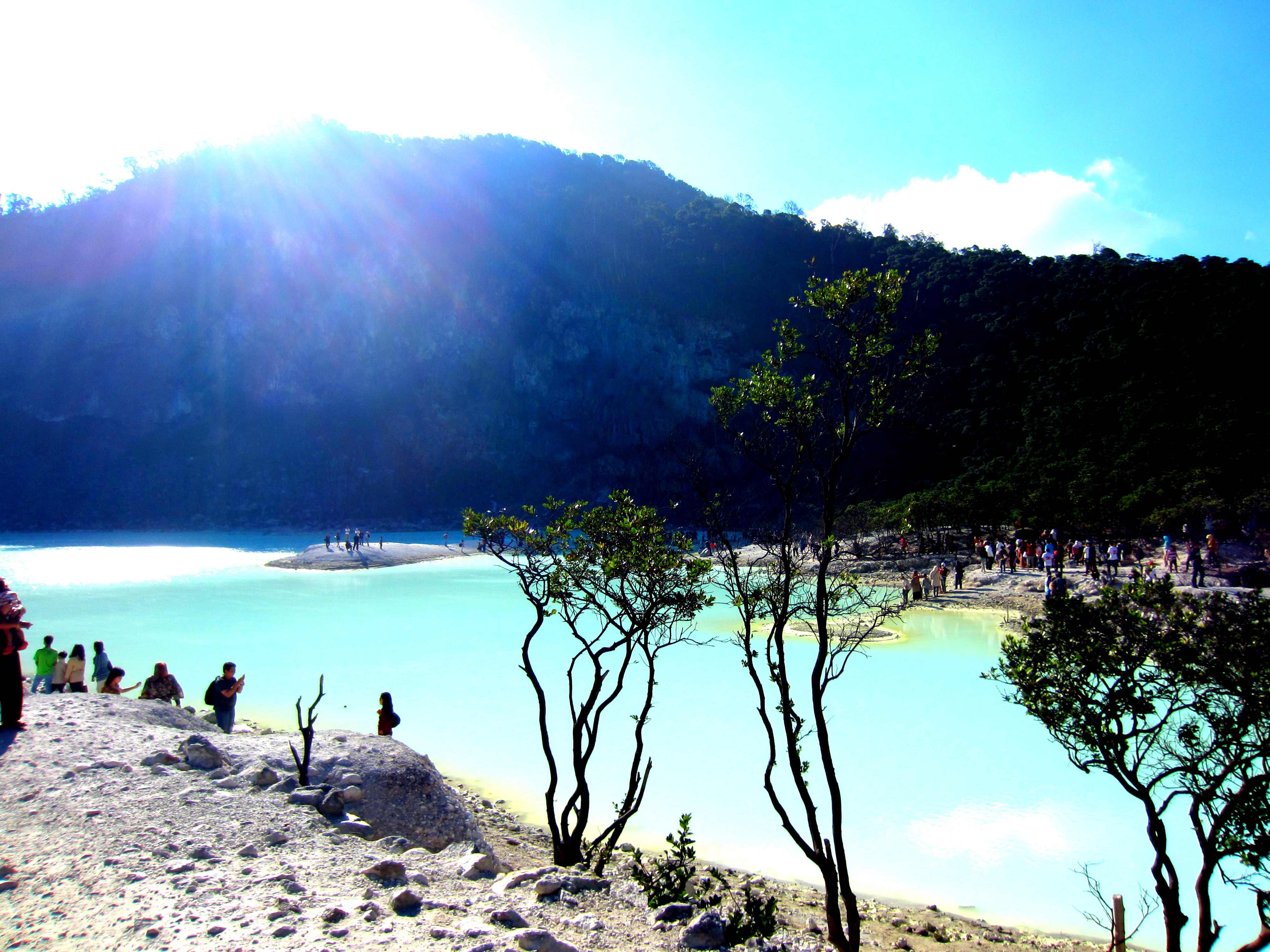 Bandung, City of Flowers, is the provincial capital of West Java and Indonesia' s third largest city. Known in colonial times as the Paris of Java because of its European ambiance and sophistication, Bandung shares with Miami a fine legacy of Tropical Deco architecture dating from the 1920's.
Situated on a plateau in the beautiful Parahyangan mountains, Bandung's pleasant climate and lush surroundings have offered an escape from the heat of the lowlands since the mid 19th century when it was the heart of the region's most prosperous plantation area. Host to the historic Asia Africa conference in 1955, Bandung is now a center of higher education, commerce and aircraft industry which despite its modern amenities still retains much of its colonial era charm.
Bandung is also renowned for its shopping, particularly for shoes, textiles, clothing and denims which are found in the colourful Jeans street. Easily reached from Jakarta by train, road or air (the scenic train trip is recommended), Bandung, with its cool mountain air is a popular second stop for those visiting the national capital and an essential stay-over for travelers en route through Java.
By Air :
Husein Sastranegara domestic airport Iinks Bandung with Jakarta and most major cities in Java. Services are provided by many airlines.
By Train :
The best way to get to Bandung from Jakarta is by train, taking the beautiful scenery en route. Regular departures leave Jakarta's Gambir station. The executive class is recommended. The trip takes around three hours. From Bandung trains also travel to Yogyakarta.
Parahyangan Train (it takes about 3 hours)
Everyday : Departure at 5.05 am, 5.30 am, 7.30 am, 8.30 am, 9.30 am,10.30 am, 11.30 am, 12.30 pm, 13.30 pm, 14.30 am, 15.30 pm, 16.30 pm, 17.30 pm, 18.30 pm, 19.30 pm, 20.30 pm, 21.30 pm.
Price : Rp 80,000.- Rp 120,000
Argo Gede Train
Everyday : Departure at 9.00 am – 11.20 am, 18.00 pm – 20.20 pm.
By Car :
The best way to get around Bandung is by taxi or minibus hired via your hotel . The city center can be comfortably discovered on foot Jakarta – Bandung via Puncak ; Jakarta – Bandung via Cikampek / Subang.
Avoid weekends
Shopping
As the capital city of West Java, Bandung's shops are filled with products of this far-flung archipelago as well as imported goods. Shopping in Bandung is fun, simple and extensive.
Pasar Kota Kembang, a narrow lane with shops and stalls lining along it, could be a perfect place for bargaining cheap clothes, belts, shoes or handbags. Next to it is a shopping center specializing in textiles. This market lane connects Jl. Asia-Afrika with Jl. Dalem Kaum.
The first market in Bandung located in Kampung Ciguriang, behind Kapatihan was built in 1812. In the middle of l9th century, the market caught on fire. Later, the merchants gathered around Chinatown and established a new market, Pasar Baru. Once it was a beautiful place surrounded by Chinese-Dutch style shops. Now, only a few are left. Nevertheless, it's still the hub of commerce in Bandung.
Plenty of textiles, batiks and clothes in cheap and moderate prices are available. You can test your bargaining skill here. A vegetable market is in the basement. Go to Jl. Pasar Utara. A row of stalls sell all sort of snacks, most of them Bandung specialties. You're welcome to have a taste before you buy the snacks. Jalan Pasar Selatan is lined with jeans shops trying to copy the ones in Jl. Cihampelas. Some of these shops are old ones. With the permission of the owner, old building enthusiasts could enter the old shop and take photographs.
Pasar Jatayu, on Jalan Arjuna, is a flea market mixed with motorbike parts shops. After jostling around, you'll find two antique shops in the dark and crammed market. You'll feel like finding a treasure island. Nearby is a row of shops selling military paraphernalia, and the Ciroyom terminal is next to them.
These three markets will be a nightmare for a claustrophobic. Known as The 'Flower City', Bandung certainly has a flower market, located on Jl. Wastukencana. The flowers are supplied from cool uplands that surround Bandung. Nice place to refresh your eyes.
The rather bizarre 'Jean Street', on Jl. Cihampelas, offers all sorts of jeans and T-shirts while offering fantastic shopfronts to view. The shop owners vie for the most elaborate shopfront design in an attempt to lure business.
Shopping centers are in abundance. The Alun-alun area is surrounded by shopping centers, particularly in Jl. Dalem Kaum. Bandung Indah Plaza is the most luxurious shopping center in Bandung. Nearby City Hall in Jl. Merdeka, it is a new favorite place for the young.
On Jalan Braga, you could find souvenir and antique shops, such as Sin Sin established in 1943. Leather shoes and garment at Leather Palace. Snake skin bags, shoes and all sort of suitcases at Cuero. Bookshops in Braga offer a great range of English books and magazines.
And of course do not miss the factory outlets.
Places to Eat
Bandung is heaven to satisfy your taste buds. From traditional food sold by street vendors up to international ones in fancy restaurants. A warung is regarded as a poor man's restaurant. But on Jl. Bungsu next to Puri Mas Bakery, you could see the newest BMW and Mercedez parked in front of a small lane famous for its Sekoteng Ice. By far the best food money can buy and is served in these makeshift foodstalls with canopies, hardwood benches or stools, and glowing with hissing gas lamps. Open after 5:30 pm.
Groups of nightstalls located in the corner of JI. Merdeka and JI. L.L.R.E. Martadinata spread mouthwatering smells from sizzling sate on red hot glowing charcoal braziers. Try Madurese, chicken, beef, or mutton sate and various kinds of soto, an Indonesian thick soup.  Jl. Cikapundung Barat stalls (occupying sidewalks used as a selling place for secondhand books at noon) serve all kinds of popular Indonesian food. Sate Padang Pak Datuk is worth a try.
Near the RRI building on Jl. Diponegoro, you can taste local delicacies such as gorengan (sort of Japanese tempura) from tofu, sweet potato, taro, pineapple, jackfruit, banana and comro (mashed cassava filled with fermented soybean cake). A sip of bandrek -ginger drink- and bajigur -coconut milk sweetened with palm sugar- in a cool night is a nice treat. A piece of sweet awuk (coneshape rice cake with layers of palm sugar) can be enjoyed in Awuk Cibeunying stall. Roasted corn on a cob with four flavors, seafood, Indonesian style Chinese food, pecel lele (fried eel fish with yummy sauce), fried goldfish and chicken porridge all are available.
Feel thirsty when strolling around Alun-alun, go to Pak Aceng's ice juice pushcart on Jl . Kapatihan in the mouth of a blind alley, next to 'Damai' shop (pay attention to 'Shinly' & 'Krizia' billboards). Es campur (mixed ice) or if you want a sterile one, just ask for fresh orange juice with young coconut water placed in a plastic will be made for Rp.5000,-. Since 1967, Pak Aceng has been a famous es campur seller.
As a rule of thumb, warungs line and crowd in almost every intersection. But a good sense and luck play an important part in finding a good warung with fair price and nice food which does not upset your stomach.
Lotek Kalipah Apo, famous for its lotek and gado-gado since 1953, serves all kinds of sweet tasty kolek with thick coconut milk plus pieces of bananas, and rice cakes. A variety of rujak, Indonesian fruit salad, is ready to be tasted. Be wary of the hot sauce of the rujak. Avocado juice, mixed ice, young coconut ice and cendol ice, -colored rice drink with palm sugared coconut milk- can make you real aficionados of these desserts.
Stalls along Jl. Rama offer Indonesian style fried chicken, Chinese food, and much more. The best pempek -a sort of fish meatballs dipped in hot vinegar sauce- can be eaten in one of the stalls here. It's a Palembang specialty.
Craving for western delights, Tizi has a wide range of German touch bread, cakes, cookies, pancakes, and steaks. A cart selling colenak (roasted fermented cassava root) at the mouth of Jl. Kidang Pananjung is also worth a try. Glosis with romantic lighting and cooler climate of an uphill area could be a perfect place for dinner. Braga Permai with its original Dutch era cake recipes would be a cozy place to recall the atmosphere of old Braga Street.
Queen Restaurant offers luxurious Chinese food while Dai Shogun serves qualified Japanese food, facing its heart soothing garden. Paregu offers less expensive Japanese food with eat your fill Yakiniku and Shabu-shabu. Hanamasa on Jl. Merdeka serves buffet Yakiniku.
Hotels
Resorts for a romantic getaway in Bandung here >>
Hotels around Kafe Dago :
Bukit Dago Hotel
Jl. Ir. H Juanda 311, Bandung
tel : +62-22-2504244 fax : +62-02-22505944
web : http://bukitdago.wirtongroup.com/
Cisitu Guest House
Jl. Cisitu 45/B, Bandung
tel : +62-22-2502420
Dago Hotel
Jl. Ir. H. Juanda 21, Bandung
tel : +62-22-434267
Holiday Inn Bandung
Jl. Dr. Djunjunan 96, Indonesia
tel : +62-22-4211333 fax : +62-22-40162
web : http://holidayinnpasteur.com/
Jayakarta Suite Hotel
Jl. Ir. H. Juanda No. 390, Bandung
tel : +62-22-2505888 fax : +62-22-2505388
web : http://www.jayakartahotelsresorts.com/hotel/the-jayakarta-suites-bandung/
Karmila Hotel
Jl. Ir. H. Juanda 32, Bandung
tel : +62-22-42-778
Merdeka I Hotel
Jl. Ir. H. Juanda 168, Bandung
tel : +62-22-8801472 fax :
Patra Comfort Bandung
Jl. Ir. H. Juanda 132, Bandung
tel : +62-22-2502664 fax : +62-22-2504995
web : http://www.patracomfortbandung.com/
Royal Dago Inn
Jl. Ir. H. Juanda 156-169, Bandung
tel : +62-22-2502200 fax : +62-22-2500565
web : http://www.royalhotelsbandung.com/dago/
House Sangkuriang Hotel
Jl. Cisitu 45, Bandung
tel : +62-22-87832323 fax :  +62-22-87832322
web : http://www.house-indonesia.com/
Sheraton Inn Bandung
Jl. Ir. H. Juanda 390, Bandung
tel : +62-22-2500303 fax : +62-22-2500301
web : http://www.sheratonbandung.com/
Utari Hotel
Jl. Ir. Juanda 50, Bandung
tel : +62-22-4206810 fax : +62-22-4206810
web : http://hotelutari.com/
Hotels outside Kafe Dago :
RedDoorz Bandung
Gg. Cipaheut Kidul II No 3, Bandung
tel : +62-21-80629666
web : https://www.reddoorz.com/
AiryRooms Hotel Bandung
Jl. Cigadung Raya Barat no.9a, Bandung
tel : +62-80-41112479
web : https://www.airyrooms.com/
Jayakarta Hotel Bandung
Jl. Ir. Haji Djuanda No. 381 A, Bandung
tel : +62-22-2505888 Fax : +62-22-2505388
web : http://bandung.jayakartahotelsresorts.com/
Imperium International Hotel
Jl. Dr. Rum No. 30-32, Bandung
tel : +62-22-4202244 fax : +62-22-435541
Kedaton Hotel
Jl. Suniaraja 14, Bandung
tel : +62-22-4219898 fax : +62-22-439944
web : http://www.kedatonhotel.com/
The Valley Resort Hotel
Jl. Lembah Pakar Timur No. 28, Bandung
tel :+62-22-2531052
web : http://thevalleybandung.com/
Prama Grand Preanger Hotel
Jl. Asia Afrika 81, Bandung
tel : +62-22-431631 fax : +62-22-430034
web : https://www.aerowisatahotels.com/
Savoy Homann Hotel
Jl. Asia Afrika 112, Bandung
tel : +62-22-43244 fax : +62-22-436187
web : http://www.savoyhomann-hotel.com/
Sindang Reret 1 Hotel
Jl. Raya Ciwidey Km 27, Bandung
tel : +62-22-5928205 fax :
The Palais Dago Hotel
Jl. Ir. H. Juanda No. 90 Bandung
tel : +62-22-2505111, +62-22-2505222, +62-22-250-1436
web : http://thepalaisdago.com/
Talagasari Hotel
Jl. Dr. Setiabudi No. 269-275, Bandung
tel: +62-81-23831444 fax : +62-22-211731
Wisma Taruna
Jl. Lengkong Besar 64, Bandung
tel : +62-22-4237343 fax : +62-22-4238564