Indoindians Online Event: DIY Eco Friendly Homemade Salt Dough Ganpati Idol for Ganesh Chaturthi with Arti Gidwani
Ganesh Chaturthi celebrates Lord Ganesha's birthday. The son of Shiva and Parvati, Ganesh, is the God of good luck and auspiciousness and is the remover of problems and obstacles -Vignahartha. He is the master of ceremonies and is the first to be revered and prayed to, whenever a puja is performed. He is believed to bring prosperity and initiate new beginnings. He is also worshiped as the God of wisdom, wealth, health, and happiness.
On Ganesh Chaturthi Ganesha idols are placed in homes for 10 days and offered prayers. After 10th day idol is carried in public procession with music and group chanting to be immersed in water to symbolize Lord Ganesha's return to Mount Kailash to his parents Lord Shiva and Parvati.
This Ganesh Chaturthi, make your own eco-friendly idol at home as a family activity with salt dough. Arti Gidwani demonstrates this below:
All participants need to be ready with the dough and follow along the instructions with Arti.
Ingredients:
1 cup flour
½ cup salt
1 tsp turmeric powder
Water as required
To finish:
2 black pepper grains for eyes
1 toothpick for tusk
Method:
Mix all the ingredients together
Knead to form a smooth pliable dough.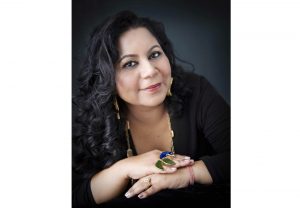 About Art Gidwani
Arti is a successful sculptor and clay jewelry maker with a penchant for the unusual and innovative.She embarked on this creative journey 20 years ago with a ceramic class in Singapore. It has now grown into a flourishing career.