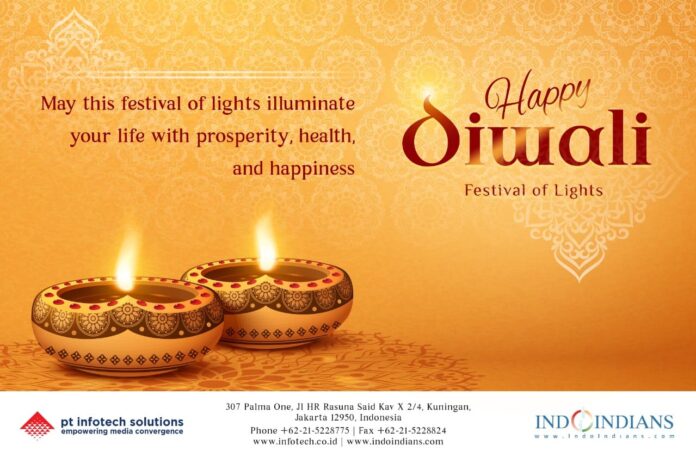 Indoindians Weekly Newsletter: Wishing you a Very Happy Diwali 🪔
Shubh Deepavali Friends,
This Diwali is not just a festival to celebrate, it is also a time for renewed hope for a brighter future after months of lockdown and a raging pandemic. A time of hope and new beginnings. A celebration of the victory of light over darkness.
The 5 days of Diwali calendar and puja timing for Jakarta as below:
Tues, Nov 2 – Dhanteras Puja Muhurat – 06:39 PM to 08:06 PM
Wed, Nov 3 – Choti Deepavali Hanuman Puja Muhurat – 11:13 PM to 11:59 PM
Thurs, Nov 4 – Diwali. Lakshmi Puja Muhurat – 06:31 PM to 08:06 PM
Fri, Nov 5 – Govardhan Puja Sayankala Muhurat – 03:19 PM to 05:47 PM
Sat, Nov 6 – Bhai Dooj Aparahna Time – 12:50 PM to 03:19 PM
Spend quality time as a family and prepare Diwali feasts at home and decorate the house with lights and diyas.
Send Diwali and Bhai Dooj gifts for delivery in India & Indonesia to friends and family through www.IndoindianShop.com today.
Dress up for the occasion and click lots of pictures to share with loved ones.
Read our articles on Diwali in this edition:
– Five days of Diwali Festival Celebrations
– Celebrating Dhanteras Festival
– Bhai Dooj Celebrating Sibling Love and Friendship
– 7 Healthy & Delicious Diwali Recipes
– #HealthTips: 8 Ways for Staying Healthy during Diwali
– 7 Child-Friendly Diwali Decoration Ideas
– All about Laxmi Puja
– Eco-friendly Diwali
Happy Diwali to you and your family,
Indoindians Team
Indoindians Weekly Newsletter: Wishing you a Very Happy Diwali 🪔