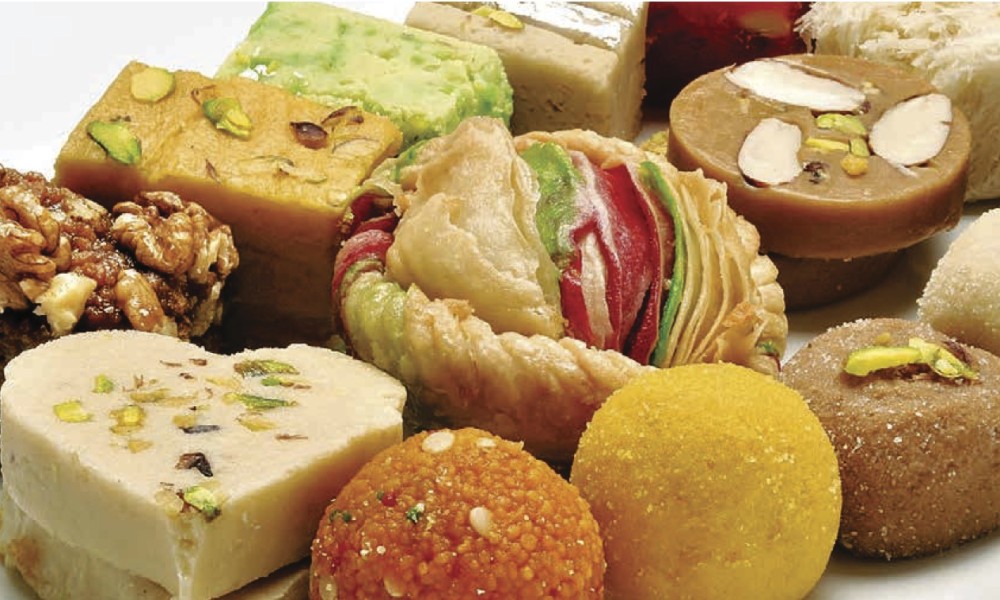 Diwali is the time of the year for everyone to feast on delicious and indulgent food. Sometimes, many people would forget the amount of food they are eating and instead overeat on that day. Prevent this from happening by cooking healthy dishes for your guests during Diwali. Not only will your guests feel happy from eating delicious food, but they will also stay healthy after eating at your home.
Here are 7 healthy Diwali recipes:
Homemade Kaju Katli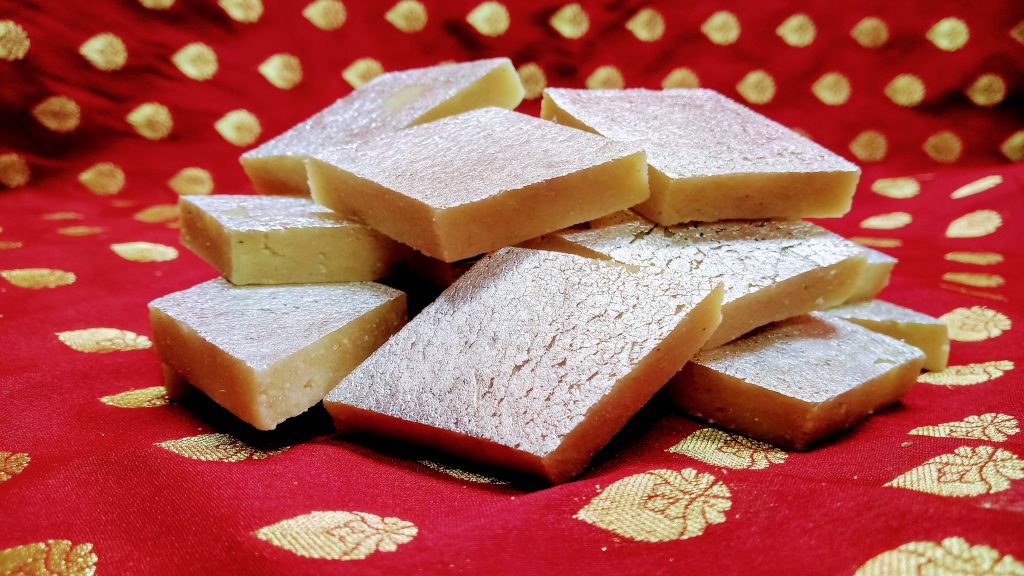 Kaju Katli is mostly a safe option for many people to give their friends and family during Diwali. To make this dish much healthier, you can try to make on your own at home to make it healthier rather than giving store-bought desserts.
Ingredients:
2 cups of Cashews
1 cup of Honey
Water
How to Make:
Dry roast cashews in a skillet or a frying pan for about 5 minutes, stirring continuously to prevent it from burning.
Once you see a slight change in the colour of cashews, turn off the heat and transfer them to a plate, and allow it to cool at room temperature.
Transfer the roasted cashews to a food processor and grind them to get a coarse powder.
Heat a non-stick pan and add some water and honey to it. Heat it till you see the bubbles.
Add roasted cashew powder to it and stir continuously using a spatula. Once, you get a thick mixture, turn off the flame.
Place parchment paper in a large tray or on the kitchen counter, dump the entire cashew mixture on it and flatten it with a rolling pin.
Next, place the tray in the refrigerator for an hour. Once the flattened mixture turns firm, place silver foil on it.
Cut it in diamond shapes and your healthy kaju katli will be ready to serve.
Date and Fig Barfis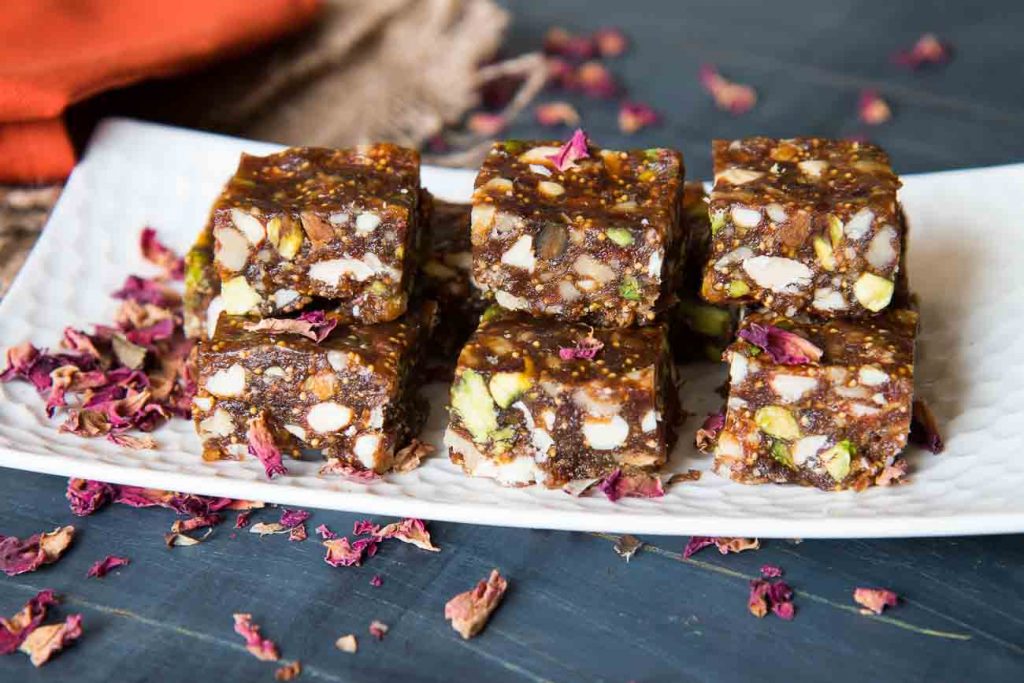 Barfis are one of the classical dishes for Diwali. A delicious substitute for the cashews are other ingredients like figs or dates. Putting these ingredients will make a healthier barfi without compromising the flavor and sweetness of the barfis.
Spiced Carrot and Pistachio Laddoos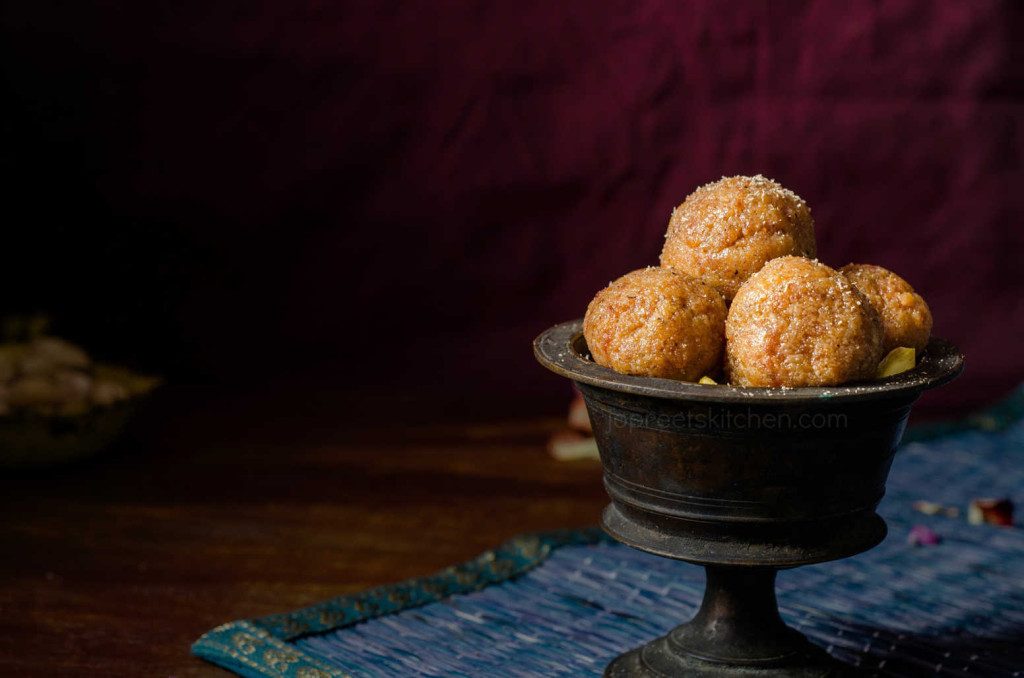 Another signature dish on Diwali would be laddoos. These ball shaped sweets made with chickpea flour, wheat semolina and coconut are very popular as gifts during special occasions. Laddoos are also very sweet and delicious, which makes them very addicting to eat. Use ingredients like oats, raisins and carrots to make it healthier.
Ingredients:
100g Oats
75g Raisins
25g Carrots grated
1 tsp Vanilla extract
1 tsp Ground cinnamon
1/2 tsp Nutmeg grated
1/4th tsp Ground ginger
150g pitted Majdool dates
25g Finely ground pistachio
How to make:
Blend the oats and raisins together in a food processor for a few seconds.
Add the carrots, vanilla, spices and blend again.
Add the dates and blend. A sticky dough will be formed.
Using wet hands, shape the dough in small laddoos, roll them in ground pistachios. Chill and refrigerate.
Roasted Poha Chivda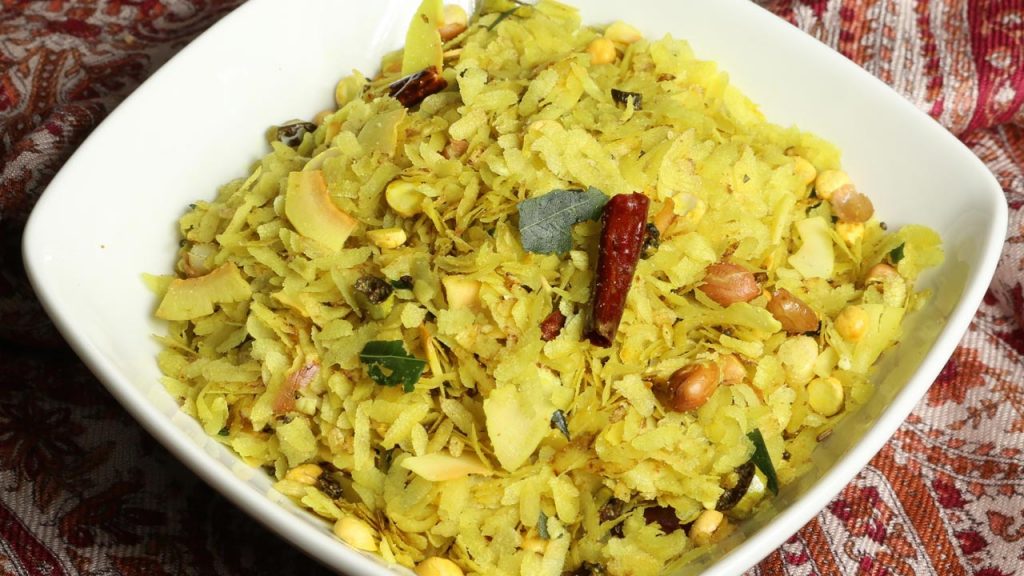 Poha Chivda is also one of the dishes that you can cook to greet your guests on Diwali. This dish is cooked by deep frying, which makes this dish very unhealthy at times. If you try to make it roasted, it would decrease the amount of oil consumed inside the body. Don't worry as this dish will still be delicious and appetizing!
Ingredients:
3 cups of Thin Poha
1 tbsp Oil
1/2 tsp Mustard Seeds
1 Finely chopped green chilli
1 Curry leaves
2 tbsp Roasted split Bengal gram (Chana dal)
2 tbsp Peanuts
1 tsp Dried coconut slices
1/2 tsp Turmeric powder
1 tsp Sugar
Salt to taste
A pinch of citric acid or lemon juice
How to make:
Heat a pan on medium flame and roast the poha for 5 minutes stirring continuously.
Once the poha turns crispy (not too much, though!), turn off the flame and transfer it on to a large platter.
Heat oil in the pan on a medium flame
Once hot, add mustard seeds and allow them to splutter.
Add green chillies and curry leaves. Sauté.
Once the green chillies and curry leaves turn crispy, add dried coconut slices, chana dal, and peanuts, and mix them well.
Wait until these ingredients turn crispy and light brown. Then add turmeric powder, sugar, salt, and citric acid to it.
Lastly, add roasted poha and mix all the ingredients.
Turn off the flame and allow the chivda to cool.
Transfer it to an airtight container and enjoy this healthy snack at 4 pm with tea.
Baked Gulab Jamun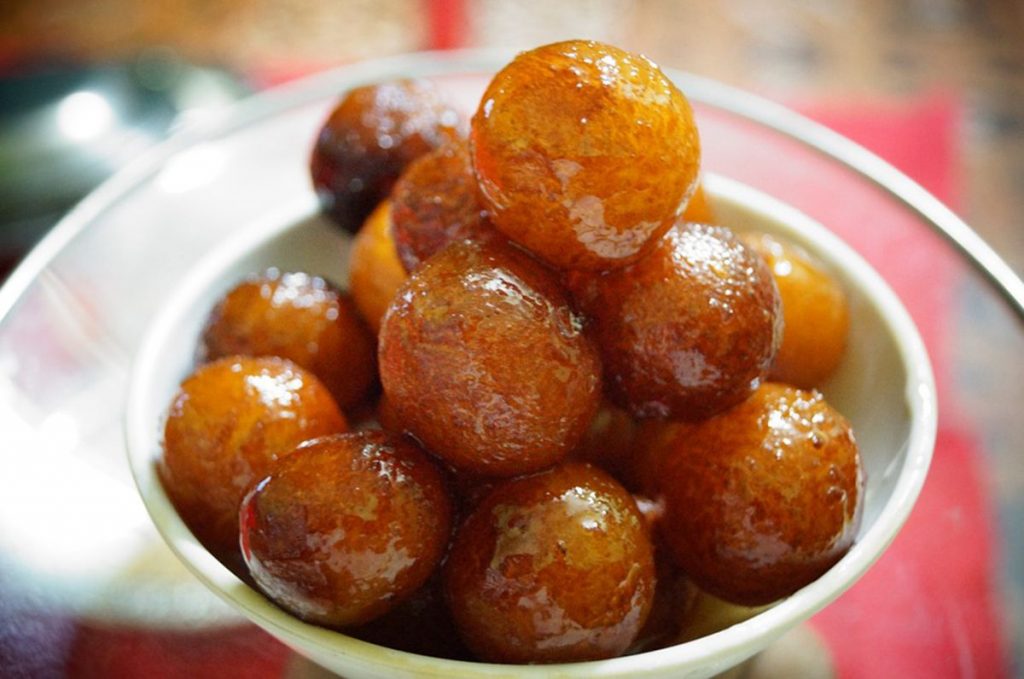 Amongst several desserts and sweets served during the celebration of Diwali, Gulab Jamun is one of the most popular. Its deliciously sweet flavor makes it popular amongst children and adults alike. However Gulab Jamun is also extremely rich in oils and sugar, making it unhealthy to consume in large amounts.
Instead of regularly frying the Gulab Jamun, it's much healthier to bake it and soak the balls in jiggery syrup. This way, the amount of oil and refined sugar in the dish is considerably reduced without compromising the flavors of Gulab Jamun.
Gluten-Free Halwa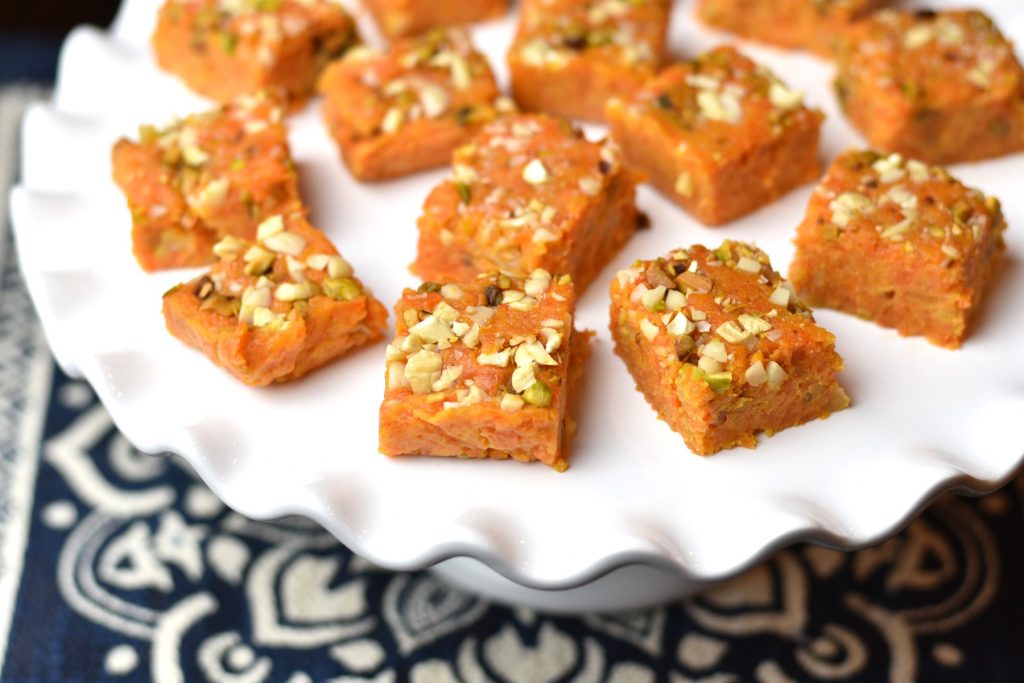 To some people, gluten can be extremely dangerous to their body.  Halwa becomes something that they cannot consume, as it is filled from gluten. Give them a treat this year by cooking gluten-free Halwa. Not only will they be able to enjoy this meal guilt-free, but other guests will also eat more healthily at your home.
Ingredients:
1 1/2 cups water
1/2 cup sugar (regular or Sucanat)
2 tablespoons golden raisins
1/2 cup ghee or unsalted butter
3/4 cup quinoa flour
6 – 8 almonds, roughly chopped
½ teaspoon cardamom powder (the finer the better)
Ground pistachio and/or almonds for garnish
How to make:
1. In a medium-sized pot add water, sugar, and raisins. Bring to this mixture to a boil and gently simmer while prepping your remaining ingredients. Using Sucanat will give your halwa a browner color.
2. In a separate heavy-bottomed 4-quart pan, heat ghee or butter over medium-high heat. Once melted, add flour and mix well. Cook for 8 minutes, mixing it continuously to prevent the mixture from sticking.
3. Add almonds and cardamom. Mix well. Keep cooking and mixing for another 2 minutes until the mixture becomes very aromatic. It will also start to pull away slightly from the sides of your pan. I prefer the cardamom ground into a fine powder – put a little muscle behind your mortar and pestle.
4. Turn your heat to high, and with the lid of the pan handy, very carefully pour your water mixture into the pot with the butter and flour mixture. Everything will initially steam and splash up, so be ready to cover it with a lid. As it calms down, keep mixing it well. Cook for another 5 minutes until your flour mixture pulls away from the sides of the pan.
5. Turn the heat off, put the lid on the pan and let your halwa sit for 5 – 10 minutes to settle.
6. Garnish with ground pistachio and almonds and eat warm as a dessert or on the side with fresh puris and a curry.
Punjabi Samosa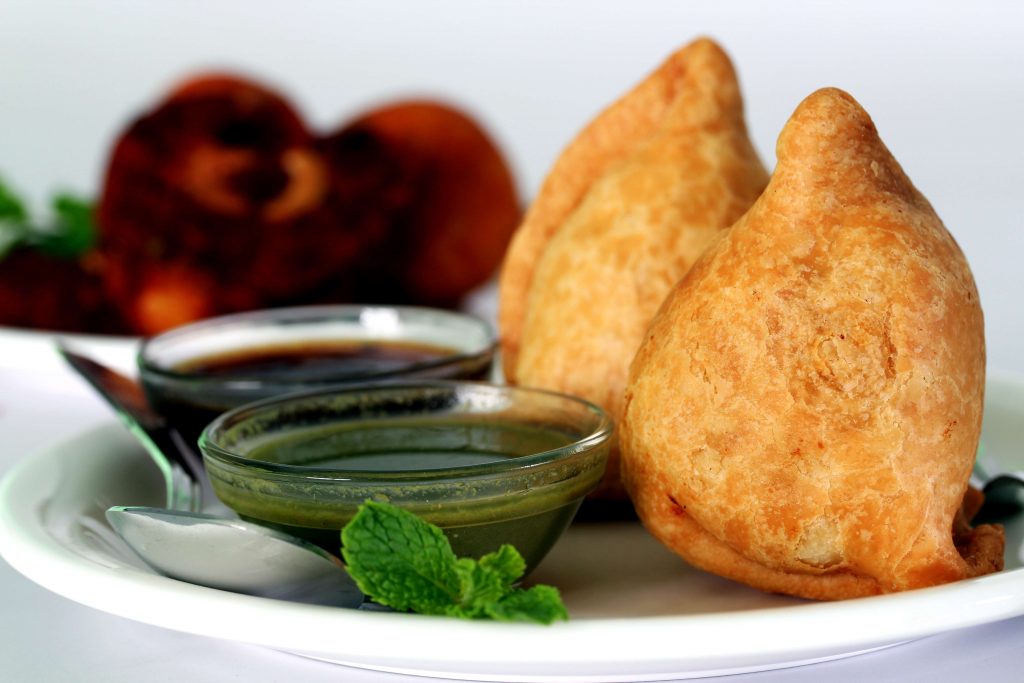 Other than the Mithai, samosa are also one of the most famed foods served on religious festivals like Diwali. Samosas are delicious for its strong herbal taste, but are also healthy because it contains vegetables. Cooking these foods will be a pleasure to the guests as it surely makes them joyful and healthy at the same time. This recipe is intended to make samosas very crispy, flaky and full of flavor.
Ingredients for Samosa Dough:
2 cups Maida
2 tablespoon Vegetable Oil
1/4 teaspoon Salt
1/2 cup Water + a few tablespoons extra
Ingredients for Samosa Filling:
2 tablespoons Oil
1 teaspoon Coriander Seeds
1/2 teaspoon Saunf (fennel seeds)
A pinch of Methi Seeds (fenugreek seeds)
1 tablespoon Ginger Paste (freshly ground ginger)
1 teaspoon Garlic Paste (freshly ground garlic)
1 teaspoon chopped Green Chillies (or Jalapeno)
2 teaspoons Red Chilli Powder
2 tablespoons Coriander Powder
3/4 teaspoon Turmeric Powder
1 tablespoon Raw Mango Powder (Amchoor)
1/2 teaspoon Garam Masala Powder
2 large Potatoes, boiled, peeled and mashed
6-7 Curry Leaves
Salt to taste
Oil for Frying
How to make Samosa Dough:
To start making the samosa dough or pastry, mix together flour and salt and add oil.
Rub the oil with the flour till it resembles bread crumbs.
Start by adding 1/2 cup water and knead it into a firm dough. You may need a few extra teaspoons of water but add as you go.
The consistency of the dough should be firm and smooth. Cover the dough with a damp cloth and set aside while you make the filling.
How to make Samosa Filling:
Heat oil in a pan.
While the oil is heating, crush the coriander seeds, saunf (fennel seeds) and methi (fenugreek seeds) roughly and add it to the pan.
Fry the spices till aromatic but be careful not to burn them.
Add ginger, garlic and green chillies and stir fry for a minute or two.
Next, add the remaining spices, mashed boiled potatoes and salt.
Finally, put in the curry leaves right at the end. Give it one more good mix and then set the mixture aside to cool.
How to wrap the samosas:
Take a lime sized bowl of dough, roll it between your palms till smooth and dust it with flour.
Roll it out into a circle which is less than 1 mm thickness and about 6 inches in diameter.
Cut the rolled dough in half. Pick up one half and brush it with a little water along the straight edge of the pastry.
Now take one edge of the straight side, and place it on the other edge of the straight side in such a way that the dough forms into a cone.
Pinch the corner of the cone so that its sealed.
Place a tablespoon and a half of the filling in the cone, making sure to fill it only 3/4th of the way.
Brush the inside of the unfilled dough with a little water and seal it by pinching the edge together. Repeat till all the dough is used up.
Place the samosas on a greased tray making sure they don't touch each either and cover them with a damp cloth.
How to fry the samosas:
Heat about 2-3 inches oil in a pan. To test if the oil is hot enough, add a tiny piece of dough to the oil and if it bubbles and floats on the surface, your oil is ready for frying.
Add the samosas to the oil making sure not to overcrowd the pan, and reduce the flame to a simmer.
Fry the samosas on a low flame till golden brown on either side. It's important to fry them on a low flame, or the pastry would be raw from the inside and golden brown on the outside.
Take them out on a plate lined with paper to absorb any extra oil and serve them immediately with ketchup, coriander chutney or tamarind chutney.
Eating Diwali snacks maybe quite a difficult choice for some people, as consuming to much increases health risks for some people. Be thoughtful of your guests by serving healthy and delicious Diwali food. That way, your guests will be able to have a great time eating the food you cook without worrying about their health or the calories that they are consuming.
Which healthy Diwali snack is your favorite? Tell us in the comment section down below!