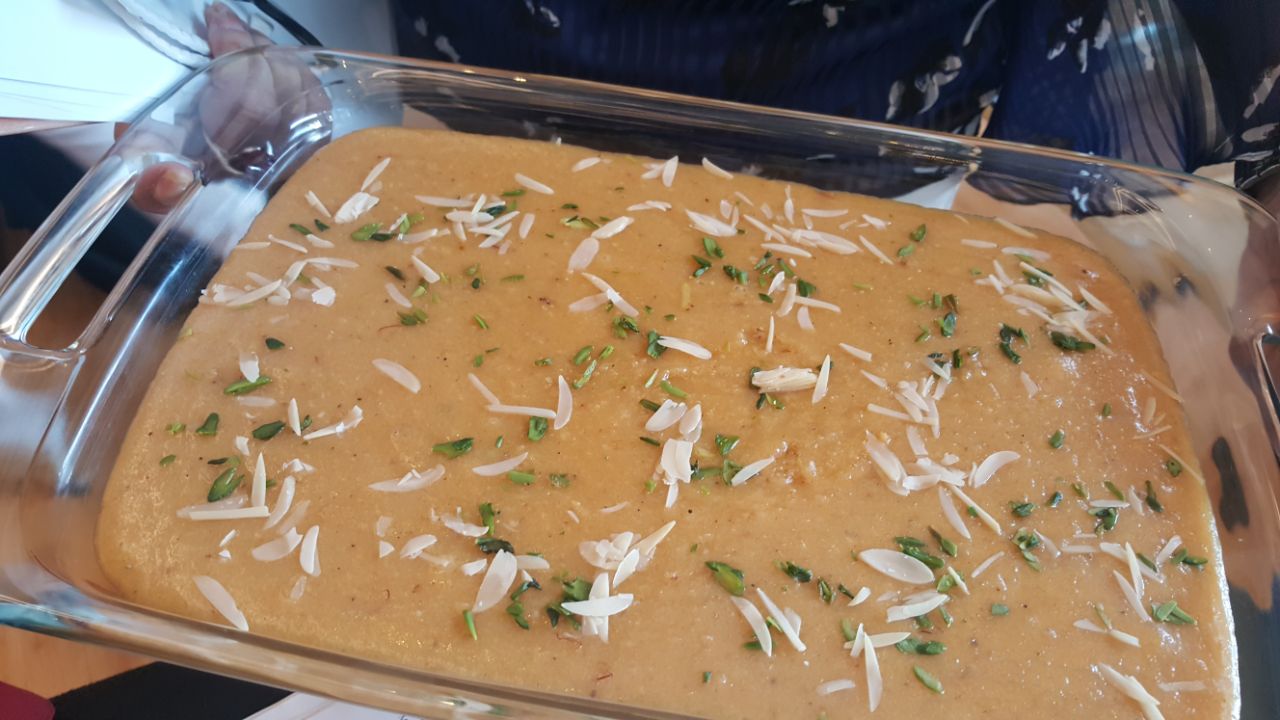 Sarita Pansari is a long term resident in Jakarta and teamed up recently with Aparna Narang and Ruchi Goyal to share her incredible Daal Halwa. This Indian dessert is a delicacy and involves a lot of elbow grease and time.  Sarita's halwa is special because all the ingredients come together beautifully and no excess ghee can be seen or felt in the final served dessert.
It is a special dessert for special occasions.
Ingredients:
500 grams           Moong daal
500 grams           Ghee
330 grams           Khoa
660 grams           Sugar
650 ml                  Milk
Method:
Soak the daal for 6-7 hours. Now remove water and grind the daal coarsely in food processor adding water as required (as little as possible)
Mix ghee and coarsely ground daal together in a large non stick wok (Cooking pot). When it is mixed properly than start the gas in low flame. Keep stirring continuously so that no lumps are formed. (Gradually the water evaporates and the mixture gets harder as a result it is difficult to stir but continuous stirring is required in low flame constantly).
For 500 grams of daal it may require 1,5 hours to 2 hours of continuous stirring. When the daal turns reddish in color than add the khoya.
After adding khoya keep stirring for sometime so that the khoya is mixed properly.
Now add cardamom powder, saffron and sugar. Mix properly.
Add milk gradually (not adding all of it together). Keep stirring while adding the milk. If you feel the consistency of the halwa is good enough than you may stop adding the milk. Stir properly so that the milk gets soaked and the sugar gets dissolved. Turn off the gas.
Garnish with chopped almonds. Serve hot.
Thank you dear Aparna for yummy Kari and lasagna(tussi great ho) Jyoti for amazing afternoon. Sarita for yummy halwa and Sonal for delicious salad. ❤   ~ Sangita Tandon