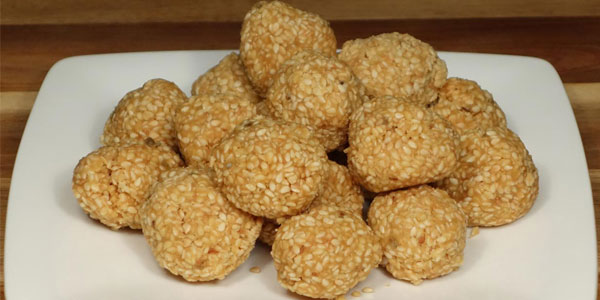 Makar Sankranti / Lohri Recipes
Makar Sankranti is the time for Til Laddoos and Peanut Chikki. Til Laddoos are the perfect sweet snack for cold winters. These can be made with jaggery or the richer version with khoya.
This easy recipe uses sesame seeds, jaggery and cocount. Try it today…
Ingredients :
4 cups sesame (til) seeds
1/2-cup water
1/2 cups brown sugar or powdered jaggery (gud)
Cup coconut chopped finely into small pieces
How to make til ladoos :
Take a saucepan and heat it on the middle flame.
Boil water with jaggery to make syrup.
When it starts boiling add coconut and heat till it becomes thick.
Roast sesame seeds in the other saucepan till they become light brown.
Add these seeds to the syrup and mix.
Let it cool for some time and make balls.