Is it possible to 'explore' Indonesia in one day? Yes it is! Go to Taman Mini Indonesia Indah and you can visit all parts of the country in just one day.
Taman Mini Indonesia Indah (TMII) or literally translated as "Beautiful Indonesia Miniature Park" is a culture-based recreational area that is located in East Jakarta, Indonesia. It has an area of about 250 acres (1.0 km2). Construction of TMII began in 1971 and it was officially inaugurated on April 20, 1975.
We say that you can visit all parts of Indonesia at TMII because the park itself is a synopsis of Indonesian culture. From traditional buildings to the endemic flora and fauna of Indonesia, everything about the country can be explored here. The park also hosts many cultural events, especially during special occasion like the anniversary of Jakarta or New Year.
In short, TMII can be such an exciting destination in Jakarta, especially for family with kids.
From such a huge park, there are many attractions offered in TMII. Here are the attractions in the park you should explore when visiting TMII:
Anjungan Daerah
There are currently 33 Anjungan Daerah or pavilions at TMII. The pavilions symbolize the unity of Indonesia that cannot be separated. The pavilions represent the provinces in Indonesia, and each province showcases at least three different traditional houses that are located in one area. These pavilions are built around a man-made lake in which miniature of Indonesia archipelago is displayed.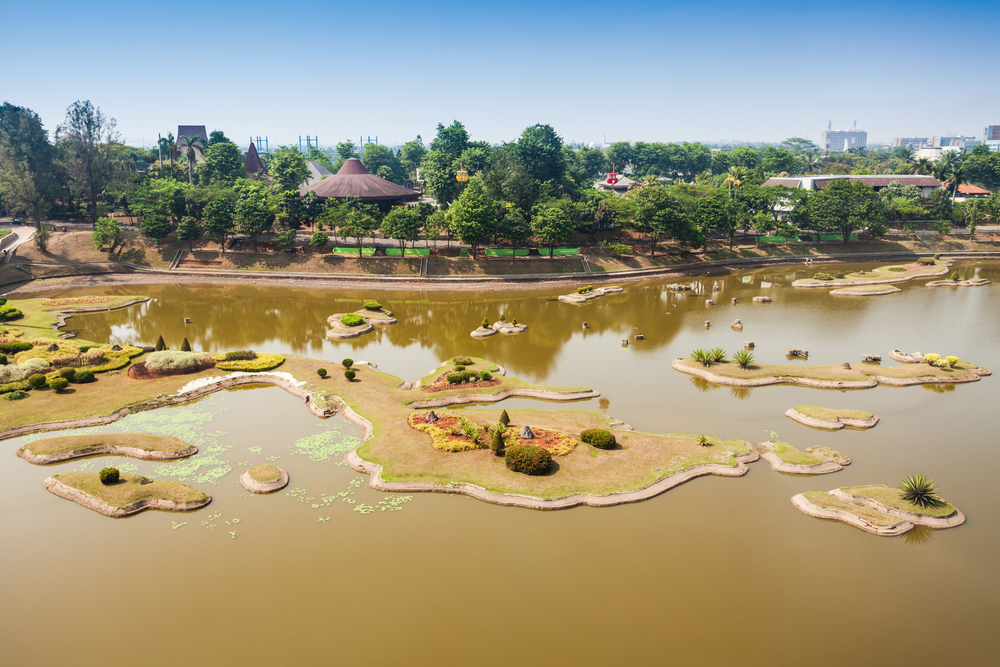 The shapes of those traditional houses are made exactly like the original buildings. Inside the pavilions, visitors can see the traditional clothes, traditional wedding clothes, historical artifact, musical instruments, and even handicrafts from each province. It is a great way to explore the culture of Indonesia in one practical way.
Religious Buildings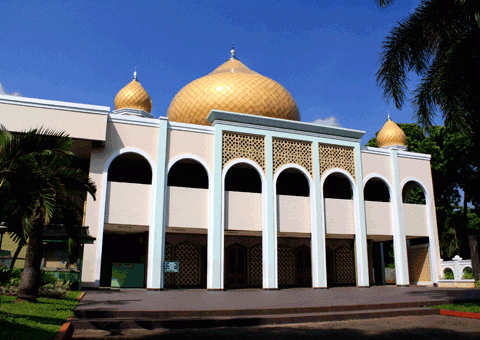 Indonesia is a very diverse country, and it is also depicted in TMII. There are religious buildings inside the park to showcase the inter-faiths tolerance and religious harmony of Indonesia. The religious buildings are Pangeran Diponegoro Mosque, Santa Catharina Catholic Church, Haleluya Protestant Church, Penataran Agung Kertabhumi Balinese Hindu temple, Arya Dwipa Arama Buddhist temple, Sasana Adirasa Pangeran Samber Nyawa, and Kong Miao Confucian temple.
Museums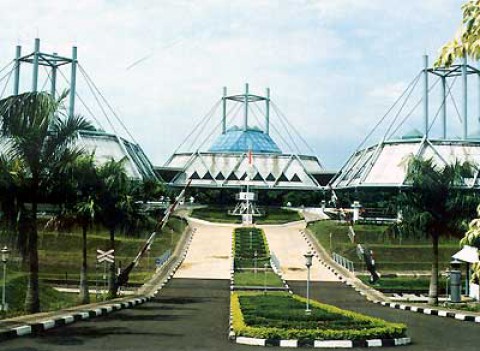 There are currently 19 museums located inside the TMII complex. The museums are built as a reminder that the humanity we see today has been through a long time to develop. There are Museum Indonesia, Museum of Transportation,  Museum of Science and Technology, Museum of Sport , Museum of Telecommunication , and many others.
Recreational Parks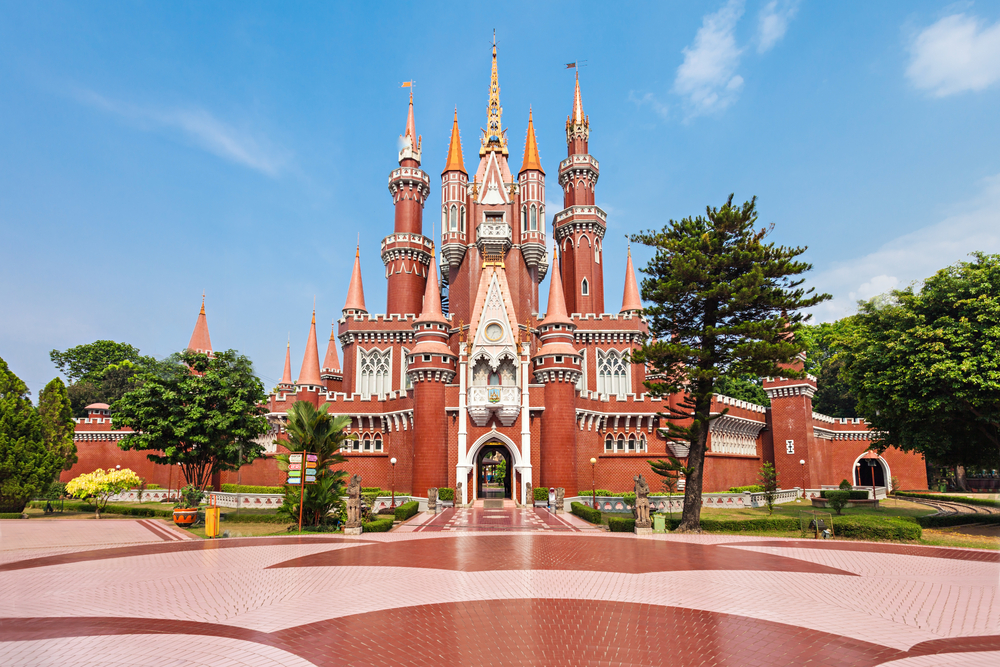 TMII provides educative recreational parks in one center. These parks are Istana Anak-anak Indonesia (Indonesian Children's Castle), 4D'Motion Theatre, Kereta Gantung (cable car), Titihan Samirono Monorail, Taman Budaya Tionghoa Indonesia, Taman Among Putro Skyworld, Snowbay Waterpark and Taman Legenda Keong Mas. These facilities offer recreation, education, and conversation facilities to visitors, not only about Indonesia but also about technology advancement in the world.
Flora and Fauna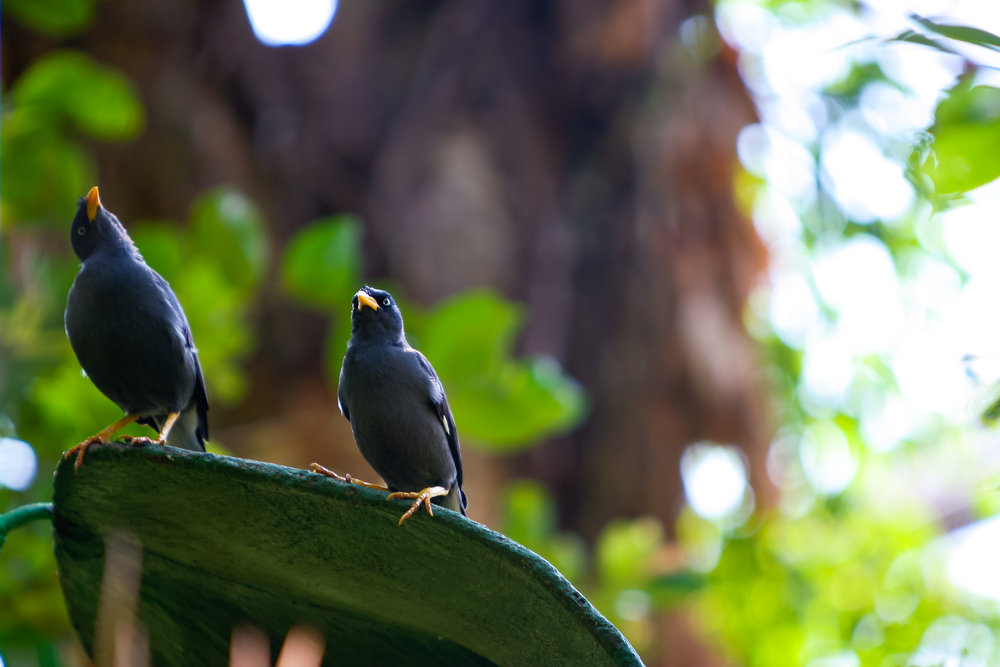 For families who want to introduce their children with flora and fauna, TMII can be an alternative to the zoo. In TMII, there are many parks where visitors can observe flora and fauna. The parks display varieties of birds, butterflies, reptiles, and many more. For flora lovers, there are the orchid gardens, cacti, herbs, and flower gardens to be explored.
As a tourist destination, TMII is also equipped with facilities such as hostel, restaurants, and souvenir shops. There are also halls to rent for wedding receptions and other events.
Because the park complex is huge, it can be quite tiring to go around the attractions on feet. Fortunately you can explore the park by your own car, however it will cost an additional Rp10,000 for car entry. Alternatively, you can rent a motorbike from the park for Rp100,000 for 2 hours.
Complete ticket price list can be viewed here.
You will not really need to bring a guide with you as there are pamphlets and information boards (both in Bahasa and English) in each attraction. You can also ask the helpful staff anything about a particular culture in each pavilion.
Make sure your next visit in Jakarta includes visiting Taman Mini Indonesia Indah!
Taman Mini Indonesia Indah
Jalan Raya Taman Mini, East Jakarta
Phone 021-87792078