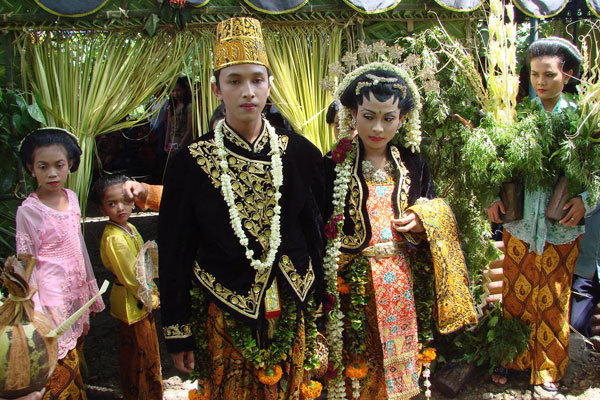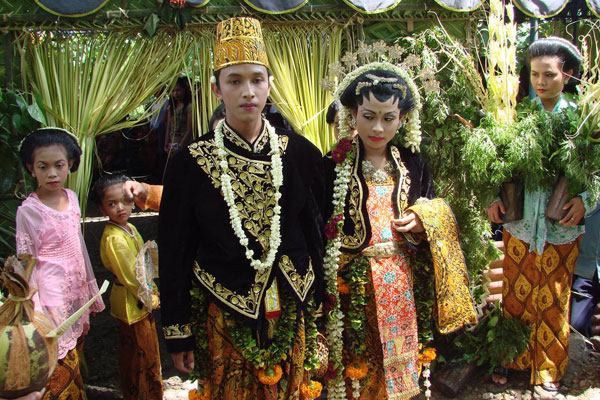 During the course of your stay in Jakarta it is highly likely that you will be invited to an Indonesian wedding. In fact many Indonesians consider that to have a foreigner attend their wedding adds to their prestige in the eyes of their friends and family. So do not be surprised if you receive wedding invitations from people you feel you hardly know. It is not obligatory to attend all weddings you are invited to and it is not necessary to reply to an invitation regarding whether or not you plan to attend.
Weddings in Indonesia are very important events and can be relatively simple gatherings held at home and attended by family, neighbors and close friends, or more often very large parties with hundreds and even thousands of guests. In these cases the parents of the bride and groom invite all of their friends, acquaintances and business colleagues, some of whom may have never previously met the bridal couple. It is not just a simple matter of a man and a woman exchanging vows, but rather a social event involving the whole extended family.
A wedding is an opportunity to repay hospitality received from others and to display one's wealth and standing in the community. It is also the time when even the most modern Indonesians revert to time-honored traditions and follow the customs and ceremonies of their respective ethnic groups. Guests are usually invited to only the wedding reception, while the actual wedding ceremony and traditional customs, which may go on for several days, are usually reserved for family and close friends. If you doreceive an invitation to the wedding ceremony this is considered a special honor and you should make every effort to attend. It will also be a very interesting and rewarding experience.
The traditional ceremonies associated with a wedding vary from region to region, but may include a gathering for the bridegroom's family to present gifts to the bride's family, bathing ceremonies prior to the wedding for both the bride and groom, and a very touching custom by which the bride and groom each kneel down in front of their respective parents to ask for forgiveness for any mistakes they may have made and receive their parents' blessings. The actual wedding it self involves a religious rite of some kind.
According to Indonesian law it is impossible for couples from different religions to marry here and one of the parties has to convert to the other's religion. The civil registry office merely has the task of registering marriages that have taken place according to the couple's religious beliefs. Printed invitations to a wedding are usually delivered only one to two weeks before the event, in spite of the fact that it has no doubt been planned and organized months ahead. The date of the wedding is often determined according to the time that is considered auspicious by the Javanese or Muslim calendar. The month of Rajab, just before the fasting month of Ramadan, is considered a particularly good time for weddings.
A wedding reception may be held during the daytime or in the evening and usually lasts for two or three hours. It is not necessary to arrive promptly at the time given.
At the end of the street or in front of the building where a wedding will take place a janur will be erected. This comprises one or a pair of tall bamboo stalks to which is attached an intricately designed hanging decoration made of young coconut leaves. It is all biodegradable and will start to turn brown after a couple of days. What you should wear to a wedding depends on the time of day and where the reception is held. For men a good quality long-sleeved batik shirt is appropriate, but a suit would be more correct for an evening wedding held in a 5-star hotel.
For ladies a smart casual outfit is fine for daytime but you should get more dressed up in the evening. Indonesian ladies can be seen wearing their regional outfits in a bright array of colors, complete with lots of gold jewelry. Instead of a gift most people give money, which should be in a small sealed envelope with or without acard. When you arrive at the reception venue there will be some tables with guest books where you write your name. Place your envelope into the slotted receptacle provided and the young ladies at the receiving tables will give you a small token of some sort with a card thanking you for your presence on behalf of the bridal couple and their parents. No other thank you letter will be sent later.
Older couples will usher you in to the main room where you will probably see the bride and groom and their parents on a platform at the far end of the room. Sometimes they will greet guests immediately at the door. If you arrive on time there may be some speeches and musical or dancing entertainment. Guests are then invited to form a line to come up to the stage and give their congratulations to the bridal party. It is customary to say Selamat! to the parents and Selamat bahagia! to the bride and groom, or just simply Congratulations! As a foreigner and distinguished guest you may be asked to stop and pose for a photograph with the bridal party.
This will make an interesting memento of your time in Indonesia if you can obtain a copy later. The bridal couple will be dressed in elaborate costumes according to what part of Indonesia their family originally comes from. Very often they will wear outfits from different regions for different parts of the ceremonies. The stage and room will also be decorated with flowers and traditional decorations. Having greeted the bridal party you are now free to mingle with other guests and enjoy the refreshments provided. A buffet meal will be served, frequently offering far more choices and variety than anyone could possibly eat. Alcohol is almost never served, except at some ethnic Chinese wedding celebrations. It is not necessary to stay until the end of the time allotted and whenever you have eaten enoug you are free to leave. Attending a wedding can certainly be a fascinating experience and can give you some insights into Indonesian culture.
Provided by: Colliers International