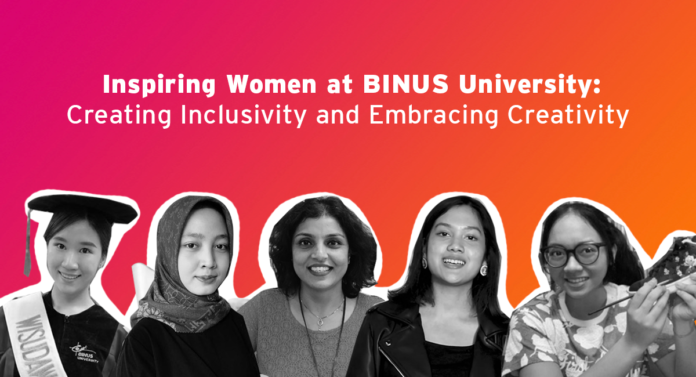 Inspiring Women at BINUS UNIVERSITY: Creating Inclusivity and Embracing Creativity
One of the 17 Sustainable Development Goals by the United Nations (UN) is women's equality and empowerment. Gender equality is a fundamental human right, necessary to build a peaceful, prosperous and sustainable world. Women and girls around the world must have equal rights and opportunities, as well as the ability to live free of violence and discrimination.
Aligned with the UN's goal, Indonesian Ministry of Women Empowerment and Child Protection has since early 2019 set up 17 main agendas for women and children, in which seven of them are prioritized as an effort to raise gender equality and to protect women.
Companies and institutions play a great role in creating a diverse and inclusive place for women. As an Indonesian higher education institution ranked 5 stars by QS World University Rankings in 2021, BINUS UNIVERSITY also supports and empowers students & staff to get equal opportunities and to grow creatively. BINUS UNIVERSITY ensures everyone feels they have the same opportunity to progress and make an impact.
In this article, we feature stories from five inspiring women at BINUS University. The women shared their unique experiences to stand out and embrace their creativity and uniqueness despite facing limitations.
Meet Aisyah Widya Nur Shadrina, an alumnus of BINUS BUSINESS SCHOOL Undergraduate Program, who graduated in 2019. Aisyah, along with six other team members developed an app called Hearo. This app was exclusively designed for people who are hard of hearing. The two main features from this app were transcribing voice into text, as well as converting sign language to voice or text.
The invention had caught the attention from one of world's biggest tech companies, Apple. Last October, she and her team were invited to join Apple Entrepreneur Camp led by Apple engineers and code experts. This June, Aisyah and her team will be joining the Worldwide Developer Conference (WWDC), also held by Apple.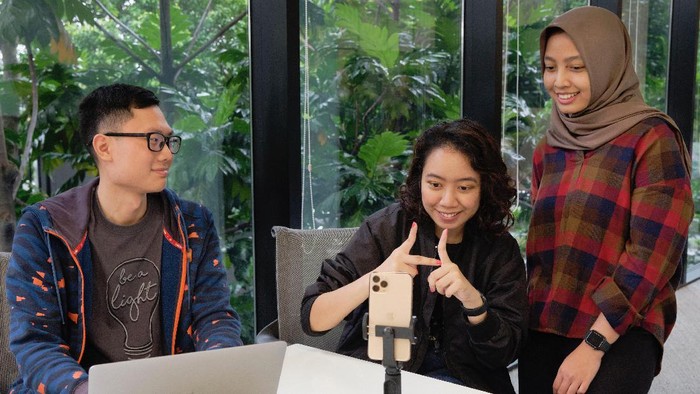 Photo from detik.com
Our next story comes from Dr. Sanjukta Choudhury-Kaul, a full-time international faculty member with the International Business program of BINUS BUSINESS SCHOOL. Being a person who is severely bi-senso neurally hearing impaired, she heavily relies on lip reading and extensive non-verbal communication. Unfortunately, the pandemic has posed challenges for Dr. Sanjukta as an academic, with everything being conducted virtually.
However, Dr. Sanjukta gave BINUS UNIVERSITY a praise for being very supportive of her adaptation needs. She mentioned that at BINUS UNIVERSITY International, the classrooms are all accessible. This allows her to interact freely with students while managing her disability. Therefore, together they can achieve high teaching and learning scores.
Despite being a challenge to most people, for some, the pandemic also pushes them to think outside the box. Naima Syeeda, a Graphic Design student at BINUS NORTHUMBRIA SCHOOL OF DESIGN, started a custom-painted shoe business in her spare time during the self-quarantine period at home, while her classes were being moved online.
Naima began painting just for fun, but now, she can make money out of her hobby. However, during the quarantine, she always put her studies first. She is committed to finishing her assignments as well as the mid and final semester projects at BINUS UNIVERSITY first before continuing with the painting.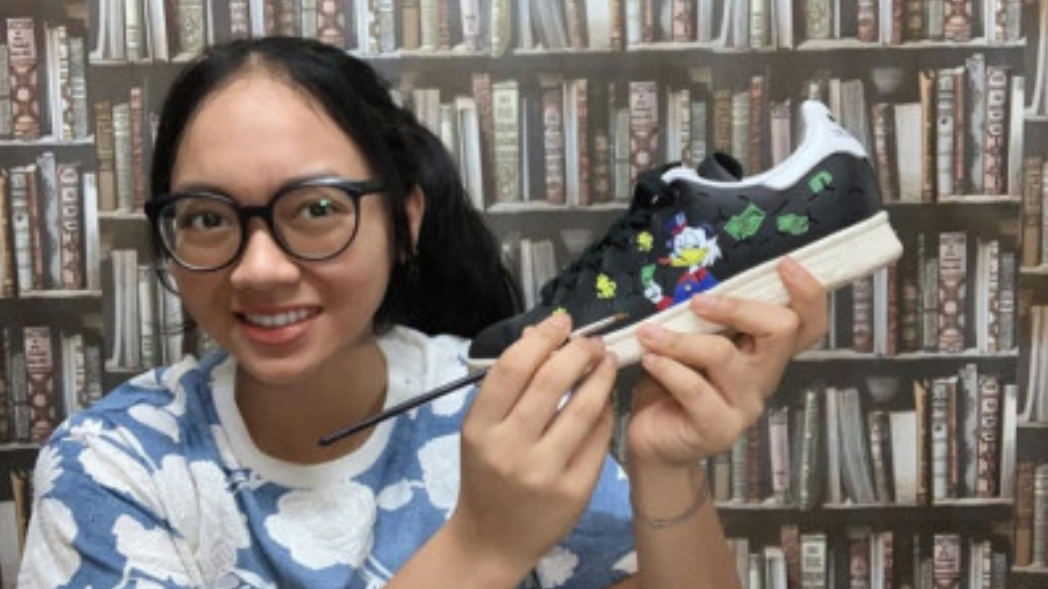 Like Naima, Dinda Nathania Azzahra Lubis, a Graphic Design student at BINUS NORTHUMBRIA SCHOOL OF DESIGN took her creativity to a whole new level. With BINUS UNIVERSITY, Dinda had an opportunity to exhibit her own design creations titled "DNA" through Port o 'Folio, an annual event for students to showcase their artwork to the public.
This opportunity from BINUS UNIVERSITY provided her with means and stronger understanding to conceptualize and build the mood of a work, which are all very important for her personal development and future career.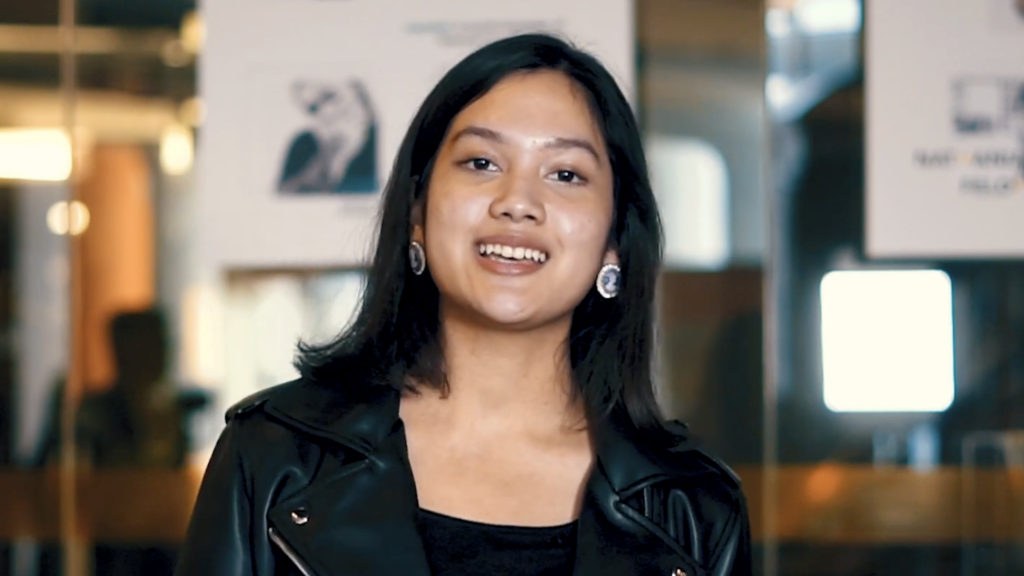 Another inspiring young woman is Valerie Franklin, who had a positive experience during her study at BINUS UNIVERSITY, which then impacted her performance as a student. She graduated from BINUS INTERNATIONAL in May 2021. Valerie received "Best Graduate from Communications program" title for having a Cumulative Grade Point Average (CGPA) of 3,64. She finished her study in 8 semesters, in which she also took a one-year exchange program at the Tokyo Metropolitan University, Japan.
Valerie was grateful for her achievement at BINUS UNIVERSITY, saying that during her time of study, she was given a chance to work in a dynamic environment, and meet a lot of people from different backgrounds. The study experience helped her broaden her horizon, as well as boosted her self-confidence. She also mentioned that she picked up important skills to present her ideas better, which she found very useful in her new position at work.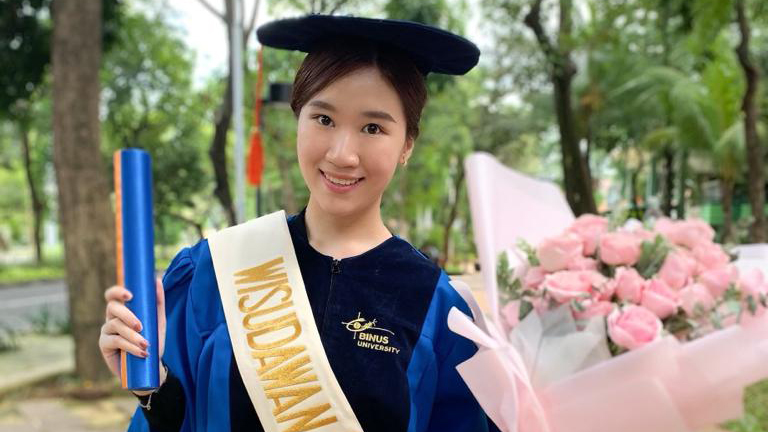 At BINUS UNIVERSITY, everybody regardless of gender has an equal chance to dream big and have even greater aspirations. We're proud to celebrate the women who make us better every day. We hope that through these stories, you will be able to draw inspiration and learn from their experiences.
Read more inspiring people stories through HiveIndo, an online BINUS UNIVERSITY magazine in English featuring voices from the BINUSIAN community, including students, faculty, staff and our partners.