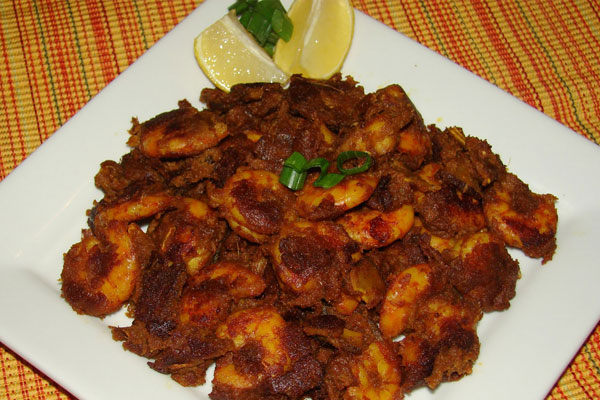 Jhatpat Jhingaa is definitely the dish you want to serve for seafood lovers. It's savory and spicy, which is suitable eaten with prawns. With all the effort it takes to make it, we guarantee it is well worth your time!
Serves: 6
Time required: 1 hour
Ingredients :
750 g medium prawns
12 Kashmiri red chillies
1 tsp peppercorns
3/4 tsp turmeric powder
12 garlic cloves
salt to taste
4 tbsp tamarind pulp
vinegar for grinding
150 g onions, chopped
8 green chillies, chopped
1 small bunch coriander leaves, chopped
2.5-cm piece ginger
200 g tomatoes, pureed
3 tbsp oil
10 g garam masala powder
1/2 tsp sugar
Directions :
Shell, devein, wash and pat dry the prawns.
Grind together the red chillies, peppercorns, turmeric powder, eight of the garlic cloves, salt to taste and tamarind in vinegar without adding any water.
Marinate the prawns in this ground masala for half an hour.
Grind together the ginger and remaining four cloves of garlic to a paste.
Heat the oil in a kadai and fry the onions till golden brown. Add the ginger-garlic paste and green chillies. Stir a while, then add the marinated prawns and fry on medium heat.
Add the tomato puree, stir well, cover the kadai and simmer till the prawns are cooked.
Add the sugar and garam masala powder and serve.
This dish is best eaten with rice or rotis.
Prawn TIP :
Never cook your prawns for more more than a few minutes, be sure your flame is high, if you stir fry your prawns for more than a few minutes, they will go hard and are not easy to chew when eating. Its best to simmer the prawns in hot water for a few minutes, just before cooking, when cooking it takes a few minutes for the prawns to be ready to eat.