An interesting destination you must visit in Malang: Kampung Wisata Jodipan. This kampung or village is also known as Kampung Warna Warni Jodipan. Just like its name, it's literally warna-warni or colorful. A house in that kampung has at least three different colors painted on its walls and roof. If you happen to see the photo of this kampung, you might think that it's not in Indonesia.
Kampung Jodipan was actually a slum area that is located on the riverbank of Daerah Aliran Sungai (DAS) Brantas. It was even one of the 11 most rundown villages in Indonesia. It all changed when a group of Public Relations students from Universitas Muhammadiyah Malang (UMM) had a task for PR and Event Management subject. They tried to propose the initiative to a paint company to work on the project together. It turned out that the company was also going to make a CSR program, and they collaborated to make the slum at Jodipan colorful.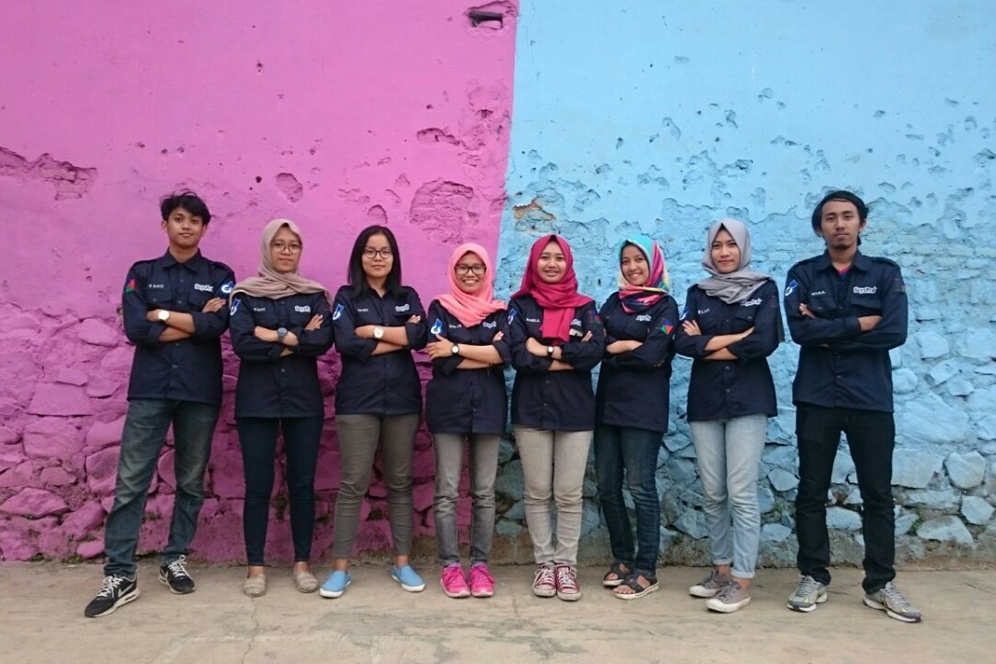 The village was selected to be their target, as this it has a good landscape if it's seen from the bridge at Jalan Gatot Subroto. However, the residents often threw garbage to the river, make it looked even worse. The program was intended to 'clean up' the village and educate the people about sanitation. The residents, TNI AU (air force troops) and artists started to paint the village on June 2016.
The paint company provided three tons of paint to colorize this village. Around 107 houses in this village were painted with vibrant colors like green, yellow, pink, and purple. Some mural communities in Malang also painted the northern part of this village (known as Kampung Tridi) with 3D arts. There is also one alley in the village that is decorated with colorful umbrellas.
Check these out: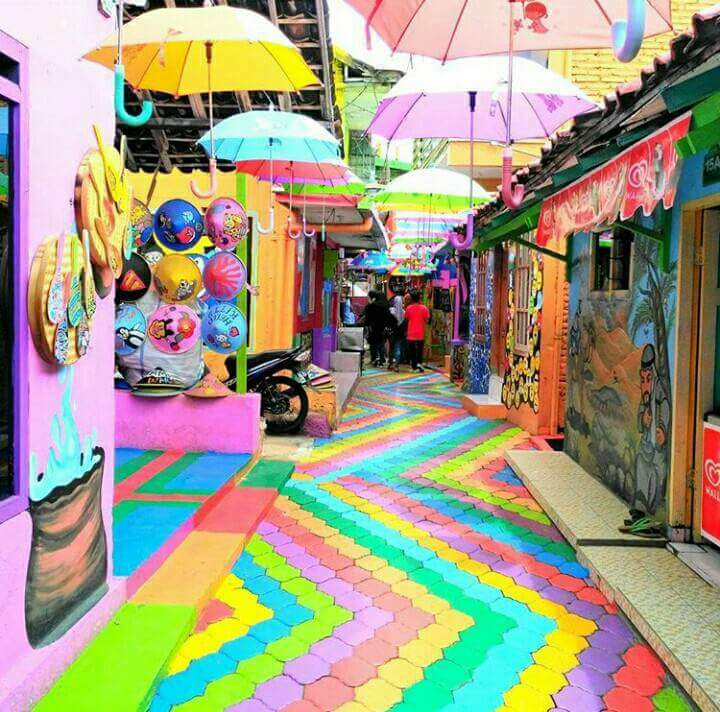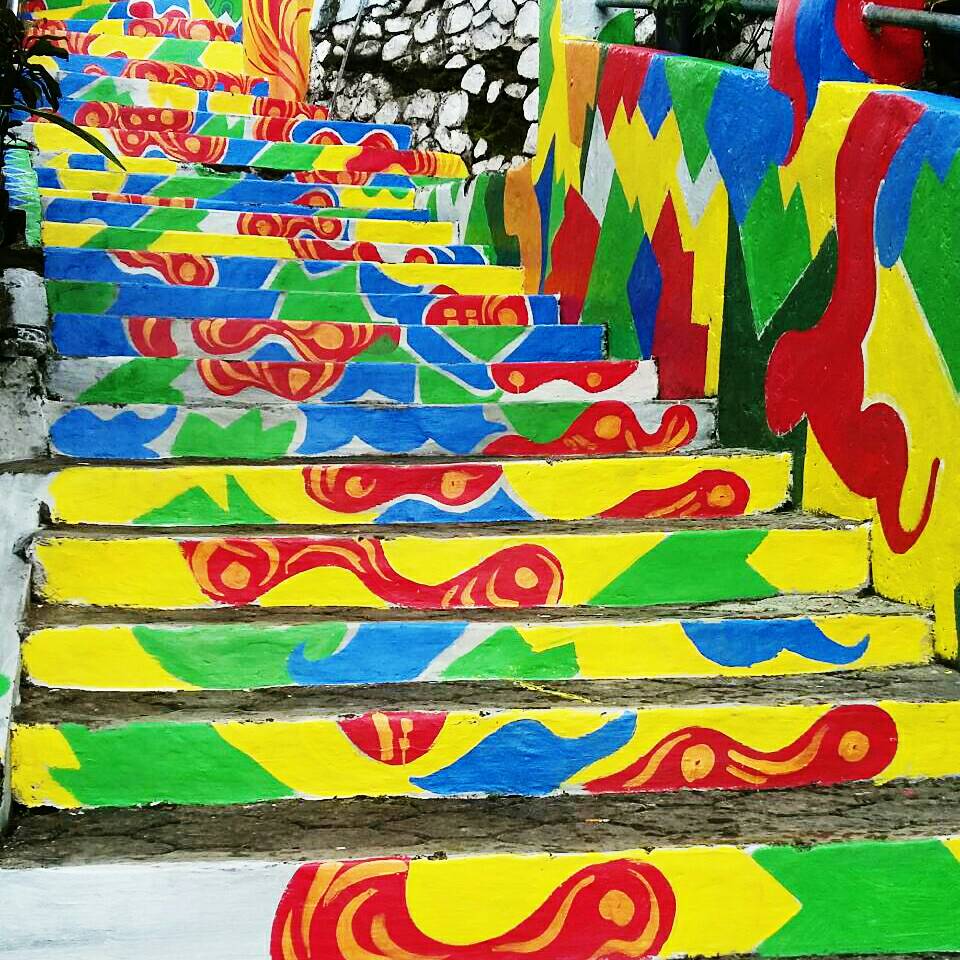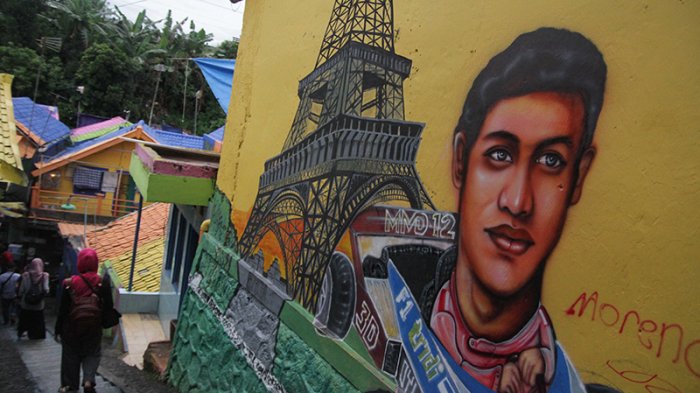 According to Dinni Anggraini, one of the visionaries behind this innovative idea, they were inspired by a similar colorful village at Rio De Janeiro, Brazil. The village was also previously a slum area, but artists Hass and Han 'colorized' the village since 2006. It is now one of the prettiest destinations in Brazil.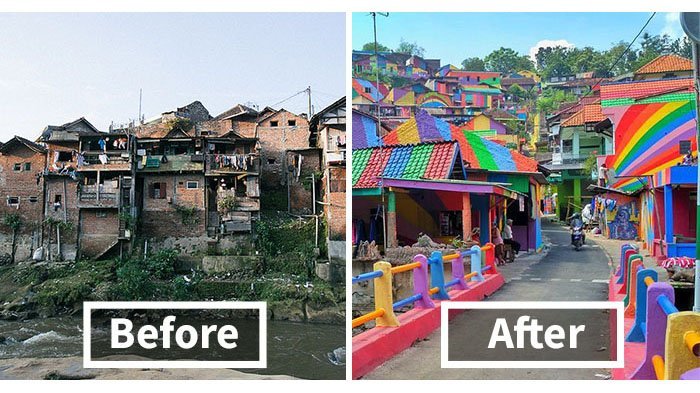 Now, the slum Kampung Jodipan has become a tourist destination – a must visit destination in Malang. It may not offer many activities like other locations, but Kampung Warna Warni Jodipan is really photogenic, and it is kind of rare to see colorful places like Kampung Jodipan in Indonesia.
The residents at Kampung Jodipan are also now keeping the village clean and tourist-friendly together. The village is facilitated with many trash bins, not only for tourists but also for the residents. A number of public toilets are also built in the village to be used by the residents. Parking lot is also available for the tourists.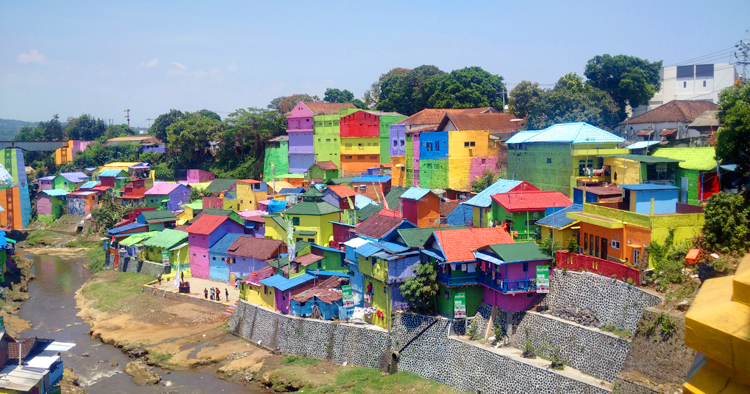 The Mayor of Malang Mochammad Anton said that the creativity of these UMM students has positive impact for the residents of Kampung Jodipan. The residents now sell snacks and drinks for the tourists in the village.
In the near future, a glass bridge will be built in Kampung Warna Warni Jodipan. The bridge connects Kampung Warna Warni Jodipan with Kampung Tridi Ksatriyan. The bridge is expected to open for public after Idul Fitri or around July-August 2017.
How to get there:
Kampung Warna Warni Jodipan is situated at Jalan Temenggungan Ledok, Kesatrian, Blimbing sub-district, Malang, East Java. It is around 400 meter south of Kota Malang train station. You can take Angkutan Kota (Angkot) with code ABG/ABH, AJG/AJH, AMG/AMH or MT from the station. Then you can stop near Brantas Bridge at Jalan Gatot Subroto. Kampung Warna Warni Jodipan can be seen from the bridge, and it takes around 5 minutes walk from there to the village.
Ticket price to enter Kampung Warna Warni Jodipan is Rp3,000/person.