Bogor is a popular destinations for Jakartans for a short weekend getaway The cool weather, location (which is only around 50 km from Jakarta), and a selection of tourist attractions make Bogor a pleasant city to visit. Aside from these 10 things that you can do while in Bogor, there is another fun thing to do that must be on your list when visiting this City of Rain. It's visiting the Kampung Katulampa.
Katulampa is a small village on the banks of creek from Kali Ciliwung dam. A few years ago people only know Katulampa as a dirty, smelly, and literally just a slum. But now, the village has got a total makeover. It becomes a colorful village with murals on the walls of residents' houses, just like Kampung Warna Warni Jodipan in Malang, East Java. The water of Katulampa creek is also relatively clean to play in.
Every day, this village is crowded by visitors, mostly families who bring their children to play in the Katulampa creek. Kids ages around 2-5 years old can play safely in the shallow parts of the river. Older children and adults usually prefer to play water tubing, challenging themselves with the currents.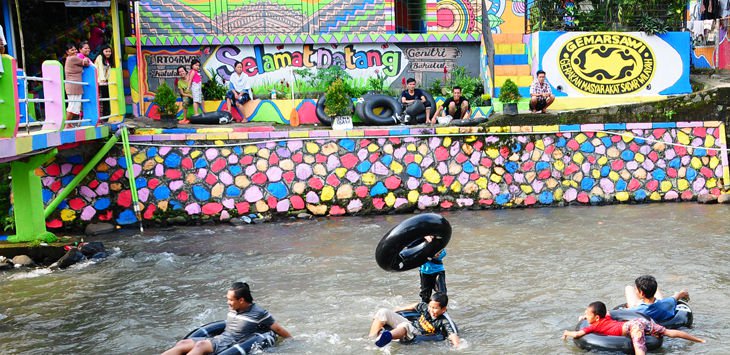 Near the river there are several public toilets and changing room where visitors can clean themselves after playing in the river. There is also a booth where they can rent swimming tubes for water tubing. Those who don't fancy playing in the water can walk around the village and take photos of the colorful murals there.
Aside from water tubing, the residents of Katulampa also provide an arena where visitors can play Indonesian traditional games like Egrang, Congklak, or Gobak Sodor. There is also a mini library where visitors can stop and read books. All of these facilities can be used for free!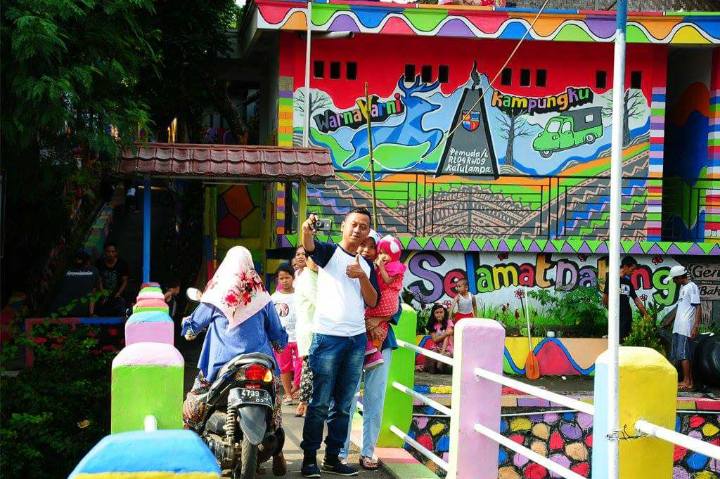 Ketua Pemuda Kampung or the chief of Katulampa's youth organization stated that the Kampung Warna Warni was designed since 2016. The idea to paint the walls with colorful murals came from a group of Katulampa's youngsters who wanted to transform Katulampa to be more beautiful.
They started with painting some houses with colorful paints and murals. Unlike other Kampung Warna Warni, there did not receive any donation or contribution from any companies or organizations. All the paints were purchased by the residents themselves, and they also worked together to give their village a makeover.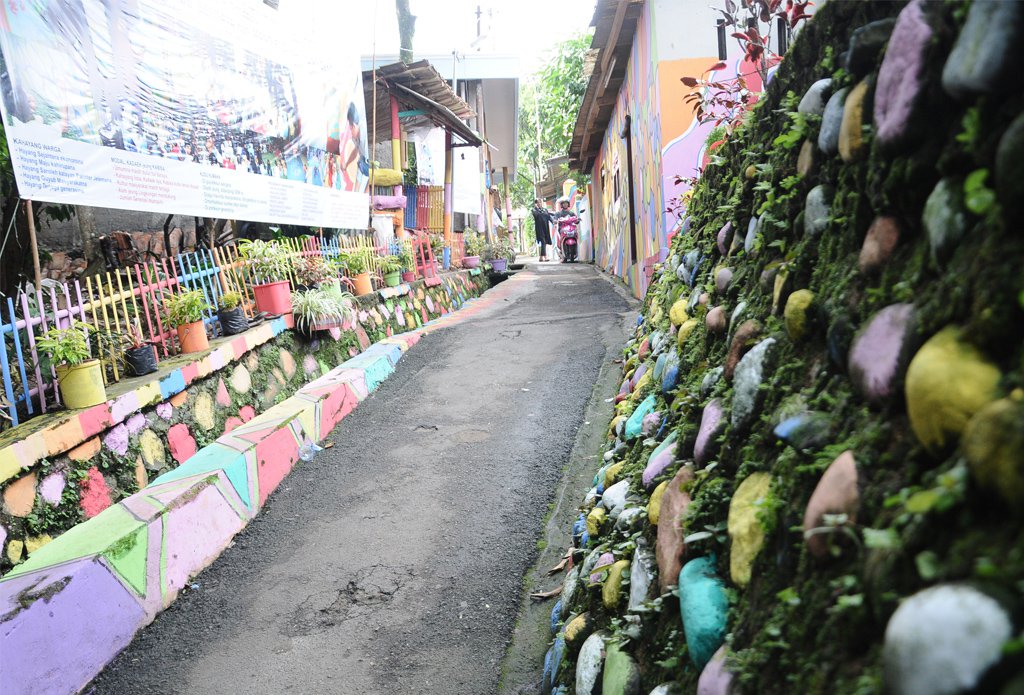 After that, the residents started to realize that they need to keep their village clean by not disposing household wastes into the river. If a few years ago no one would play, or even touch the water, now everyone can freely play in it.
It's easy to go to Kampung Warna Warni Katulampa. The village is located around 5 kilometers from Baranangsiang Terminal in the center of Bogor.