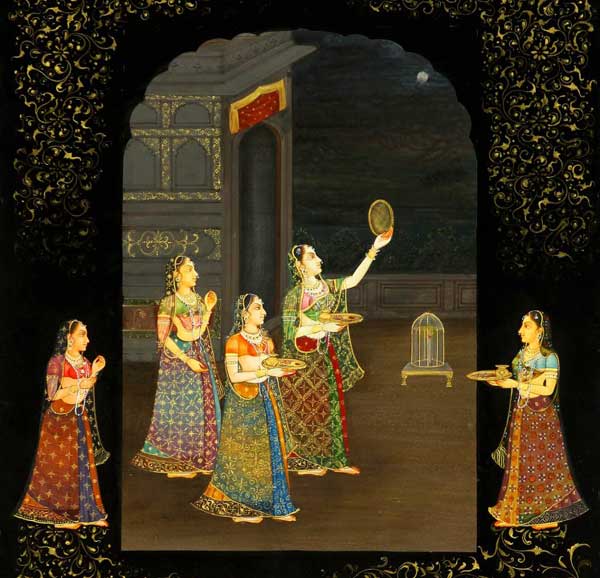 Karwa Chauth is an auspicious festival celebrated only by married woman in North India. Celebrated 9 days before Diwali on kartik ki chauth, i.e., on the fourth day of the new moon immediately after Dusshera, in the month of 'Karthik' (October-November).
The married women fast on this day from sunrise to moon rise for their husband's well-being, prosperity and wealth. The fast is traditionally observed in the states of Rajasthan, parts of Uttar Pradesh, Himachal Pradesh, Haryana, and Punjab.
The fast begins before sunrise and ends only after offering prayers and worshiping the moon at night. No food or water can be taken after sunrise. The fast is broken once the moon is sighted and rituals of the day have been performed. At night when the moon appears, women break their fast after offering water to the moon. In the evening, women dress up in their wedding finery and some even apply 'mehndi' or henna on the hands. Fasting women gather in a group and narrate mythological stories on the significance of Karwa Chauth.
This is indeed a very tough fast to observe as it starts before sunrise and ends after worshipping the moon, which usually rises at about 8.45 p.m. No food or water is to be taken after 4 a.m. or after sunrise.
Celebration : The preparation for the puja should be started at about 4 or 5 p.m. Someone older, or the housewife herself, prepares a suitable place in the puja room, in case it is a big room which can accommodate all the women who have been invited for the puja; otherwise the best place is a verandah or the open courtyard, since generally the weather is not cold during this season.
The goddess known as Gaur Mata is worshipped. The Gaur Mata used to be made with cowdung in the shape of a human figure, just about two inches tall. Nowadays, a picture or an idol of Parvati is worshipped.
Women celebrate by buying bangles and applying henna patterns on their hands. New brides wear their bridal outfits and others wear outfits woven with gold. Those who have keep the vrat, dress up beautifully in their chunris or in red or pink clothes and bindi on their foreheads.
Once the moon rises, the women see its reflection in a thaali of water, after which they do a pooja for their husband's safety and long life, and finally break their fast.
This festival has led to many magical moments on the Bollywood silver screen. Our top 4 are:
Hum Apke Hain Kaun
The magic of Salman Khan and Madhuri Dixit together on big screen depicted Karva Chauth as a grand family celebration and not just a private ceremony for lovers.
2. Hum Dil De Chuke Sanam
Aishwariya and Salman's larger than life love. Aishwarya observes the karwa chauth fast for Salman married to Ajay Devgan in the movie.
3. Ishq Vishq
Amrita Rao and Shahid Kapoor shared the most gorgeous Karva Chauth scene. With her beautiful modern day love saga, Amrita totally made new age girls revisit the tradition of fasting for love.
4. Kabhi Khushi Kabhi Gham
Karan Johar loud and extravagant movies showcase Indian celebrations beautifully. The Karva Chauth scene in the movie with Hrithik-Kareena Kapoor just made Karva Chauth the most fashionable thing to do. It was again, Kajol-SRK who rocked the Karva Chauth song with their lovable chemistry.
The 'Bole Chudiya' song had everything including mehendi, Karwa Chauth celebration with good dance steps to make us all watch it in joy.
Do share with us what other rituals you follow on Karwa Chauth. And we also look forward to your favorite Bollywood moments that celebrate this festival of love.