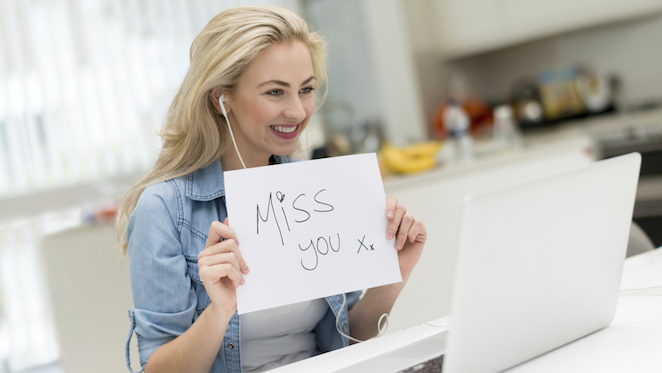 Long distance relationships surely take more effort, especially when you live in a different city or country from your lover, the way you communicate, compromise, and understand each other might change. You have to work hard to keep the spark in your relationship alive, even if you're hundred miles apart from your loved one!
Trust
The key in every relationship is trust. In a long distance relationship, trust is something that you need to pay attention to the most. By accepting the fact that you have to be in a long distance relationship, you also accepted the fact that you will have to trust your partner that she/he will not be seeing anyone else in their new place, and that both of you will keep in touch with them just like when you were in the same city.
Stay positive
Negative thinking is a big no in a long distance relationship. Being away from your partner is not all bad news. While you're miles apart from them, you can use the opportunity of personal time to pursue your objectives. Another positive point of being in a long distance relationship is that it pushes both of you to be more creative in keeping the communication as smooth as possible.
Set some basic rules
Now that all of the situations are different, you're going to want your partner's attention all the same as when you were at the same place. Communicate the basic rules and express your expectation to your partner beforehand and avoid getting insecure. For example, if your partner lives in a place with different time zone from your place, you can set at which time you will catch up to your partner.
Avoid jealousy and drama
Jealousy and drama are two poisons that can ruin any kind of relationships. You must realize that there will be some difficulties when you are in a long distance relationship. There is no need to question your partner every time they go out or eat with someone you haven't met or they didn't get back to you right away when you called and left a message. If you trust your partner, you can avoid drama in your relationship as much as possible. Remember, insecurities in a relationship are not good for your relationship.
Surprise visit
In addition to regular visits during holidays, make an effort to give them a surprise visit whenever possible. This will show your partner that they're worthy and that you care to them.
Do things together
If time differences does not matter, it's always fun to do things together. It could be just playing a game online or watching your favorite TV show. Do something that you both enjoy and can still enjoy together even when you're apart.
Express your feeling
A short 'I love you' or 'I miss you' text in the morning will make your partner's day brighter. Always say that you love them and that you'll always wait for them to come back home. It will be better if you call or video call them, so they can hear your voice as well as see your face. That will cure the pain of not being able to see them every day like before.