Are you familiar with Kendari Werk? The beautiful pieces of art have been around since decades, but not many people know that the art originated from Kendari, the capital city of Southeast Sulawesi. You may have mistakenly assumed that the art pieces are from Yogyakarta (which is also famous for silver jewelry).
Kendari Werk (werk is Dutch of 'creation') is an art commonly made of high concentrated (around 97%) silver threads, or in gold, layered within a sturdy frame. Most of the work is in forms of jewelry such as broaches, necklace, earrings, and bracelets; however there are also sculptures and home decorations like miniatures of traditional house, ship, animals, and household tools that are also made with this art.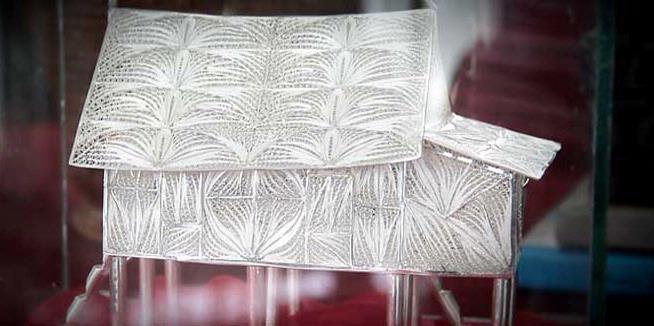 Kendari Werk was created by a man named Djie A Woi, a Chinese jewelry maker that lived in Kendari. He was inspired to make silver jewelry mimicking the intricate yet delicate spider webs. There's no telling when he started this craftsmanship exactly, but it's known that he was the first to do so in Indonesia and it's been around the country since the 1920s. He's made several impressive pieces, enjoyed by Dutch queens and royalties complete with its certificate of gratitude. However, all evidence was lost in the Japan bombings in 1945.
In Kendari, the making of Kendari Werk still use simple, manual equipment. The artisans only depend on their skills to make those beautiful filigree artworks. The whole process, like any other high quality jewel making, is long and requires extra attention to detail. Metals is first cast in a rod like shape. While still hot, the metal is then hammered and pulled continuously until it becomes small threads. Threads of different sizes are then layered within a frame that forms the jewelry. To add sparkle, the piece is layered with silver dust, torched until it melts, and then sand papered until it shines.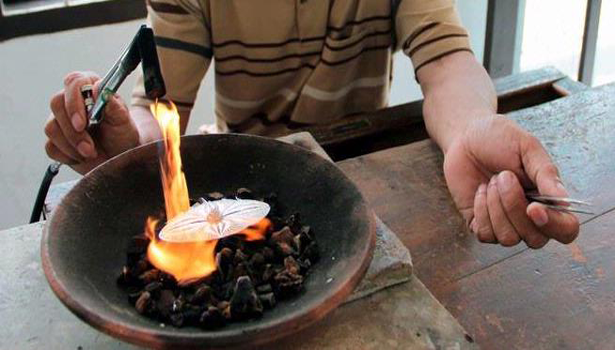 The ironic thing is that for the last few decades, the Southeast Sulawesi's traditional art has developed more in other areas, especially Makassar, South Sulawesi, although the name is still 'Kendari Werk'. In Kendari, it is quite difficult to find this filigree work.
Currently there is only one organization that is still actively producing and promoting Kendari Werk: Dewan Kerajinan Nasional Daerah (Dekranasda or Regional Board of National Crafts). There are 15 Kendari Werk artisans in Dekranasda, all of them have been focusing on Kendari Werk making for years.
Today, Kendari Werk is also made of gold and comes in the forms of jewelry.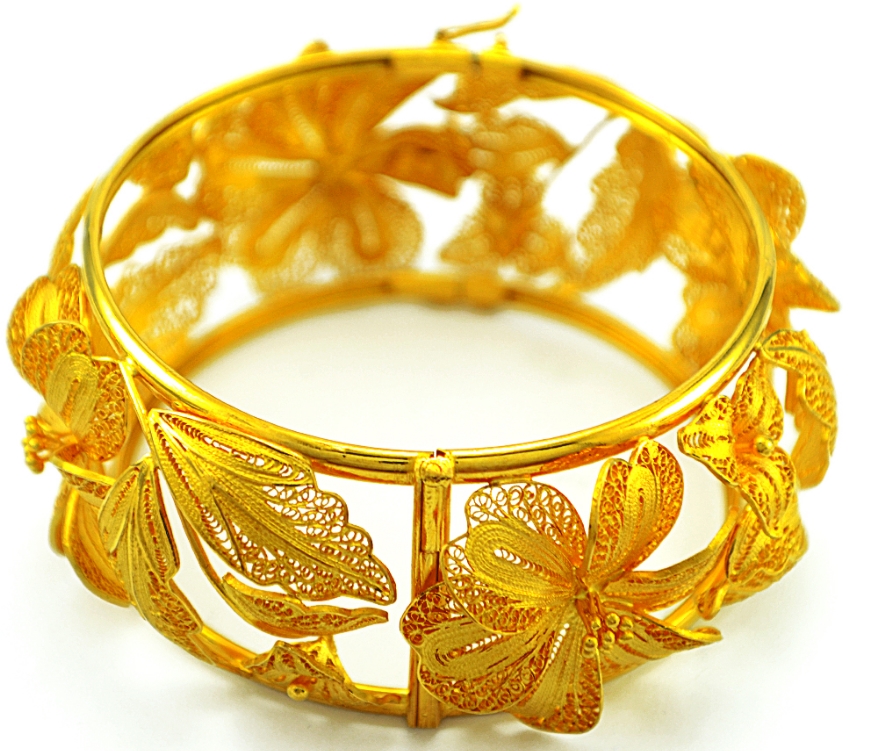 Kendari Werk and Tarakasi: Are they different?
At a glance, Kendari Werk looks really similar to Tarakasi. Tarakasi is a type of silver filigree work from Cuttack, a city from Odisha in the eastern part of India. The highly skilled art form is more than 500 years old and is traditionally done by local artisans on the Eastern shores of Odisha. According to sources, the art may have come to Odisha through its trade links with Indonesia as the workmanship is similar to that done in Indonesia (Kendari).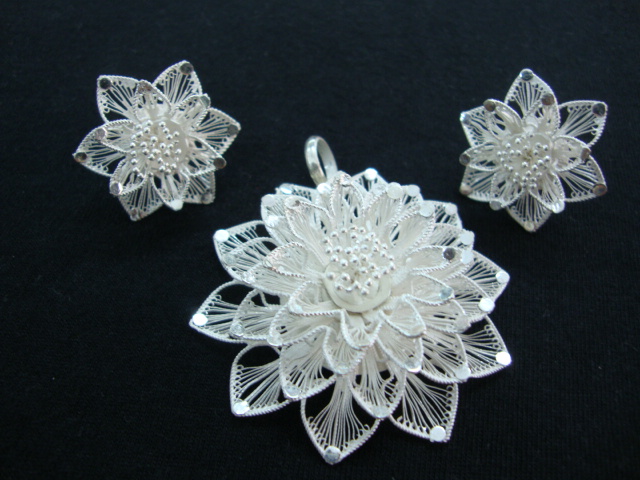 Forms of animals, birds, flowers and even miniature handbags and other souvenirs are made in Tarakasi work. All of them are rich in patterns; and in Odisha, the stress is on arm jewelry, necklaces, toe rings and especially anklets, which are a great favorite. The making process is also similar to Kendari Werk. Today new methods and experimentation are increasingly being employed to produce highly polished and refined artifacts in keeping with the demands of customers
Where to buy Kendari Werk in Jakarta
It would be wonderful if you visit Dekranasda in Kendari on a fine Saturday to see the making process of Kendari Werk and bring home some beautiful jewelry there. If you visit Makassar, South Sulawesi, you also would find Kendari Werk in souvenir shops in the city.
In Jakarta, Kendari Werk can be found in several department store and shops selling traditional crafts, such as:
Sarinah
Sarinah Department Store is probably the number one destination for those who are looking for Indonesia's traditional crafts. You can find Kendari Werk and other silver and gold crafts here.
Address:
Jalan MH Thamrin No 11 RT 8, Central Jakarta
Phone 021-31923008
Alun Alun Indonesia
The "Pesona Perak" section at Alun Alun Indonesia is a great place to find silver jewelries. Most of the collection is from Kota Gede, Yogyakarta, but you can also find silver filigree here.
Address: Grand Indonesia West Mall, 3rd floor, Jalan MH Thamrin Kav 28-30 Central Jakarta
Phone 021-23580890
Cikini Gold Center (CGC)
Jakartans love Cikini Gold Center to find any types of gold jewelry. The prices are also mostly more affordable than those displayed in crystal clear box in high-end shopping malls in town. Gold and jewelry shops can be found on the LG, G, and UG floor.
Address:
Jalan Pegangsaan Timur No 3 Pegangsaan, Menteng, Central Jakarta
Phone 021-31909088