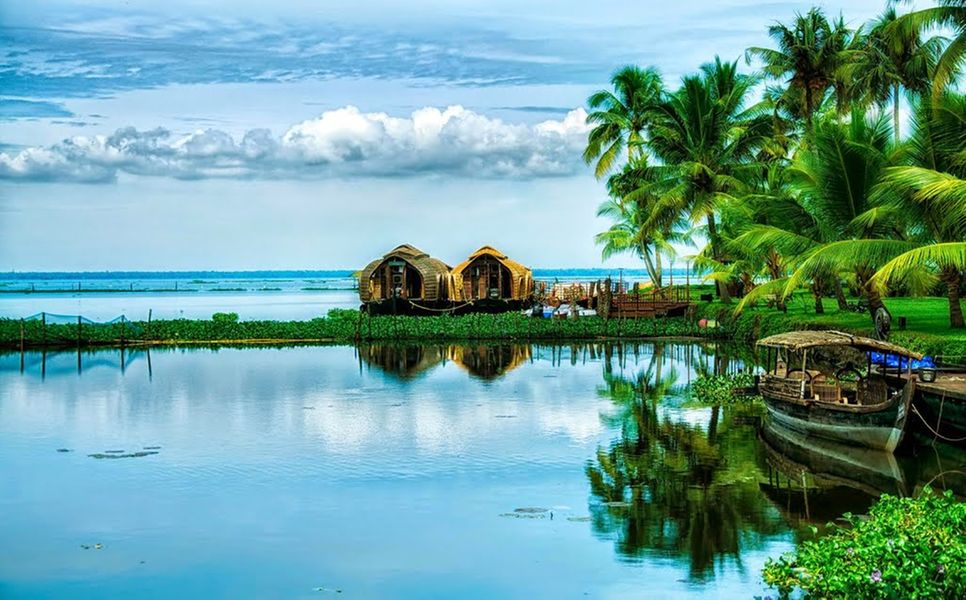 By Poonam Sagar: If rowing through the canals of Venice is an architectural feast, gliding through the waterways of Kerala is a banquet of nature.
What makes Venice so enchanting and impressive is the fact that the sights are all man-made, and it comes to us in a mold we call culture — in a quintessentially European way.
---
The waterways of Kerala are the opposite. It is nature itself that unfolds before our eyes and greets our senses. By nature, it is not an Amazon-like nature, where in every shady glide you are watchful in case a snake, spider or even a spear-wielding Amazon warrior appears. Kerala's waterways are all about peaceful palm trees, rice fields, birds, forests, small villages, sunshine that glitters through the leaves, serenity and quietness; in short, a kind of tropical Venice.
The boats, called Kettuvallam, are a wonder in themselves. Built with earthy materials such as bamboo poles, coconut fibre, ropes, and bamboo mats, these solar-powered houseboats are traditionally used for transporting goods; but have now morphed into floating villas, exquisitely designed and furnished with modern amenities. As a tourist vehicle, it has all the conveniences of a hotel: bedrooms with toilets, a living space, and kitchen.
Comfortably snuggled within this Kettuvallam, we then glide through a world of serenity and wonderment, a network of waterways, inlets from the sea, and estuaries of over 40 rivers, lakes and natural canals connecting coastal towns. Some of the magnificent places of tourist interest and the picture perfect waterways of Kerala are Kumarakom, Alleppey, Kochi, Kollam, Kuttanad and Kasargod.
Yet, though the waterways are the chief thing that sets Kerala apart, it is still one among Kerala's many dream lists of attractions. What makes Kerala truly unique as one of India's most beautiful states is its rich historical and cultural past.
This is seen best in the journey to discover Kerala itself, which begins in Kochi, where you find giant fishing nets from China, ancient mosques and Portuguese houses. The serene Fort Cochin pays homage to its colonial past, each building whispering a tale of Chinese visitors, Portuguese traders, Jewish settlers, Syrian Christians and Muslim merchants. Yet even with its colonial distractions, Kerala manages to cling to its vibrant traditions: Kathakali — a blend of religious play and dance; kalarippayattu — a gravity-defying martial art; and theyyam — a trance-induced ritual. Combine this with some of the most taste bud-tingling cuisine in India, and you can imagine how hard it will be to leave before you even get here.
Munnar with rolling tea gardens produces the world famous Nilgiri tea. This is also the land of cardamom, pepper and cinnamon spice plantations. Follow the scenic waterfalls and exotic flora and fauna to Periyar Wildlife Sanctuary and spice and coffee plantations in Thekkady.
Further on to Kumarakom, a small scenic village with cluster of little islands is situated on the banks of the crystal clear blue Vembanad Lake. Visit the exotic Kumarakom Bird Sanctuary, regarded as ornithologist's paradise.
Then to Trivandrum, the capital city, resting on low hills in Southern Kerala. A must-see event is the snake boat races or Vallamkali which is something of a cult, just as bull fighting is in Spain. From Aug. 15, every year, 100 feet long boats with up to a 100 trained men participate in this amazing race in these southern waterways. The boats go like arrows, with the rowers moving in unison to the sound of rhythmic chanting and music. Truly a photographer's dream destination.
Still in Southern Kerala, visit the Napier Museum, Kuthiramalika Museum, and Sri Padmanadbha Temple. And, finally to the beach of Kovalam, the beautiful beach paradise, which consists of three picture perfect crescent beaches adjacent to one another, considered to be one of the finest beach resorts in the world.
Kerala is also popular for Ayurveda, 'the science of life' which is an ancient treatment method based on diet, massage, herbs, meditation and yoga. This wholesome approach maintains the balance between body and mind. Numerous Ayurvedic hospitals treat serious ailments, diseases and disorders based on the ancient knowledge, while the Ayurvedic spas are more suited to rejuvenating massage and spa treatments. Sirodhara the trademark symbol of most Ayurvedic health spas is a special form of oil therapy, characterized by the steady pouring of Ayurvedic medicated oil over the forehead. This therapeutic process provides mental relief, increased blood circulation in the brain and better hair growth.
From its palm-fringed waterways, magnificent hill stations to its mesmerizing beaches and fascinating wildlife parks and sanctuaries, South India's Kerala is the ideal gateway for a fun filled holiday; anyone will second National Geographic Travel when it calls Kerala "one of the 10 paradises of the world" and among the "Fifty must see tourist destinations of a Lifetime".
Tips:
Best time to visit: is between December and March when temperatures are a pleasant 30°C. In February, March and April, festivals take place in Kochi, Kottayam and Kollam, featuring traditional Kathakali dancing. June and July are monsoon months in Kerala and interestingly, this happens to the best time for therapeutic Ayurvedic treatment, which is said to be most effective in these months.
What to buy: Kerala is a shopper's delight, especially for its ivory carvings, gold and silver brocaded fabrics and pottery and ceramic products. Bring home souvenirs of carved rosewood, masks, and a wide range of attractive and unique handmade items.