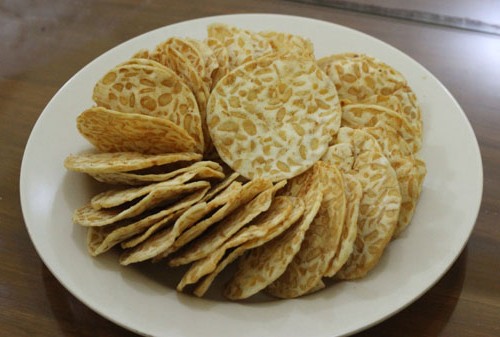 Tempeh made from soybeans has a deliciously savory taste. The price is cheap and can be easily made into a variety of delicious foods, including tempeh chips. No need to wait for souvenirs from friends or relatives to enjoy it, you can make your own tempeh chips at home. Check out the recipe for crunchy tempeh chips below!
Ingredients:
Makes 5-6 servings
600 gram tempe (fermented soybean cake) – not tofu
200 ml water
½ tsp. slaked lime water
100 gr. rice flour mixed with 25 gram cornstarch
vegetable oil
Spice Paste ingredients:
4 candlenuts
1 clove garlic
1 tsp coriander seeds
salt to taste
1 cm fresh kencur
Directions:
Slice the tempe in thin 3½ x 5 cm squares. Set aside.
Mix the spice-paste together with the water and slaked lime water. Add the rice flour and cornstarch and blend till smooth.
Heat the oil in a wok, dip the tempe in the batter and deep-fry until it is golden brown and crisp.
NOTE:
Make sure that the oil is not to hot, otherwise the batter and the tempe will not be done at the same time.