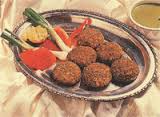 KHUMB AUR MAKKAI TIKKI
Ingredients:
250 g. fresh corn
250 g. mushrooms
100 g. breadcrumb bs
50 g. flour
25 g. garlic
10 g. green chillies, deseeded and chopped
a few sprigs coriander leaves, chopped
a pinch turmeric powder
salt to taste
oil for frying
Directions:
BOIL corn and mushrooms with a little turmeric powder and squeeze through a muslin cloth to remove all the excess water.
Grind the mixture.
Saute garlic in a little butter till golden brown and add to the mince.
Add green chillies, coriander leaves, salt, garam masala and bread crumbs.
The mixture must be firm. Make tikkis, coat with flour and deep fry.
Serve with green chutney!