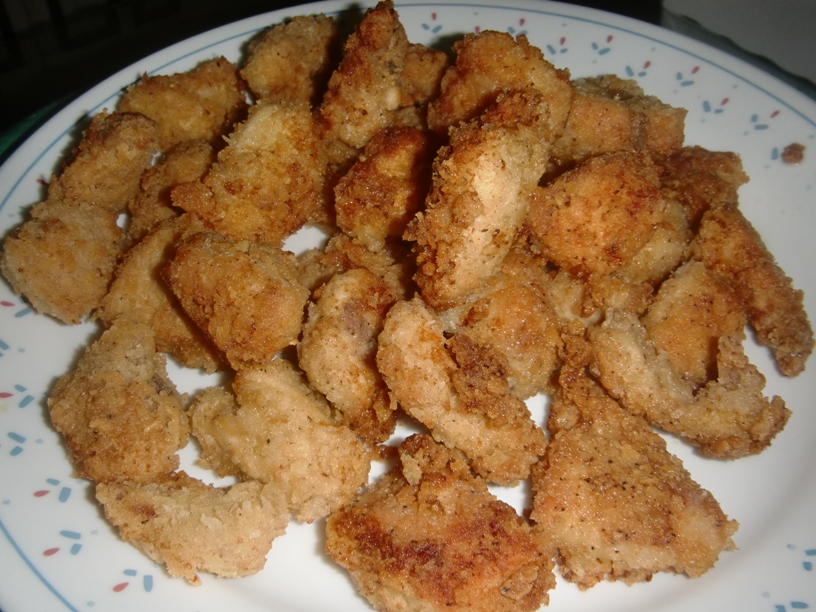 Shake-It-Up Chicken Nuggets
Serves 4; 4 nuggets per serving
Chicken nuggets are usually deep-fried in hot oil to give them a crusty coating. But all that oil makes the nuggets greasy. In our recipe, the chicken is tossed in a bag with seasoned stuffing mix and grated Parmesan cheese. It is then baked in the oven. These "oven-fried" nuggets are crisp and golden. But, they don't have that extra fat you get from deep-frying.
Ingredients :
1-3/4 cups herb-seasoned crumb stuffing mix
1/4 cup grated Parmesan cheese
3 tablespoons margarine
1/4 cup low-fat buttermilk
1/4 teaspoon ground black pepper
2 boneless, skinless chicken breasts (approximately 1 pound)
Equipment :
Measuring cups
Resealable plastic bag (1 gallon size)
Rolling pin
Small saucepan or small microwave-safe bowl and wax paper
Measuring spoons
Medium shallow bowl
Mixing spoon
Paper towels
Cutting board
Small, sharp knife
Baking sheet
Oven mitts
Tongs
Instructions :
Preheat oven to 450 degrees F.
Measure stuffing mix into resealable plastic bag. Seal bag and place on flat surface. Crush crumbs by rolling and pressing rolling pin over bag.
Open bag and add Parmesan cheese. Reseal bag and shake to mix thoroughly.
Melt margarine.
Place melted margarine, buttermilk, and pepper in medium shallow bowl. Stir well with spoon. Set aside.
Rinse chicken breasts and pat dry with paper towels.
Place chicken breasts on cutting board. Cut chicken with small, sharp knife into 16 chunks of the same size. (Each chicken breast should give you 8 chunks or pieces.)
Dip each chicken chunk into buttermilk mixture, covering all sides. Let extra buttermilk mixture drip off. Place 3 dipped chunks at a time into bag of crumbs. Seal bag tightly and shake until chicken pieces are evenly coated with crumbs.
Place coated nuggets on an ungreased baking sheet. Repeat with remaining chicken chunks.
Place baking sheet in oven. Bake nuggets 4 minutes.
With oven mitts, remove pan from oven. Using tongs, turn over each nugget.
Return to oven and bake 4 to 5 minutes, or until medium golden brown.
With oven mitts, remove pan from oven. Using tongs, remove nuggets to platter or plates. Serve nuggets immediately. Place a small bowl of your favorite dipping sauce nearby, if you like.
Cook's Note :
You can use the stovetop or the microwave to melt margarine. If you choose a stick margarine, it can easily be measured by looking at the tablespoon markings on the wrapper and cutting off the amount you need. Each stick equals 8 tablespoons. To melt the margarine, follow these easy steps:
Stovetop
Place margarine in small saucepan.
Place saucepan on burner.
Turn heat to low.
Heat until margarine melts, stirring occasionally.
Microwave
Place margarine in small microwave-safe bowl.
Cover with waxed paper.
Microwave on HIGH (100 % power) 30 to 45 seconds for 1 tablespoon, or 45 to 60 seconds for 1/4 cup.
Slumber Party French Toast
Serves 6; 1 slice per serving
This French toast is a bit different from the usual kind. The bread is first dipped into a sweetened cinnamon-flavored batter, then set in refrigerator overnight to absorb the delicious flavors. The next morning, it's baked rather than fried. What a way to start the day with sleepover friends or your own family.
Ingredients :
1/4 cup (1/2 stick) margarine.
1/2 cup firmly packed dark brown sugar.
3/4 teaspoon ground cinnamon.
1/4 cup skim milk.
6 1-inch-thick slices French bread.
1 to 2 tablespoons powdered or confectioners' sugar.
Equipment :
13-by-9 inch baking pan or baking dish
Measuring cups
Small bowl
Fork
Measuring spoons
Glass pie plate
Aluminum foil
Oven mitts
Wire cooling rack
Instructions :
Place margarine in baking pan or heat-proof baking dish. Place pan on burner. Turn heat to low. Heat margarine until melted.
Place brown sugar in small bowl. With fork, stir in cinnamon. Sprinkle mixture evenly over melted margarine in baking pan or dish.
Combine egg substitute and milk in glass pie plate. Mix with fork until blended.
With fingers or fork, dip bread slices into egg mixture to coat both sides. Lay slices over sugar-cinnamon mixture in baking pan or dish. Pour any remaining egg mixture over the bread slices.
Cover pan with foil and refrigerate overnight.
Remove pan from refrigerator 1 hour before baking. Let stand on the kitchen counter to reach room temperature.
Preheat oven to 375 degrees F.
Carefully place pan of French toast in hot oven. Bake 25 minutes.
Using oven mitts, remove pan from oven to wire cooling rack. With oven mitts, carefully remove foil from pan.
Return pan to hot oven. Bake for 15 minutes longer.
Using oven mitts, remove pan to cooling rack. Sprinkle French toast with powdered sugar. Serve warm.
Cook's Note :
Here's a terrific breakfast treat, but to make it you'll need to think ahead. You need to start this recipe the day before you serve it, since it must be refrigerated overnight. Use crusty loaves of French bread cut into slices. Regular white bread slices won't work — they're too soft and will get soggy.
When measuring brown sugar, follow these simple steps: Spoon the brown sugar out of its box into the correct size dry measuring cup.
With your hand on the back of a wooden spoon, push the brown sugar into the measuring cup to "pack" it. Continue spooning in the sugar and packing it down until the cup is full and level on the top.
When directed in the recipe to add the brown sugar, turn the cup upside down into the bowl. The sugar should come out easily and hold its "cup" shape.
Top Hat Pizza
Serves 1
If you always thought pizza wasn't a nutritious food, think again. This one has a delicious combination of vitamin-packed peppers, low-fat cheese, and whole-wheat bread. It's great for a quick snack, lunch, or supper.
Ingredients :
1 7-to 7-1/2-inch round piece whole-wheat pita or pocket bread
3 tablespoons prepared pizza sauce
1/4 green or red bell pepper
1/4 small onion
1/8 teaspoon dried Italian herb seasoning
1/2 ounce part-skim mozzarella cheese (2 tablespoons grated)
1/2 teaspoon grated Parmesan cheese
Equipment :
Cutting board
Small, sharp knife
Chef's knife
Grater and bowl (optional)
Kitchen scissors
Cookie sheet or baking sheet
Oven mitts
Wire cooling rack
Measuring spoons
Small spatula or spoon
Pizza cutter (optional)
Instructions :
Peel and chop onion. Measure out 2 teaspoons and set aside. (Save the rest to use in another recipe.)
Rinse bell pepper and place on cutting board. Remove seeds and white pith from inside the pepper. With small, sharp knife, chop bell pepper. Measure out 1 tablespoon and set aside. (Save the rest to use in another recipe.)
Grate cheese if it is not pre-shredded.
Preheat oven to 400 degrees F.
Using kitchen scissors cut out a circle from top layer of the pita bread, leaving 1 inch of top all around to form an edge or border. Same cut-out circle.
Place bottom of pita on cookie sheet or baking sheet. Using oven mitts, put on middle rack in hot oven. Bake 5 minutes.
With oven mitts, carefully remove from oven and place pan on wire cooling rack. Cool slightly.
Place cooled pita on cutting board. Using small spatula or spoon, spread pizza sauce evenly on top and also under the edge of the pita bread. Sprinkle bell pepper, onion, Italian seasoning, and mozzarella cheese evenly on top of sauce. Top with reserved circle of pita bead to form a "hat."
Return completed pizza to cookie sheet or baking sheet. Bake in hot oven for 8 to 9 minutes.
With oven mitts, carefully remove pan from oven to cooling rack.
Sprinkle with Parmesan cheese and let stand a few minutes.
Place pizza on cutting board. Cut in half with kitchen scissors, small knife, or pizza cutter. Serve hot.
Cook's Note :
To grate your own cheese, follow these directions:
Place the grater in a bowl.
Hold the grater firmly in one hand and place a large piece of cheese in other hand.
Rub the cheese against the small holes of the grater. (The cheese will come out in shreds.)
Be careful not to rub your knuckles against the grater.
Ask a grown-up to help you the first few times.