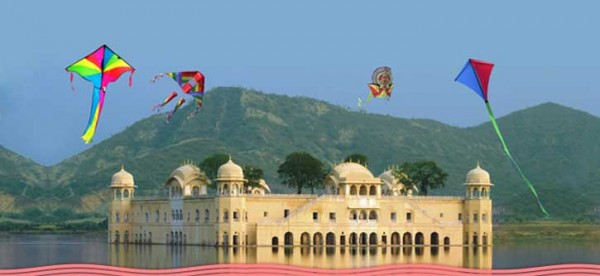 As in the past, the Department of Tourism has organized Patang Utsav (Kite Festival) with traditional gaiety on 14 January at Jalmahal in Jaipur. The festival was from 12 noon to 3 pm with exhibition of kites, demonstration of fancy kites, kite flying competition and cultural performances by folk artistes. Large number of foreign and domestic tourists had a whale of a time flying kites, savouring ' til ke laddoos' and 'dal ke pakodas'.
---
The event began by religious worship and ceremonial feeding of the cow by the guests. Afterwards the guests saw the kite exhibition and ceremonial kite flying. Later, there were cultural performances of Algoza and Kachhi Ghodi.
One special attraction today was the master kitesman of Jaipur, Babu Khan, who flew as many as 100 kites with one string. The kite competition between the ' Hawa Mahal Kite Club' and 'Amer Kite Club' was keenly contested. Free kites and string was provided to tourists who wanted to try their hand at kite-flying.
Meanwhile, the tourists were also regaled by folk cultural performances like Kalbeliya dance, gair dance, puppet show. The foreign tourists danced and swayed along with the performers, lending a festive atmosphere to the event.
The additional attraction for the tourist was traditional cuisines of Makar Sankranti and camel cart rides at the site.