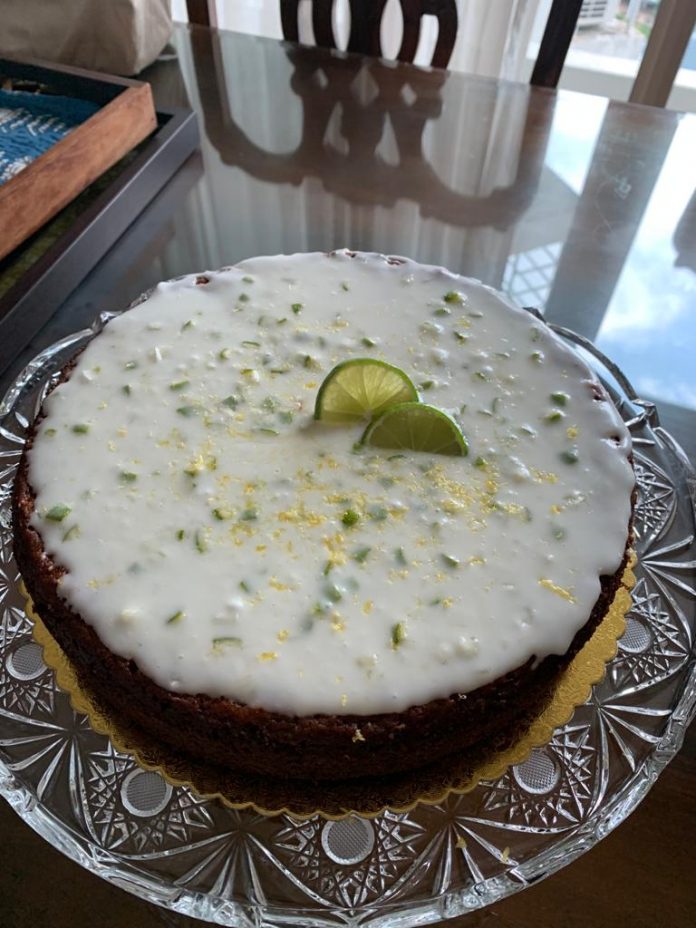 Ingredients:
11/2 cups plain flour
1/2 teaspoon baking soda
1 teaspoon baking powder
1/4 teaspoon sea salt
3/4 cup raw sugar
1 cup yoghurt
1/2 cup oil (extra light olive oil/sunflower oil)
1 teaspoon vanilla extract
3-4 tablespoons lemon juice
Zest of 2-3 lemons
Glaze:
1 cup Icing sugar
Lemon juice 2- 4 tablespoons
Vanilla extract 1/2 teaspoon
Zest of 1 lime or finely chopped 1/4 lime (with the skin)
Methods:
You will need 1 round cake tin about 7-71/2 inches in diameter.
Preheat oven to 180 C.Line the baking tin with parchment paper.
Combine and sieve the flour, baking soda, baking powder  and the salt into a large  enough bowl  which can take in all the other ingredients.
Make a well and add rest of the ingredients. Mix well with a wooden spoon the batter is smooth, but do not over beat.
Pour the batter in the cake tin and bake for approximately 40 minutes.
Check with a skewer.Cool in the pan for about 15-20 minutes, then remove from the tin and arrange on the serving platter.
Mix the glaze ingredients and pour over the warm cake. Let the glaze set, then serve.