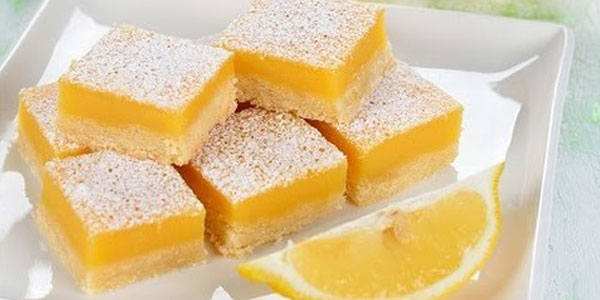 These tangy, light cakes are great with coffee or tea. Easy to bake in a jiffy for friends or just a special treat at home.
This is made in 2 stages with the base first followed by the lemon topping. Try today!
Makes 12-16 squares
Ingredients :
1/2 cup Butter
1/4 cup Sugar
1 cup Flour
2 Eggs, beaten
1 cup Sugar
2 tbsp Flour
1/4 tsp Lemon zest
2 1/2 tbsp Lemon juice
1/2 tsp Baking powder
Powdered Sugar to sprinkle on top
Directions :
Pre-heat the oven to 350.
Cream together the butter and sugar.
Slowly mix in the flour.
Press the mixture into an 8″ x 8″ pan. Bake for 15 minutes then allow to cool slightly.
Blend together the eggs, sugar, flour, zest, lemon juice and baking powder. Spread on the cake.
Return to the oven and bake for 25 minutes longer (or until lightly browned).
Sprinkle with powdered sugar while hot. Cool and cut into squares.