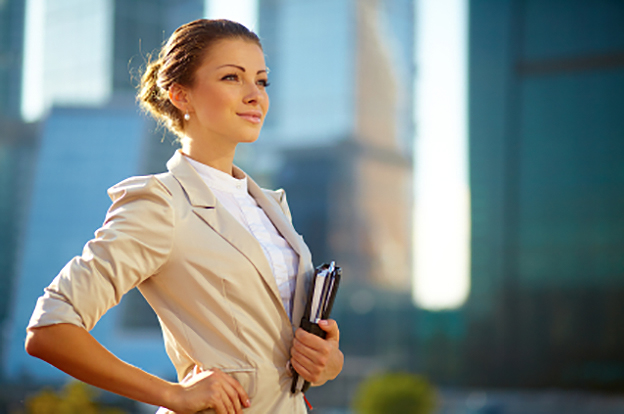 "What we wear is what we are"!
Even the opinions other people form about us, are mostly based on the way we are dressed. What we wear also shows what we think about ourselves. Has it ever happened to you? You meet someone dressed inappropriately, and immediately get turned off by that person. So, what can we do? Well! Don't fret, all you have to do is change the way you dress and you'll be feeling and looking better than ever before.
It is a known fact that if you are not well dressed and feel unattractive, you tend to feel inferior and lose confidence. On the other hand if you are well dressed, your confidence level increases in looks and actions. For a woman it is not so easy though. A woman plays the role of a wife, mother and a professional which makes it difficult to project a clear clothing message. Thus a woman must choose clothing appropriate for all these roles.
People who do the hiring look for a clean, professional look, which can be achieved with the right kind of make-up, clothes, hair and accessories.
Planning
We all have those days when we scream, "I haven't anything to wear." We spend so much money and yet sometimes feel that we are not really well dressed at all. The best thing to do if you have reached this stage is to go through all you have and then plan. Clean out your cupboard and discard anything you don't need. (There is a difference in want and need). Considering all the clothes you have, make a list of the things you need, and then gradually add to your wardrobe.
A basic career wardrobe
Your career wardrobe can include both Indian as well as western clothes. In western, the following are a must:
Two basic skirts (straight or flared)
One classic pair of pants
Two solid-colour blouses
One pinstriped blouse
Two simple shirts
One cardigan
One all-weather coat
One solid-colour blazer
Shoes and accessories (scarves, jewellery, belts, etc.)
In Indian, the basic kurta-pajama and suits would do. Try not to wear suits with big dupattas. Handling it would be a major distraction. Try to make the look a bit formal, but don't overdo it either.
Your clothes can lend you an air of authority. All you have to do is: Wear good quality clothes.
Wear a jacket to work – it gives you that no-nonsense look.
Wear sophisticated colours. Try to avoid bright colours.
Wear small prints (if at all).
Carry a classic leather bag.
Wear good quality jewellery (a small earrings, a thin gold chain). Try and avoid artificial stuff.
All this is useless though if you don't act professional.
Some don'ts for office wearDon't wear skirts with slits higher than the knees.
Don't wear clinging and short skirts.
Don't wear tight sweaters or skirts.
Don't wear very bright colours.
Don't wear see-through, wrinkled or dirty clothes.
Don't wear clothes that are fading.
Don't wear large jewellery.
Don't wear scuffed shoes.
Don't wear torn stockings.
Don't wear clothes in need of repair.
Don't wear deep necklines.
Don't wear very high heels.
You must remember a few things while choosing the colours for your office attire:You will look larger with light and bright colours.
You will look smaller if you wear dull and dark colours.
Last but not the least :
Hair
Hair should be well cut and should look good on you. Go for something elegant and easy to manage.
Make-up
The trick to get that perfect professional look is balance. Try not to keep your face completely devoid of make-up, and never over-indulge. Try not to drown yourself in perfume.
Accessories
Accessories can either accentuate or completely ruin an outfit. You have to be very careful while choosing what to add. So the next time you go to office, get dressed to rule and watch as people turn to look at you with awe, admiration and most of all respect.