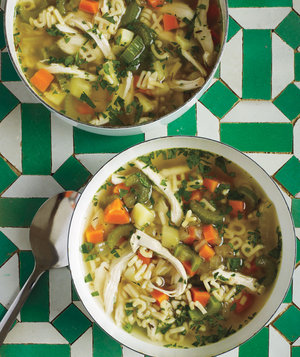 For those who don't like to cook in the middle of busy schedule, make-ahead recipe like this always comes for the rescue. You can freeze the batch for up to 3 months!
This recipe is kid-friendly and easy to make. If you're vegetarian, you can skip chicken ingredient and replace it with mushrooms or other vegetables.
Ingredients:
2 tablespoons olive oil
4 carrots, cut into bite-size pieces
2 stalks celery, chopped
1 large onion, chopped
½ teaspoon dried thyme
Kosher salt and black pepper to taste
2 pounds bone-in chicken breasts, remove the skin
6 cups low-sodium chicken broth or vegetable stocks
1 cup small pasta (e.g. fusilli)
2 tablespoons fresh lemon juice
2 tablespoons chopped fresh flat-leaf parsley
Directions:
Heat the oil in a large pot or Dutch oven over medium heat. Add the carrots, celery, onion, thyme, 1 ½ teaspoons salt, and ¼ teaspoon pepper. Cook until the vegetables are tender enough and just beginning to brown, around 10 minutes.
Add chicken, broth, and 4 cups water. Bring to a boil, reduce heat, and simmer until the chicken is cooked. Remove the chicken and place on a cutting board. Shred the meat and discard the bones.
Add the pasta to the soup and simmer until al dente. Add chicken, lemon juice, and parsley and stir to combine.
This soup can be frozen in freezer-safe containers for up to 3 months. To reheat, run the containers under warm water until the soup slides out. Transfer to pot and cook over medium heat and stir occasionally until heated through.
More #MakeAhead Recipes here>>