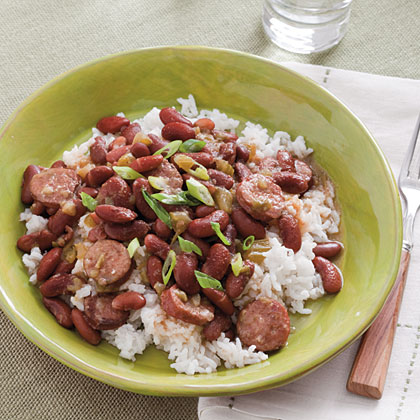 You can make a big batch of this low-calorie dish, a jazzed up rajma-chaval, and freeze the leftovers for later.
This recipe can be frozen up to 2 weeks.
Serves: about 8
Ingredients:
1 pound dried red kidney beans
½ pound smoked chicken sausage, thinly sliced
3 celery ribs, chopped
1 green bell pepper, chopped
1 medium onion, chopped
3 garlic cloves, minced
1 tablespoon Creole seasoning
Directions:
Place beans in a Dutch oven; add water around 2 inches above beans. Bring to a boil for 1 minute, cover. Remove from heat, and soak for 1 hour. Drain.
Sauté sausage, celery ribs, and green bell pepper in Dutch oven over medium-high heat for 10 minutes or until sausage is browned. Add garlic, sauté for 1 minute. Add beans, Creole seasoning, and 7 cups water. Bring to a boil, reduce heat to low, and simmer 1 to 1 ½ hours or until beans are tender.
Remove from the heat, and serve with rice. Cool down completely before freezing in a ziplock bag or tight-lid containers.
More #MakeAhead Recipes here>>