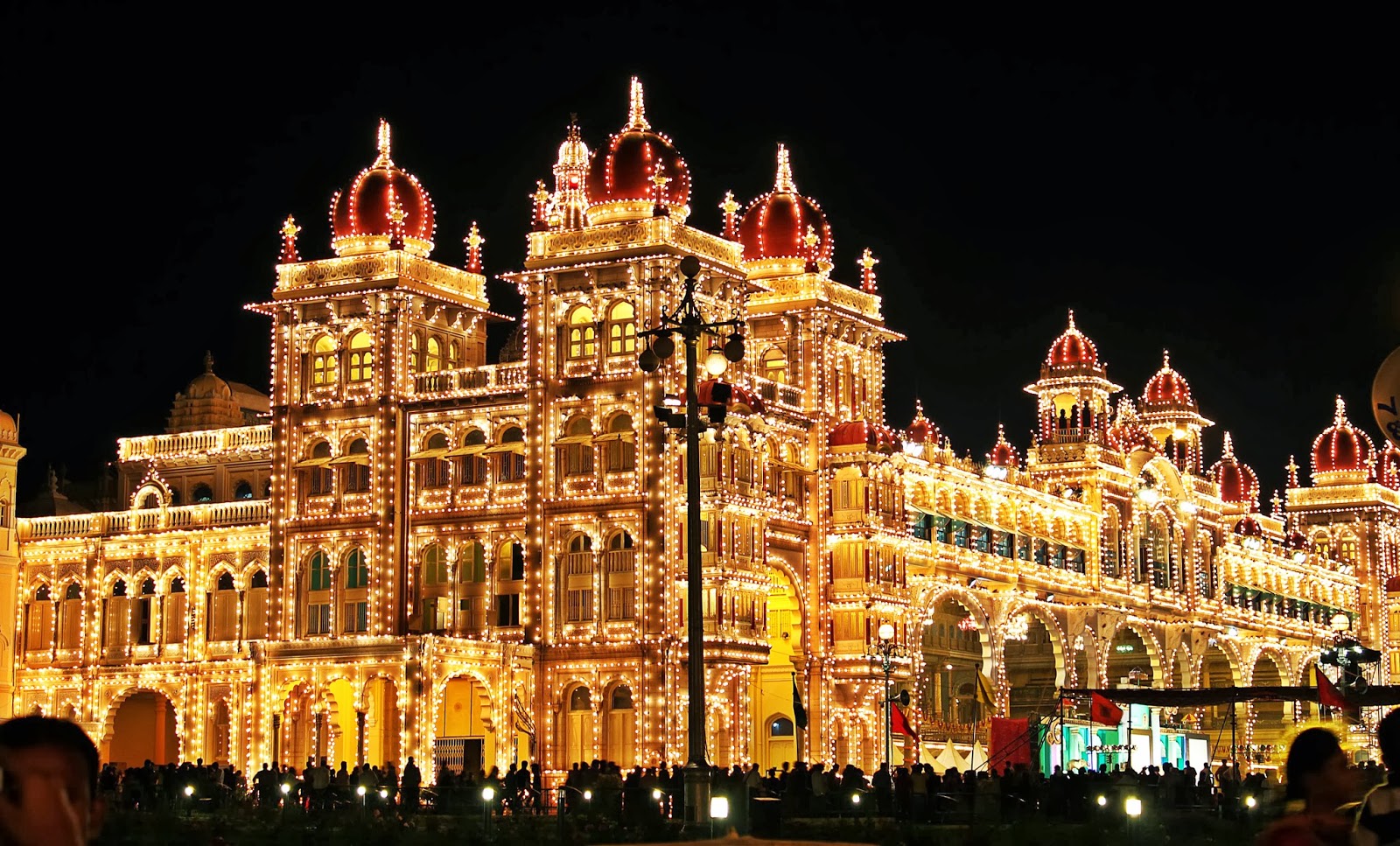 Aficionados of art and culture throng to Mysore to explore its rich aesthetic past which has been immortalised in many forms – woven intricately on the famous Mysore silk sarees, brushed meticulously on the walls of umpteen numbers of palaces and carved to perfection on religious places.
The present-day Mysore is a city which keeps its culture and monarchical past alive for the serious student and the tourist. Located in the state of Karnataka in southern India it is easily accessible by road from Bangalore, the state capital. Many international airlines fly to Bangalore on a daily basis.
---
Mysore derives its name from Mahishasura, a demon king who ruled the place according to mythology. Goddess Chamundeshwari killed the demon king in a fierce fight and gave freedom to the suffering subjects. The Goddess' temple is situated on top of the Chamundi Hills which can be seen from several parts of the city. Right on the footsteps of the Hills is erected a statue of Mahishasura. A huge statue of Nandi, (the bull) the vehicle of Lord Shiva is also situated atop the Hills.
Mysore's main attractions are its palaces and architecture and it's aptly called 'the city of palaces. Facets of creative architecture can be seen inside Mysore Palace or Ambavilas Palace which is now maintained by the government. It was partly inspired by the Indo-Saracenic style. Indo-Saracenic is an architectural form which is a combination of Indo-Islamic and European Gothic styles. The interior is a true symbol of the Hoysala (during the rule of the Hoysala kingdom) style of construction. The Mysore Palace is illuminated during weekend evenings. Both locals and tourists gather to witness this starry sight. The other prominent palaces in the city are Jaganmohana palace(an art gallery), Lalitha Mahal(converted to a five-star hotel), Jayalakshmi Vilas and Rajendra Vilas. A little away from the city, at a historical town of Srirangapattnam, stands Tipu Sultan's summer palace. Tipu was a brave Muslim ruler who died fighting the British army.
Influences from the Western world on architecture can be seen in St. Philomena church which is arguably the tallest church in India. This church was constructed in 1936 in honour of Saint Philomena who is said to be a young Greek princess martyred in the 4th century AD.
What land is there sans festivals if it has palaces and a history of art and architecture? Mysore's Dasara season is very popular and the traditional wrestling competition during this season is intact even today. Dasara is celebrated over a ten-day period. Mysore wears a colourful outlook during this jubilant time. On the tenth day, called Vijayadashami, the traditional Dasara procession is held on the streets of Mysore city. An image of the Goddess Chamundeshwari is placed on a golden niche on the back of a caparisoned elephant and taken on a procession. This is accompanied by a variety of pageants that include tableaux with themes chosen from popular Indian epics.
If the main feature of your travel is shopping, don't be disappointed. Mysore has exotic items to offer you near all the tourist attractions. Drape yourself in a richly hand-woven Mysore silk saree (Indian traditional dress) which becomes the cynosure of your eyes when you step into those innumerable emporiums. Sandalwood products are highlight of Mysore shopping and most of these are expensive. If you are planning to buy souvenirs try out those enticing sandalwood perfumes, soaps and cosmetics which can be had for one or two dollars. Famous paintings and artworks are also offered in the commercial markets. The Mysore painting style takes cue from the Vijayanagar (the Vijayanagar Kingdom of Mysore) school of painting. King Raja Wodeyar promoted this style of painting in his reign. One unique feature of these paintings is the pasting of gold foils on them.
Mysore receives rainfalls from June to August normally. Barring this period it has a pleasant weather and the air maintains a salubrious state.
Text and pictures by Pramod K
(A teacher with an international school in Jakarta. After a 5-year stint in the Gulf, he has been in Indonesia since 2005. He is a writer and photographer and contributes to newspapers and magazines. Visit his travel website www.penningprem.webs.com. contact email scholargipsyin@yahoo.co.in)