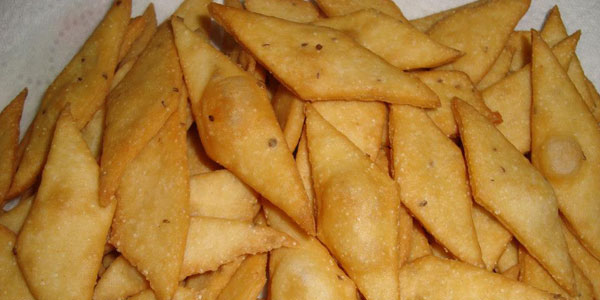 Namak pare, also known as mathri in some parts of Punjab and Uttar Pradesh, are diamond-shape spicy and savory crisps from North India. Made from wheat flour, spices, oil or ghee and seasonings, this snack is generally enjoyed during tea time in the afternoons or popular festivals like Diwali. Try it out and tell us what you think in the comment section below!
Ingredients :
1 cup Maida
1 cup Sooji
1 tsp. Ajwain
2 tbsp. Beaten curd
2 tbsp. Ghee or Oil
Salt according to taste
Directions :
Mix the flour, rava, ajwain and salt together.
Then add the beaten curds and enough of warm water and knead into a stiff dough.
Shape the dough into a ball and roll the ball into a thick circle. Cut them into squares.
Deep fry these squares and remove when light brown in color.
Drain thoroughly, cool and store in air-tight containers.