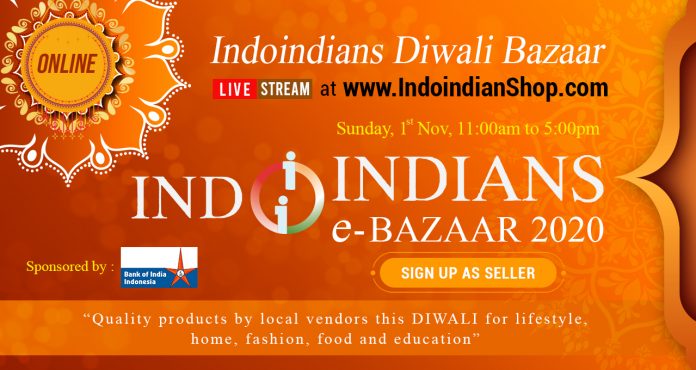 1st Online Indoindians Diwali eBazaar 2020
LIVE stream here >> at IndoindianShop on Sunday, November 1st from 11am – 5pm
Schedule as below:
11.00 am eBazaar starts
11.15 am Chief guests light lamp
12 noon Sadhu Vaswani Center with Rita Thakur
12.15 pm Pravis
12.30 pm Dr. Rajesh Kalwani health tips
12.45 pm B'Jeweled Jewelry by Bindu Jagwani
1.00 pm Coconut Cupboard by Monica Manchanda Mohindra
1.15 pm Madhubani Paintings by Pooja Bhatnagar
1.30 pm Le Reine Diwali Gifts by Poonam Adnani
1.45 pm IndoindianShop by Poonam Sagar
2.00 pm Moksh Fashion & Home Accessories by Rashmi Gandhi
2.15 pm Wisma Cheshire handcrafted products
2.30 pm Organic Pure & Natural Manuka Honey by Kanchan Grover
2.45 pm Mystique Jewelry by Rekha Kalwani
3.00 pm Rhea Health Tone by Dr. Haig Babikian and Dr. Rajeev Jha
3.15 pm Health Coach Geeta Seth
3.30 pm Le Rosh Boutique by Roshny Mahbubani
3.45 pm Indoindians Artists Art Gallery by Jyoti Chawla
4.00 pm Meraki Lily by Sukhveen & Kanchan Narula
4.15 pm Tamarind Catering by Ravi Hazuria
4.30 pm Rudra Art & Well being with Raveena Chainani
4.45 pm Closing by Indoindians Team
Come join this 100% safe ebazaar and shop from the comfort of your home.
Meet the vendors LIVE on spotlight where they will showcase their products.
Thanking our sponsors
Bank of India Indonesia.
Sadhu Vaswani Center
Geeta Seth
More questions? Contact cs@indoindianshop.com or WA +6282210008272
With many online and offline events successfully delivered, this will be the 1st Online Indoindians Diwali eBazaar to showcase, promote and sell vendor products and services. As the event is in the month of Deepavali, this would be the focus. Quality products by local and international vendors for lifestyle, home, fashion, food and education.
About Indoindians eBazaar  
An opportunity to bring under one platform buyers and sellers for a day of shopping, friendship and fun while connecting the Indian Diaspora with the other expat and local communities in Jakarta.
Featuring
Deepavali specific products
Food products
Fashion & jewelry
Household products
Handicrafts
And much more
Also an opportunity for service providers to promote themselves at the event.
Event Date and Timing: Indoindians eBazaar 2020 – Sunday, November 1st 11:00am to 8:00pm
We reach over 15000 people through our Facebook and expect many to join this online event, from the Indoindians community, various expat groups and local Indonesians
Event Detail:
Vendors will be on spotlight for 15 minutes to promote their products/brands/services with Zoom Video streamed LIVE on Indoindians Bazaar FB Group.
Vendor products will be available for sale on www.indoindianshop.com
All About Vendor Registration here >>
How to Join the Bazaar:
Create a Vendor account first at http://bit.ly/signup-seller:
Required:
– Sign up details about you and your business
– Bank account details
– Registration fee of 1 million Rupiah
– An email will be sent to confirm payment and activate your Vendor account
Upload your products
Sell, get promoted, and get paid. Reach more than 100,000 potential customers per month.
Share your shop/product poster (1000px X 1000px) with 250 characters text + Hashtags to share across Indoindians channels
Why join eBazaar via Indoindianshop.com:
Efficient and effective marketing
Powerful Seller Dashboard: – Create Your Own URL
Transaction History
Payment Gateway Integrated
Promotion via Indoindians
Event Organizers
The event is organized by Indoindians.com and all promotions would be through its communication channels:
Requirement for promotion:
– Provide product/brand image with 1000 pixels x 1000 pixels and text of 250 characters before October 24th 2020.
Sponsorship package available starting at IDR 2.5 million
For queries, more details contact Dias via call/WA +62 82210008272or email event@indoindians.com today
About Indoindians
To connect, support and engage the Indian Diaspora in Indonesia as well as people of Indonesia with an interest in India – the Indoindians community.
It provides a versatile, interactive medium for marketing and advertising your products and at the same time making your services available to our target audience. This is a community initiative by PT Infotech Solutions based in Jakarta.
At a Glance:
100,000 unique visitors/month
20,000 newsletter subscribers
20,000 followers on Social Media
300 city network for gift delivery network across India & Indonesia
20 years online