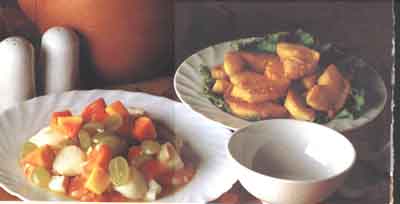 PAPAYA AND SEAFOOD STIR-FRY
Ingredients:
300g tiger prawns, shelled
300g fresh scallops
300g fish fillet
1/2 a papaya, skinned, seeded, cubed
10 grapes, halved
1 clove garlic, chopped finely
2 slices ginger, shredded finely
2 tsp hoisin sauce
1 tsp oyster sauce
1 tsp soy sauce
paper
Directions:
Blanch the papayas till soft. Leave aside.
Heat 2 tablespoons of oil in a wok and fry the garlic and ginger till fragrant. A
dd the prawns and fish. when they're cooked add the scallops, papayas and grapes.
Add the seasoning and some water (or chicken stock. See previous recipe) to moisten the dish (you may wish to thicken the sauce with a little cornstarch).
Stir-fry quickly and remove from heat once the scallops are cooked.