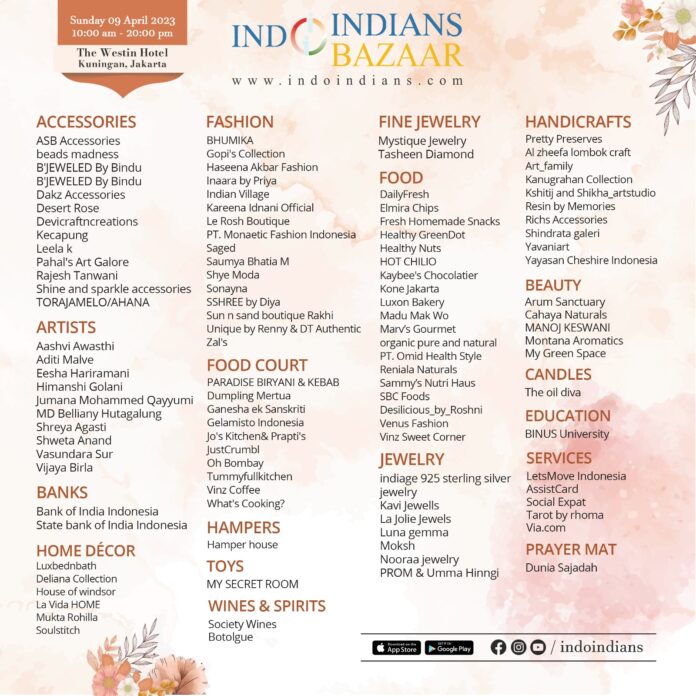 Indoindians Bazaar on Sunday 9th April 2023 at Hotel Westin, Jakarta features local vendors, Food Court, Art Exhibition, and more…
 Indoindians Bazaar, Food Court & Art Exhibition

 Sunday, 9 April 2023

 10.00 – 20.00 WIB

 The Westin Hotel, Kuningan, Jakarta
There are also interactive events and workshops. As this is a Sunday event, a food court provides access to local food vendors and a meeting place for families to enjoy a fun day of shopping, experiences and food.
List of Participating Vendors:
Accessories
ASB Accessories
beads madness
B'JEWELED By Bindu
B'JEWELED By Bindu
Dakz Accessories
Desert Rose
Devicraftncreations
Kecapung
Leela k
Pahal's Art Galore
Rajesh Tanwani
Shine and sparkle accessories
TORAJAMELO/AHANA
Artists
Aashvi Awasthi
Aditi Malve
Eesha Hariramani
Himanshi Golani
Jumana Mohammed Qayyumi
MD Belliany Hutagalung
Shreya Agasti
Shweta Anand
Vasundara Sur
Vijaya Birla
Banks
Bank of India Indonesia
State bank of India Indonesia
Beauty
Arum Sanctuary
Cahaya Naturals
MANOJ KESWANI
Montana Aromatics
My Green Space
Candles
The oil diva
Education
BINUS University
Fashion
BHUMIKA
Gopi's Collection
Haseena Akbar Fashion
Inaara by Priya
Indian Village
Kareena Idnani Official
Le Rosh Boutique
PT. Monaetic Fashion Indonesia
Saged
Saumya Bhatia M
Shye Moda
Sonayna
SSHREE by Diya
Sun n sand boutique Rakhi
Unique by Renny & DT Authentic
Zal's
Fine Jewelry
Mystique Jewelry
Tasheen Diamond
Food
DailyFresh
Elmira Chips
Fresh Homemade Snacks
Healthy GreenDot
Healthy Nuts
HOT CHILIO
Kaybee's Chocolatier
Kone Jakarta
Luxon Bakery
Madu Mak Wo
Marv's Gourmet
organic pure and natural
PT. Omid Health Style
Reniala Naturals
Sammy's Nutri Haus
SBC Foods
Tasty Wave
Venus Fashion
Vinz Sweet Corner
Food Court
PARADISE BIRYANI & KEBAB
Dumpling Mertua
Ganesha ek Sanskriti
Gelamisto Indonesia
Jo's Kitchen& Prapti's
JustCrumbl
Oh Bombay
Tummyfullkitchen
Vinz Coffee
What's Cooking?
Hampers
Hamper house
Handicrafts
Pretty Preserves
Al zheefa lombok craft
Art_family
Kanugrahan Collection
Kshitij and Shikha_artstudio
Resin by Memories
Richs Accessories
Shindrata galeri
Yavaniart
Yayasan Cheshire Indonesia
Home Décor
Luxbednbath
Deliana Collection
House of windsor
La Vida HOME
Mukta Rohilla
Soulstitch
Jewelry
indiage 925 sterling silver jewelry
Kavi Jewells
La Jolie Jewels
Luna gemma
Moksh
Nooraa jewelry
PROM & Umma Hinngi
Prayer Mat
Dunia Sajadah
Services
LetsMove Indonesia
AssistCard
Social Expat
Tarot by rhoma
Via.com
Toys
MY SECRET ROOM
Wines & Spirits
Society Wines
Botolgue