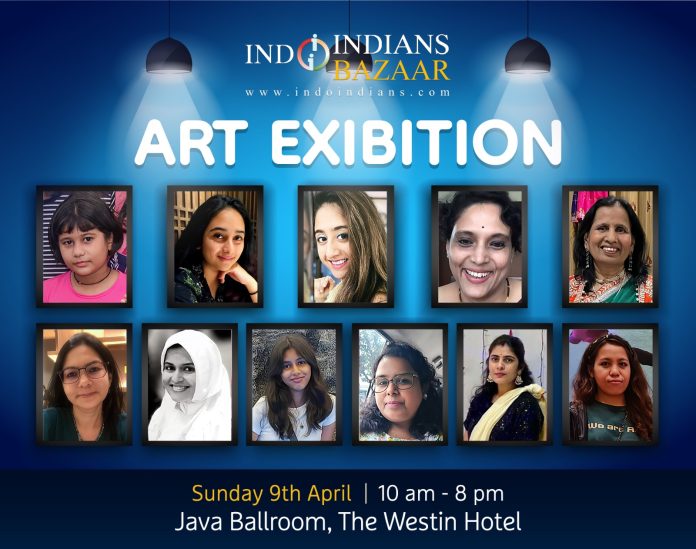 Meet and enjoy the artworks of our talented 11 Indian and Indonesian artists in Indonesia, showcasing their original artworks at Indoindians Art Exhibition in conjunction with the Indoindians Bazaar on Sunday, 9th April at Hotel Westin, Jakarta.
🔊 Indoindians Art Exhibition
📅 Sunday, 9 April 2023
🕐 10.00 – 20.00 WIB
🏠 The Westin Hotel, Kuningan, Jakarta
☎️ +6282210008272 (WA)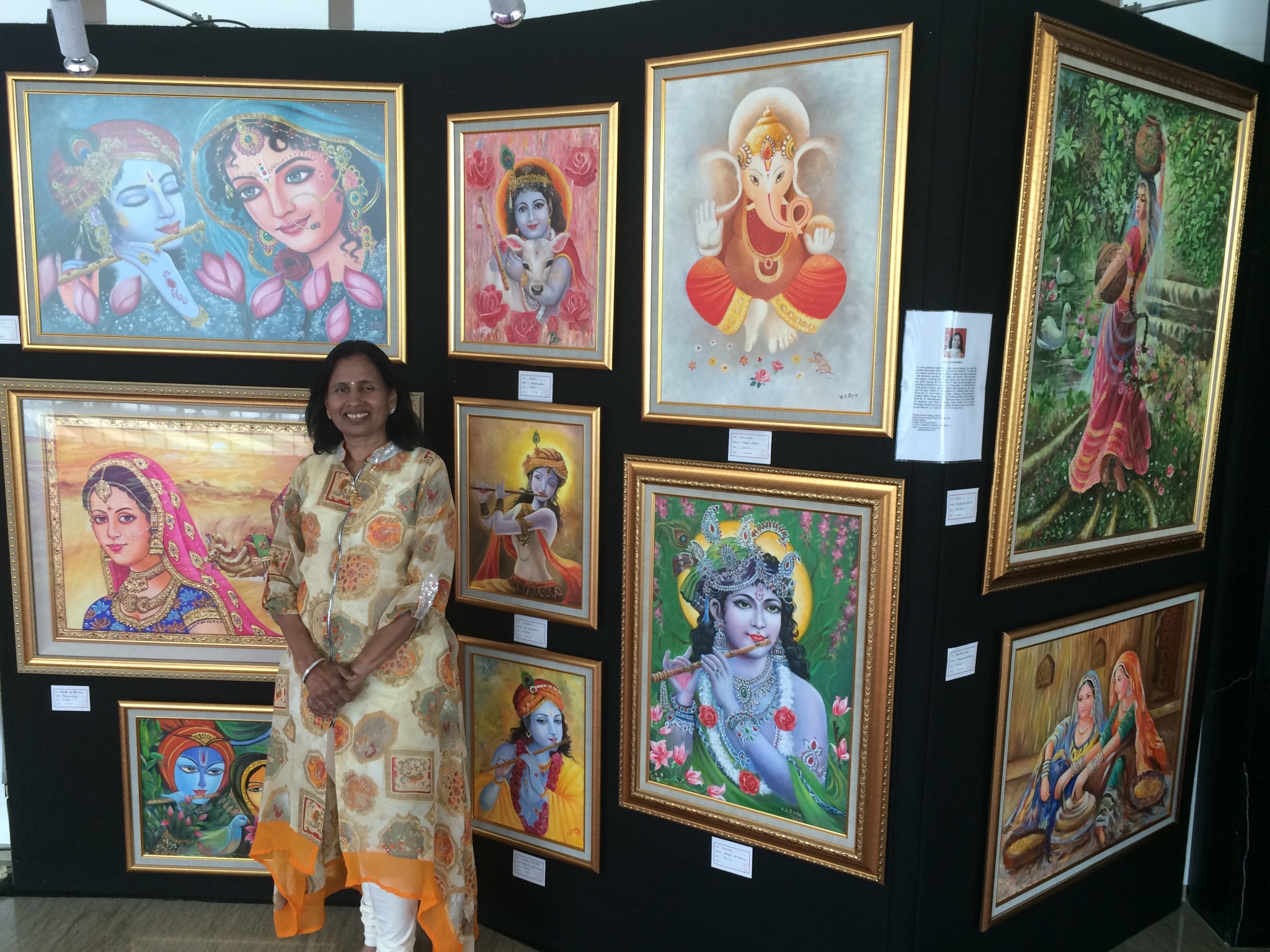 Participating Artists are: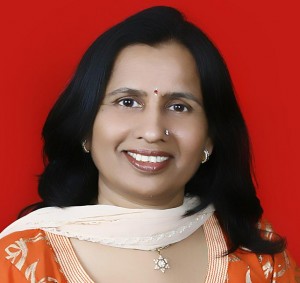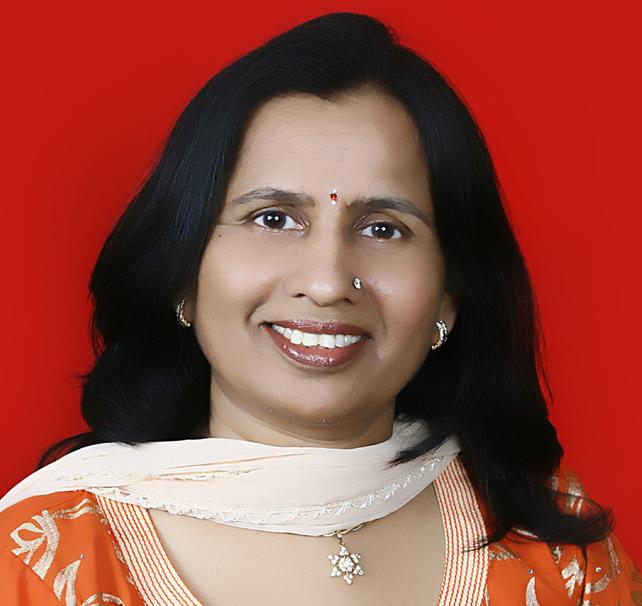 Vijaya Laxmi Birla, an arts graduate from Bhopal University, an avid painter likes to explore themes and subjects in a special way so as to bring to life the essence and ethos of her subjects, which have been very diverse as can be seen from her paintings.
Majoring in drawing and painting, Vijaya Laxmi became fascinated with art ever since her childhood. Her artistic journey covers sketches, landscapes, portraits, Tanjore and textures. She enjoys working with any surface or medium like pencils & charcoal, water colors and especially acrylic and oil.
"There was a wealth of learning from different civilizations and thus started my journey of exploring the roots of other cultures. I always enjoyed the company at these various medium of expressions which made my journey easier, pleasurable and peaceful. The cultural boundaries that encompass must be conveyed, I thought, so I invented them on my canvas."
Love for nature influenced and still continues to influence her artistic ventures. Living in Indonesia for almost three decades, she has participated in several painting exhibitions in Jakarta (Rang Barse I, II, III, Indian Artists Network, Jambore Seni Rupa National, Indo Indians, Art Beat, JNICC) and New Delhi (Lalit Kala Academy Gallery) and widened her horizon as her paths crossed with people of different nationalities.
Contact Vijaya Laxmi Birla:
Email: pkbirla54@gmail.com
Instagram: @vijaylaxmibirla
Mobile: +62 818813131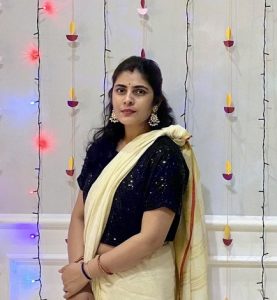 Avantika Aryan:
I am Avantika Aryan, Fashion and Textile design graduate from NIFT. With 8 years of experience in the textile design industry, I possess an inherent passion for hand painting, which I have indulged in since my early days of holding a pen and paper. However, my interest in this art form has become more elaborate during the COVID-19 pandemic. Although my paintings usually involve a mix of media, I enjoy pen drawing. Additionally, I have ventured into pottery, specializing in hand-pinched and wheel-thrown techniques.
Contact:
Email: av1221ar@gmail.com
Mobile: 08111473377
Instagram: @avantikaaryan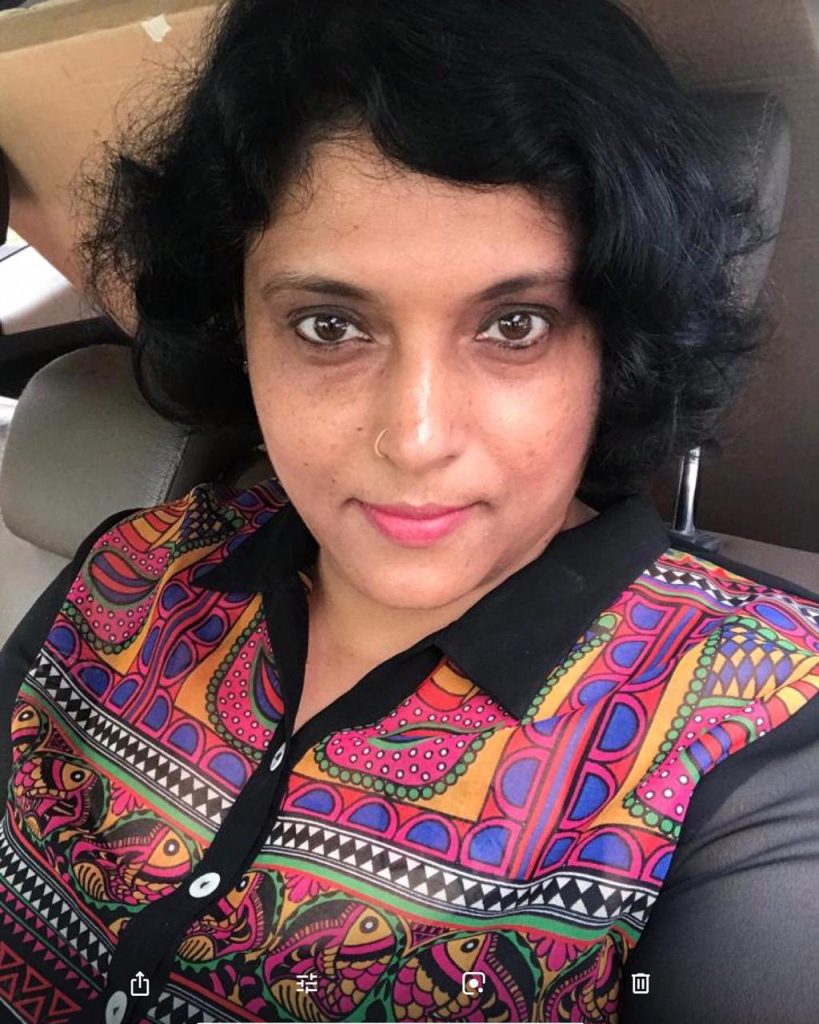 Vasundara Sur: Vasundara Sur is an artist of Indian origin, who strongly believes that there is no greater reward than
seeing the vision in the form of artwork. She predominantly works on watercolors in an impressionistic style.
Vasundara is a Medical Biochemist and a Chemistry teacher by profession. She is not formally trained in Fine art and she is a Medical Biochemist but does painting as a hobby.
Vasundara's work involves bright colors and incorporates many visual elements and textures. Messages and moods are conveyed through bright color, texture, structure and shape.
Vasundara Sur's work has been exhibited at Indoindians art exhibitions and she has exhibited her artwork in several parts of the world viz Italy, France, Myanmar, Nepal, Philippines, India, Indonesia etc representing International watercolor society, Indonesia
Vasundara is inspired by Orchids, traditional Indian themes, subject involving color and texture and her culture. She strongly believes that a visually appealing art is not always an immediate product of visualization and planning. There is a constant conflict and dialogue with the inner artist until the final art piece is produced. She believes in the process more than the outcome. Her main source of inspiration is her father, Mr. M.S Gopal, Mr. Agus Budianto, Mr. Rafique Ahmed and Mr. Milind Muick to name a few. She is very thankful for a very supportive husband-Sandeep Sur, daughter-Sanjali Sur and son- Suchir Sur.
Contact Vasundara:
Email: vasundara1sur2@gmail.com
Instagram: @iyengarscreation
Mobile: +62 8121115562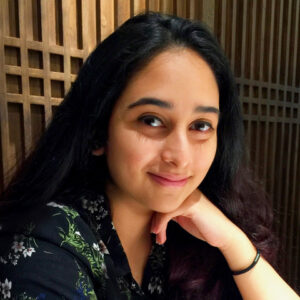 Aditi Malve: Aditi Malve is an Indian artist born in Jakarta, specializing in Digital Art. She is currently pursuing Interaction Design Course at Emily Carr University of Art and Design.
Her vibrant illustrations feature bright, joyful palettes and explore a wide range of styles, including natural elements, cultural inspiration, and insightful character portraits. Aditi enjoys experimenting with different styles and avoids limiting herself to any specific style of work.
Despite this being Aditi's debut exhibition, she has already worked on numerous commissioned and self-initiated community-based projects. In addition to her artistic endeavors, Aditi Malve has also conducted workshops, sharing her knowledge and experience with others.
Growing up in India and Indonesia, Aditi was inspired by the rich art and culture that surrounded her, providing her with an endless source of inspiration. Her artwork showcases her unique perspective and pushes the boundaries of traditional art forms, creating a unique and innovative experience for viewers.
You can find Aditi Malve's artwork on her ETSY online shop or by visiting her
Instagram: @art_diti.
Don't miss the opportunity to witness the captivating artwork of Aditi Malve at the upcoming art exhibition, where her innovative use of digital tools brings the intersection of technology and creativity to life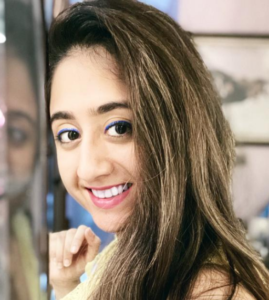 Himanshi Golani: Himanshi does bespoke, acrylic abstract art, based on inspirations and experiences.
Being a globe trotter, different countries inspired and left a unique mark on her with her travel experiences, which also means learning about new cultures. Himanshi's art uses this to also deliver bespoke art to clients. Using their chosen thoughts and she manifesting them.
A piece, symbolizing the relation between the art, the artist and viewer.
Contact Himanshi:
Email: himanshigolani@gmail.com
Instagram: @himanshi.aaart
Mobile: +628111828275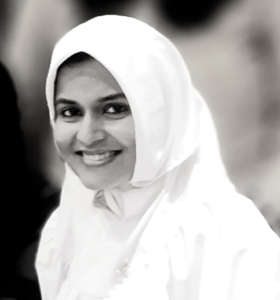 Jumana Mohammed Qayyumi
Jumana Qayyumi is an Indian Artist residing in Indonesia from past 3 years.
She graduated as a textile designer from Sir J.J School of Arts (Mumbai) and stood first in Mumbai University in Textile department and was affiliated by the Chancellor.
Jumana is a Professional Artist who likes to work with various mediums like oil, acrylic, watercolors and textile.
Jumana likes to paint realistic paintings and many times in a contemporary style also. Her paintings are depiction of her moods from the ever-inspiring nature.
Her paintings are her emotions recorded as an expression or story on her canvas.
Jumana has taken part in many exhibitions like
• India Art Fair
• Dubai Art Fair
• Mumbai Art Fair
• Multiple times in Radiant Arts
• And also have conducted many workshops for elders and teenagers to help them develop a deeper understanding of art.
For Jumana Qayyumi  light-source,  composition and detailing is very important. Keeping nature created by Allah as the biggest inspiration she like to capture that moment in the form of art.
She belives that art can bring smile and happiness and emotions and everyone connects to an artwork with their own feelings and thats just amazing way of resonating with other human being.
Jumana's work can be bought directly by getting in contact with her by email jumana.kothari@gmail.com or Instagram – jumana.q_art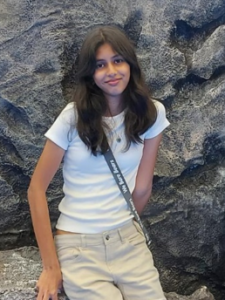 Shreya Agasti
Shreya is a Twelve-year-old Indian artist who has been doing art for 6 years now. She has been trying to hone her skills and passion, trying to grasp on to the latest art styles and techniques. Special Thank you to Ms. Priya for helping, motivating, and guiding Shreya.
Shreya's work is bold, angular and aesthetically pleasing to the eyes. She is known for taking part in art competitions and activities. Usually preparing decorations and drawing to represent her school or class.
This is by far the first time Shreya's work has been exhibited in a public setting, however she has been to some of the competitions hosted by India club.
Shreya is inspired by the painting created in the renaissance because of their depth and realism ; they have a quality that con never be restored in todays time, the pigmented oil paints and ridicule proportions are exceptional. None the less, she is most inspired by realistic pieces.
A couple Shreya's pieces can be found at her Instagram account, @artbyshreyaxd, you can also access it by the QR code given above.
She's very obliged to be a part of this exhibition and finally getting to show of my art, Thank you for the opportunity and help.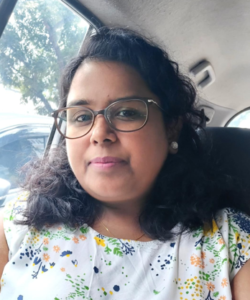 Shweta Anand (SecondWind Arts)
 Shweta Anand is an Indian artist who specializes in making stunning custom portraits using the resin diamond art format. With a degree in Visual Communication and a Masters in Management, Shweta is a communication and language specialist who caught a second wind on doing what she loves, through her custom-made canvases.
What started as a hobby to help channelize her restless energy 2.5 years ago, quickly turned into a passion for Shweta, when she discovered the joy of elevating any photograph (a special moment) into elaborate masterpieces. The most striking feature of every canvas created is the brilliant play of light on the thousands of beads stuck together which makes each canvas a delight to look at from different angles. The look of wonder on each person's face on seeing the canvases, inspires and motivates her the most.
Apart from custom and curated canvases, Shweta also makes origami mandalas, her unique and creative take on the art of paper folding merged with the concepts of mandala art.
Having started only very recently on her art exploration journey, Shweta aspires to experiment and create a curated line of home décor art pieces derived from various art forms.
Shweta goes by SecondWind_Arts on Instagram and looks forward to meeting you at the upcoming art exhibition!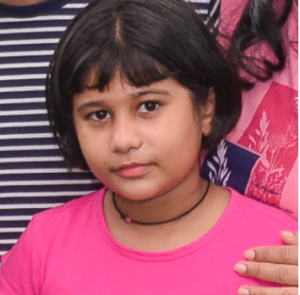 Aashvi Awasthi
Aashvi is 7 years old Indian artist and amongst numerous inclinations on different activities, she has developed a particularly special liking to canvases and painting. You will find her often imagining, drawing and painting. In the last few years, she has started giving this more attention under the guidance of her teachers Sujata Ma'am and Priya Ma'am.
Aashvi's work has been exhibited in previous exhibitions like Talent show organized by India Club in Sep 2022 and Art Exhibition at ASEAN Diwali Bazaar 2022 in Oct 2022.
She has been experimenting with a variety of methods and techniques like acrylic, water color, oil pastels, glass painting, clay painting and pencil colors.
Her work can be found at https://www.instagram.com/aashvi.arts/.
As she begins her journey she is excited for this opportunity to showcase some of her work and hope to get encouragement and more inspiration from the art community.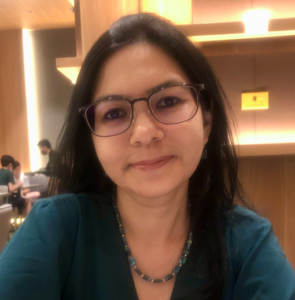 Eesha Hariramani: Eesha Hariramani is an artist from India, versatile in all mediums – Acrylic, oils, watercolors and Digital paintings. With no major degree in Arts, she is a self-made artist who has been fascinated with drawing and painting, ever since childhood.
Eesha's artistic journey covers sketches, landscapes, portraits, traditional folk paintings and mandalas. She is known best for her visually striking commissioned works – Om Mandala, portrait of a beautiful Turkish Woman, illustrating characters for a story book, to name a few.
Eesha is inspired by nature and the surroundings. She believes that we can express our emotions through Art. There is so much beauty everywhere that every place, object, living being can be painted on canvas and given a different perspective to it! Art allows us to feel free, we do not need to attain technical mastery of the medium.
Eesha Hariramani runs an online store – www.EeshaArtGallery.Etsy.com, where digital files of her artworks can be purchased and instantly downloaded. Her works can be found on social media handle  as well – www.instagram.com/eesha.arts.
Come and discover Eesha's colorful Art journey at our upcoming exhibition!