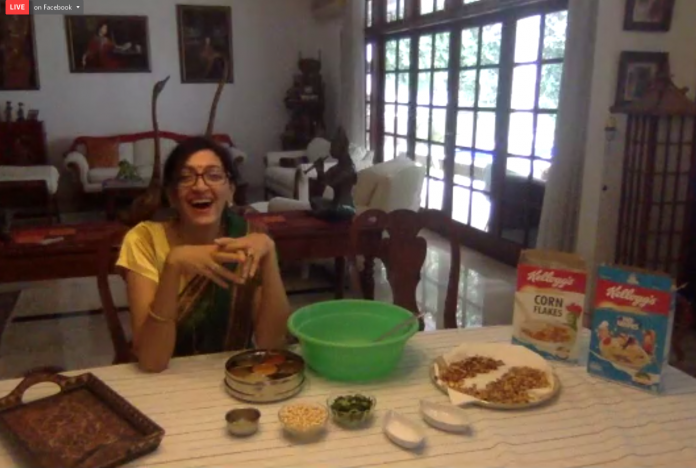 Ingredients
1 box of Rice Krispies Cereal

Ingredients for Chivda

1 box of Corn Flakes Cereal
2 tbsp Vegetable Oil
Curry Leaves
Mustard Seeds (Rai)
Cumin Seeds (Jeera)
Hing
Turmeric Powder (Haldi)
Chopped Green Chilies
Peanuts, Cashews
Salt & Sugar to Taste
Method:
1.In a big bowl open both cereal boxes and toss together gently.
2.In a mid-size fry pan, heat oil. Put cashew nuts and peanuts and sauté till golden. Remove from oil and mix in with the cereal.
3.Now in the hot oil make the tadka. First put mustard seeds, when they start to splatter reduce heat and quickly put curry leaves, turmeric powder, hing, chilies, and cumin seeds. Once the chilies are crispy, turn off the heat.
4.Combine the hot tadka with the nuts and cereal mix. Toss lightly but thoroughly so that the whole cereal is coated with the spices. Now adjust for salt and add a pinch of sugar to cut in the spices.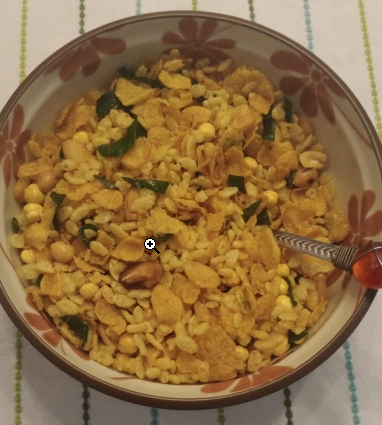 5.Keep on countertop till cooled down to room temperature (4 hours). Then store in an airtight container.